Tue Dec 2, 2014, 05:22 PM
olddots (10,237 posts)
4 replies, 1661 views
Replies to this discussion thread
| | | | |
| --- | --- | --- | --- |
| 4 replies | Author | Time | Post |
| Screw the rain I have to ride (Original post) | olddots | Dec 2014 | OP |
| | happyslug | Dec 2014 | #1 |
| | Kennah | Dec 2014 | #2 |
| | olddots | Jan 2015 | #3 |
| | happyslug | Jan 2015 | #4 |
---
Response to olddots (Original post)
Tue Dec 2, 2014, 10:21 PM
happyslug (14,779 posts)
1. So I rode this morning, it was almost 30 degrees.
I did NOT ride last week (Thanksgiving made it a short week) but I did ride the week before (It was so cold, I had to bring out my Army finger mittens to keep my hands warm). Yes it was cold, one day into single digits but the roads were clear, thus I did not have to switch to my studded tires (I always wait till the first heavy snow, some years I do not get such a heavy snow and do not make the switch, but this year it looks like I will).

My rule of riding in the rain:

1. Make sure your Bike has fenders, it keep the water off your back and your legs.

2. Be prepared to switch from gloves to mittens depending on how cold your hands get (Or from light gloves to heavy gloves, or heavy gloves to light gloves as you overheat do to moving you legs so much).

2. Dress for the weather, if you are biking down hill and it is cold dress warmly, but if you are biking uphill, dress to make sure the excess heat has a place to escape to. If it a mix of ups and downs, make sure you have panniers to put the clothes you no longer need, and clothes you do need as you go from going downhill to uphill (thus you need less clothing for you now moving those legs quickly to maintain speed) then uphill to downhill (thus you need more clothes as you are now coasting).


---
Response to olddots (Original post)
Thu Dec 4, 2014, 01:50 AM
Kennah (8,522 posts)
2. I think it was in the 20s on Tuesday morning when I biked to work
---
Response to olddots (Original post)
Wed Jan 7, 2015, 08:12 PM
olddots (10,237 posts)
3. my hands get so cold I can't move them sometimes
But it sure beats driving
---
Response to olddots (Original post)
Thu Jan 8, 2015, 04:53 PM
happyslug (14,779 posts)
4. You may want to convert to mittens in Cold Weather, I use Army Surplus Mittens in Cold weather.
Trigger finger mittens permit fingers to stay close to each other, and thus warmer then if each finger was by itself, till you actually need a finger to operate the gears. It is easy to pull the finger out of the mitten part and into the lone finger to operate the gears, I have done it many a times.
Finger trigger mittens are in three generations. The oldest, and now rare, are ones designed in the 1950s. There are a green shell with a leather palm. The Shell is just that a cotton shell with leather palms and no insulation. Insulation was to be provided by wool inserts.
The second generation looks just like the first generation, except they have additional insulation on the back of the shell. They also use wool inserts.
Here is a photo of some Second Generation (1960 era) mittens:
After the 1980s the Army stated to make them in Camouflage instead of Green, but most are still green as they are used in the US Army:
The above mittens are good enough for most purposes. They main weakness is a lack of water proofness, but water is rarely a concern below 25 degree Fahrenheit. At those temperatures the snow will either fall off the mitten or lay on the mitten as snow, NOT melt and soak the mitten. As temperatures near freezing, you have problems with water and these mittens (and you should shift to a gore tex glove) but at temperatures below 25 degrees, Gore Tex is simply not needed.
Given the above a Gore Tex Mitten makes no sense to me, but the Army, given the wars in Afghanistan and Iraq. has to much money, so the US Army has come up with new Mittens in Gore Tex. Much more expensive then the above Mittens, but at temperatures below 25 degrees not much better in performance:
Now the above three generation are for mittens NOT intended for Arctic Use. The Army had a different, but similar, design for arctic conditions. I do NOT think you need them but here is a photo of one, they are quilted inserts not wool inserts:
Here is the Arctic Version of the Mittens: I have NEVER used them, the regular Trigger Finger Mittens were good enough till the tempertures STAYS below Zero Fahenheit:
The Army has to much money, they seem to have come up with new Mittens in Gore Tex:
Sportsmen Guide is selling these Third Generation Trigger Finger mittens for $29.99:
http://www.sportsmansguide.com/product/index/used-size-xl-us-military-ecw-trigger-finger-mitts-black?a=1100976
Sportsmen Guide is also selling the arctic mittens for $29.99:
http://www.sportsmansguide.com/product/index/new-us-military-surplus-ecws-mitts?a=1787345
Through watch Sportsmen Guide, they are also selling "Flying Mittens" which do NOT have a trigger finger and thus useless if you want to shift gears.
As to the old fashioned Second Generation Mittens and inserts, they are all over E-bay and the net
One place is selling them for $14.99 plus free shipping:
http://www.amazon.com/LEATHER-TRIGGER-FINGER-MITTENS-Medium/dp/B002B93CVW
One more comment, these Mittens tend to run LARGE, for the Army wanted its soldiers to have plenty of room inside them to move those fingers around. Some people object to this larger then normal size, but I used them and see why the Army designed them so large (to get that trigger finger to the trigger without taking it out of the mitten WHILE keeping that trigger finger in the mitten part with the rest of the fingers to keep it warm).
A popular "Modern" Solution (Post 1990, I am getting old) is two finger gloves. I question their superiorty over trigger finger mittens, but some people swear by them:
http://www.odlo.com/shop/eu/en-us/gloves-windproof-two-finger-warm-xc-men-792770-12.html
Through in more recent years I have seen a return to Trigger Finger Mittens, but now called "Three FInger Gloves" for some reason: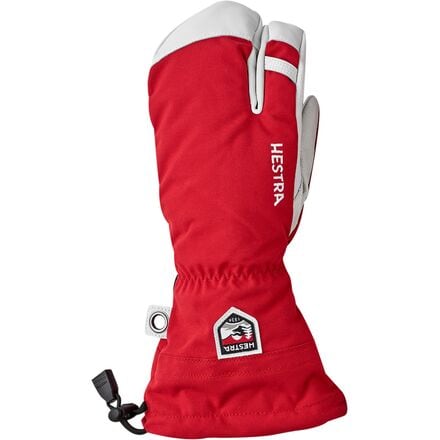 http://www.backcountry.com/hestra-heli-3-finger-glove
Thus you have options to handle very cold weather. If you decide on the Arctic Gloves, how cold are you planning to bike in? I recommend the Army mitten, what I call Second Generation. The wool inserts will keep your hands warm and the cotton shell is good enough for temperatures below 25 degrees.