Sat Feb 2, 2013, 04:43 PM
Denninmi (6,581 posts)
Hate to say this, but I attended my first ever and last spin class this morning.
God, it is so BORING to sit there on a trainer for an hour. Nothing at all like the experience of being out on the trails, in the fresh air and weather, looking at the scenery, concentrating on the asphalt and concrete ahead.
I even bought myself a Kurt Kinetic trainer last fall - it remains in its box in my garage.
I know I should be doing this, to keep the cycling muscle set in shape, but ... I can't take it. It was an hour of boring with ... drum roll please, a movie playing. Not just ANY movie, but 'Three Amigos' with Steve Martin, Martin Short, and Chevy Chase ... IMHO a terrible film.
I never could have made it through the whole thing, close to 2 hours.
Hopefully, my work on the treadmill, the elyptical trainer, the ski simulator I have just started using, the step ups, plus lifting will be enough to keep everything working. Plus the Surly ,which isn't getting enough use, I found it is just too damned cold at 10-12-15 degrees to enjoy the ride. So, I expect my first rides in the spring on my Specialized to be on the rough side, not as long as they should be, probably a little more painful afterwards.
OK, rant over, guys.
8 replies, 2843 views
Replies to this discussion thread
| | | | |
| --- | --- | --- | --- |
| 8 replies | Author | Time | Post |
| Hate to say this, but I attended my first ever and last spin class this morning. (Original post) | Denninmi | Feb 2013 | OP |
| | digonswine | Feb 2013 | #1 |
| | happyslug | Feb 2013 | #2 |
| | Denninmi | Feb 2013 | #3 |
| | happyslug | Feb 2013 | #4 |
| | Kennah | Feb 2013 | #5 |
| | happyslug | Feb 2013 | #6 |
| | Kennah | Feb 2013 | #7 |
| | 47of74 | Feb 2013 | #8 |
---
Response to Denninmi (Original post)
Sat Feb 2, 2013, 05:10 PM
digonswine (1,405 posts)
1. In my experience-
it only takes no more than 2 weeks to get back in decent form. I am in northern WI, so I go through it every year. I have my bike on a trainer, but it mostly sits on the porch--boring!
---
Response to Denninmi (Original post)
Wed Feb 6, 2013, 05:50 PM
happyslug (14,779 posts)
2. It hit 0 F around here and I still biked to work.....
0 F is low for Johnstown PA, most times we stay out of the single digits even as a low temperature. Last week was just plan cold. This week the temperature is creeping above freezing, thus every morning we have more snow on the ground (Light fluffy snow, not the heavy wet snow which is normal in this area). By 11:00 am the snow has melted but returns at night. This weekend it is expected to stay above Freezing, except at night, thus icy roads but not as cold. By Sunday temperatures are expected to be in the 40s, with lows ABOVE Freezing!!!! Three cheers for Phil the Good.
The only "Phil the Good" Punxsutawney Phil (At least till next winter, when he sees his shadow and becomes "Phil the Target&quot
:
http://www.groundhog.org/
---
Response to happyslug (Reply #2)
Wed Feb 6, 2013, 06:02 PM
Denninmi (6,581 posts)
3. Great!
I'm the original wuss, so not surprising I can't take it. Actually, keeping thevcorevsnd extremities warm isn't too hard, my worst problem has been eye protection. Goggles don't work well with glasses, and I'm profoundly near sighted.

Glad you're out there, enjoy.
---
Response to Denninmi (Reply #3)
Wed Feb 6, 2013, 10:49 PM
happyslug (14,779 posts)
4. I wear glasses to, I never use goggles (I use to in the past).
Last edited Thu Feb 7, 2013, 04:01 PM - Edit history (2)
Yes, my glasses steam up when I am breathing hard, they get covered by snow and rain, but as a general rule I can live with these problems and always have.

My biggest problem was when I was using a full face helmet. The nature of the full face caused by breath to go up toward my glasses and fog the glasses up. I just had to stop and wipe them clean every so often. I want to go back to a full face, for their provide more protection, but right now I have other priorities as to my bike (I need a new front brake, the old ones just froze up on me, hopelessly rusted and I had to remove them and now I have to replace them).

Something like in 40% of all accidents when it comes to injuries of the head are on the jaw bones. Thus my desire to get a full face.

Now, when I lived in South Texas in the early 1980s I did see the need for goggles, but only due to the dirt that was always in the air (It was a semi-desert situation). The dirt was always getting into my eye. It did not help I was wearing contacts at the time, something I then gave up on but the switch back to glasses still did NOT stop the irritation from the dirt in the air.

When I was in the National Guard, they issued us Goggles, never liked them. When I was wearing contacts, the seal was NOT tight enough to keep out all the dirt and thus the dirt caused eye irritation with the contacts. With Glasses they never did fit over my glasses to get a seal.

On the other hand, in the mud and dirt of Pennsylvania or Virginia not a problem (My training sites were AP Hill in Virginia or Ft. Indiantown Gap in Pennsylvania). When I was on maneuvers when I was in Texas, a different situation. I was in an armor unit in Texas and they trained Ft Hood outside of Austin and it was Cattle Country (To dry to farm, but we had cattle running all over the place). It was semi-desert, enough water to have plant life, enough vegetation to feed cattle, but not enough water to prevent dust from being everywhere. The "tracks" (a generate name for anything with Caterpillar tracks instead of Wheels, i.e. Tanks, Armored Personal Carriers, Self Propelled Artillery etc) just churned up even more dirt. Goggles were needed in such environment and if I ever had one that would cover my glasses I would have been happy.

Just a further comment on Goggles, not needed outside desert areas (or other areas with a lot of dirt in the air). Please note goggles are required in Pennsylvania when ridding a Motorcycle, and that is true in most states, even states that do NOT require helmets. The reason being the greater speed Motorcycles are going at, requires that the eye be protected even when in normal situations no protection would be needed.


---
Response to happyslug (Reply #4)
Thu Feb 14, 2013, 04:52 AM
Kennah (8,522 posts)
5. Doesn't get nearly that cold out here in the Great North Wet of Washington State
But I still commute year round.
Glasses for me--for riding, not seeing.
And Honeybadger says to Phil, "Fuck you!"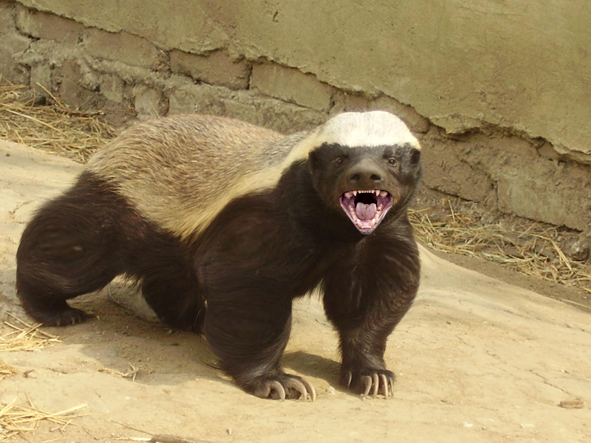 ---
Response to Kennah (Reply #5)
Thu Feb 14, 2013, 11:19 AM
happyslug (14,779 posts)
6. Phil the good, predicted an EARLY Spring
If he had seen his shadow, his name would have been Phil the Target, but he did not so he is a good groundhog this year.
Remember, other then on February 2, Phil lives with his "wife" in a heated and air conditioned portion of the Punxsutawney public library.
http://www.roadsideamerica.com/story/17331
As to your statement "Fuck you!", Phil has a wife if he gets an urge to have sex, and the Badger is not Phil's type.
---
Response to happyslug (Reply #6)
Fri Feb 15, 2013, 03:29 AM
Kennah (8,522 posts)
7. Actually, Honey Badger fucks with snakes!
---
Response to Denninmi (Original post)
Wed Feb 20, 2013, 03:13 PM
47of74 (14,706 posts)
8. I do spin class fairly reguarly
The routines I like the best are the ones where the trainer guides you through a simulated ride through the countryside. I like those because it seems like I get more of a workout with those than the standard routines.

Two hours? That seems a little long. At the local Y that I belong to the classes are at most an hour - most are just 45 minutes long. They just seem to fly by and most evenings I get a good workout. Of course it depends on what bike I get - they have some new bikes but they also have some that should have been retired 10 years ago. They're starting to get new equipment in so hopefully some more new bikes will be filtering in soon.