Tue Jan 24, 2012, 02:35 PM
RockaFowler (7,013 posts)
Washington Wizards fire coach Flip Saunders
5 replies, 977 views
Replies to this discussion thread
| | | | |
| --- | --- | --- | --- |
| 5 replies | Author | Time | Post |
| Washington Wizards fire coach Flip Saunders (Original post) | RockaFowler | Jan 2012 | OP |
| | PRETZEL | Jan 2012 | #1 |
| | FSogol | Jan 2012 | #2 |
| | ellisonz | Jan 2012 | #3 |
| | ellisonz | Jan 2012 | #4 |
| | dakota_democrat | Jan 2012 | #5 |
---
Response to RockaFowler (Original post)
Tue Jan 24, 2012, 02:48 PM
PRETZEL (2,619 posts)
1. Watched a part of their game last nite against the 76's
they did him a favor by firing him now.


---
Response to RockaFowler (Original post)
Tue Jan 24, 2012, 02:58 PM
FSogol (36,005 posts)
2. It was the most merciful thing they could do.
Flip probably has a smile on his face for the first time in a long time.
---
Response to RockaFowler (Original post)
Wed Jan 25, 2012, 04:54 AM
ellisonz (27,182 posts)
3. Surprising he even lasted this long...
---
Response to RockaFowler (Original post)
Wed Jan 25, 2012, 05:32 AM
ellisonz (27,182 posts)
4. Washington Wizards fire Flip Saunders, because it was totally his fault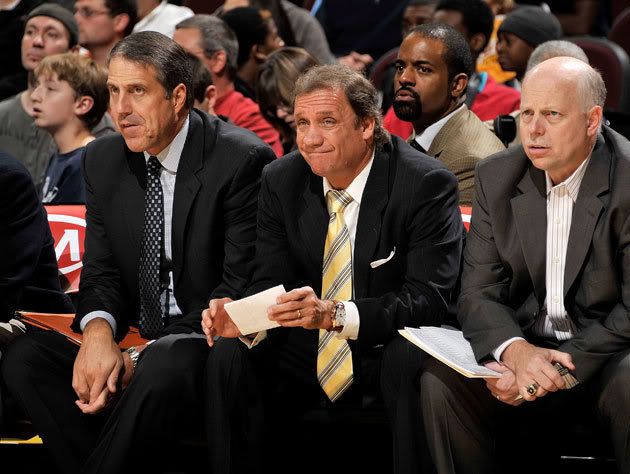 Flip Saunders has been replaced with the guy on the left, because that'll help (Getty Images)
By Kelly Dwyer | Ball Don't Lie – 16 hours ago
Because, as the old adage goes, "you can't fire the GM."
Um, crap. Actually, it's "you can't fire the players." You really can't fire the players, because then you'd have to hire new players to suit up for another loss the next night. You can fire the GM, and then go trade and/or release all of the terrible players the old GM picked up, but the Wizards apparently think some or all of this group is salvageable -- which would be hilarious if it was, uh, hilarious.
Washington owner Ted Leonsis, following in the misguided footsteps of Minnesota owner Glen Taylor and late Detroit Pistons owner William Davidson, has decided to follow the path of a failed GM rather than bucking tradition and understanding that no coach could do right with this mess. Former Minnesota boss Kevin McHale is a legend, but he was awful with the Wolves. Joe Dumars is still surviving off his playing career and fumes from a 2001-2004 (Darko Milicic excluded) run in Detroit. And Ernie Grunfeld has failed, miserably, in Washington. His twisted run cost Flip Saunders his job. Because, apparently, new coach Randy Wittman can improve upon 2-15.
-------
This is the dumbest basketball team I've ever seen. I've seen rebuilding outfits chock full of high school draftees (back when you could play players out of prep school) and international flameouts. I've seen teams playing out the string. I've seen the needle and the damage done. I've seen Stephen Jackson. This Washington team, and I'm not on some cable-addled hyperbolic turn here, is the dumbest basketball team I've ever seen. They really are leading the charge, and not for the purpose of some random column posted in late January.
http://sports.yahoo.com/blogs/nba-ball-dont-lie/washington-wizards-fire-flip-saunders-because-totally-fault-180024538.html;_ylt=ArkD7nOqMzdipZWIejYodAO8vLYF
Ouch.
---
Response to ellisonz (Reply #4)
Wed Jan 25, 2012, 10:23 AM
dakota_democrat (374 posts)
5. I liked his Mad Libs comment near the bottom of that article.
Kelly Dwyer's my favorite NBA blogger, and he absolutely nailed it in that article. Saunders has had enough success in the league to make me think he's getting what he can out of this group of clowns.