Sat Dec 29, 2012, 03:13 PM
OmahaBlueDog (10,000 posts)
Kos: Wounded Knee Massacre of 1890: 116th Anniversary, 12- 29-06 (Part 1)
http://www.dailykos.com/story/2006/12/03/277113/-Wounded-Knee-Massacre-of-1890-116th-Anniversary-12-29-06-Part-1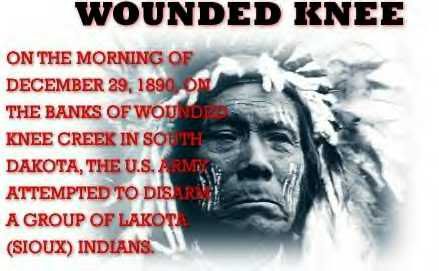 This is one of a four part series. I will link each current diary to the preceding one. Iím also giving an original song to listen to while reading. I wrote it over a period of roughly two years about Wounded Knee. Feel free to download it and put it to good use.

Topics covered in this four part series are: prior events and circumstances that led up to the Wounded Knee Massacre, Wovoka and the influence of Jesus Christís teachings in Wovokaís instructions to the Ghost Dancers, the innocent role of the Ghost Dance and Ghost Dancers in the Massacre, The Dawes Act and similar governmental policies, the Wounded Knee Massacre itself, some philosophical thoughts, and conclusions. While I must speak of two religions by necessity due to the nature of the historical context, I am endorsing neither.
.

First, vital parts of understanding the Wounded Knee Massacre of 1890, are preexisting conditions, Wovoka, and the Ghost Dance.


Thomas E. Mails. "Fools Crow." p.22:

...The first census was of the Sioux was taken in 1886. Thereafter they were required to have a family name. One of the fatherís names was usually taken by the other members of the family, and everyone was given a distinguishing white first name, such as John or Nancy. Some family names, in translation, were unsuitable, so the census takers renamed them with complete English names...1889 and 1890 were years of severe drought, and unlike the white farmers, Indians could not move away to better ground. The buffalo were being systematically wiped out by white hunters, and indeed were virtually gone before 1890. In February 1890, the Dakota Reservation was opened to homesteading by non-Indians, and now the Sioux were ready to turn to anything that would offer them the slightest hope of returning to their old way of life. They prayed desperately, and sought visions from Wakan-Tanka for guidance and deliverance...It was at this point that a Paiute Indian named Wovoka entered the scene..."
0 replies, 2017 views