Sat Oct 12, 2019, 03:15 AM
Eugene (51,926 posts)
A professor spoke about whiteness at Georgia Southern University. Students burned her book.
Source:
USA Today
A professor spoke about whiteness at Georgia Southern University. Students burned her book.
Chris Quintana, USA TODAY Published 6:48 p.m. ET Oct. 10, 2019 | Updated 7:45 p.m. ET Oct. 11, 2019
A Latina author challenged students at Georgia Southern University to think about their whiteness. Some of them refused, and burned copies of her book instead. Andit's 2019.
Jennine Capó Crucet, an author and professor at the University of Nebraska-Lincoln, was at the university to give a talk for a reading series for first-year students. Her book, Make Your Home Among Strangers, is about a Hispanic girl from a poor family who has been accepted into a selective college in New York.
During a question-and-answer session, some students questioned why the author had been critical of white people.
"I noticed that you made a lot of generalizations about the majority of white people being privileged," one student said, according to the student newspaper, The George-Anne.
-snip-
Read more:
https://www.usatoday.com/story/news/education/2019/10/10/race-latinx-author-georgia-southern-university-burning-book/3933292002/
______________________________________________________________________
Source:
Atlanta Journal-Constitution
UPDATE: Ga. Southern book burning sparks outrage, calls for civility
EDUCATION Oct 10, 2019
By Eric Stirgus
Georgia Southern University student leaders, faculty and its president aimed Friday to unite the school and distance it from widespread condemnation of video of a small group of students burning copies of a guest author's book after an address earlier this week.
"(W)hile it's within the students' First Amendment rights, book burning does not align with Georgia Southern's values nor does it encourage the civil discourse and debate of ideas," the university's president, Kyle Marrero, said in a message Friday afternoon to students, employees and faculty. "Yes, I wish our students had engaged in a reasoned discussion. And yes, I wish these discussions had not deteriorated or led to broad generalizations that paint an ugly picture about our university."
The author, Jennine Capó Crucet, was invited to the university's main campus in Statesboro Wednesday evening to discuss her new book, "My Time Among the Whites: Notes From an Unfinished Education," as part of the school's orientation program for first-year students.
Crucet, an American-born daughter of Cuban immigrants, said she was asked to speak about diversity and the college experience. She discussed white privilege during the meeting. A white, female student questioned her credentials to discuss such topics, sparking a heated exchange among students, Crucet said in a one-page statement Friday.
-snip-
Read more:
https://www.ajc.com/news/local-education/reports-georgia-southern-students-burn-speaker-book-after-lecture/PGT1gBndPgXf5e9XUsE2UI/
1 replies, 1412 views
Replies to this discussion thread
| | | | |
| --- | --- | --- | --- |
| 1 replies | Author | Time | Post |
| A professor spoke about whiteness at Georgia Southern University. Students burned her book. (Original post) | Eugene | Oct 2019 | OP |
| | Soph0571 | Oct 2019 | #1 |
---
Response to Eugene (Original post)
Sat Oct 12, 2019, 08:09 AM
Soph0571 (8,928 posts)
1. How dare their white privilege be challenged... (⊙_⊙)?
White privilege can be very bad tempered. And when it gets testy very bad things can happen..
Know where we have seen book burning before...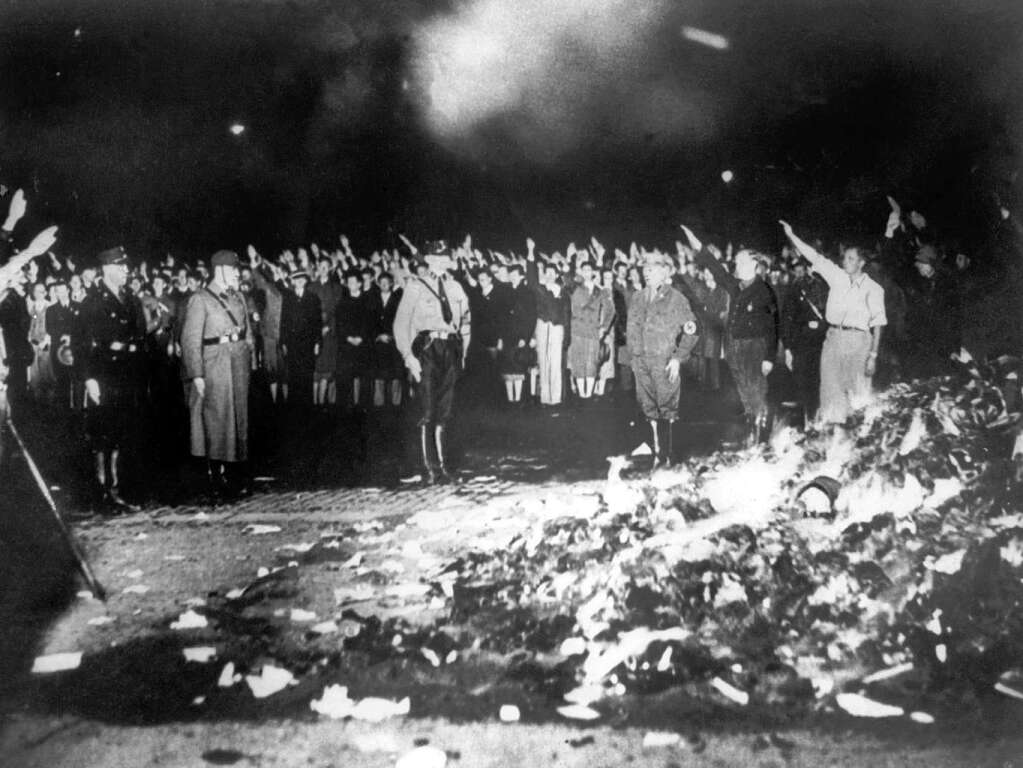 Hhhhmmmmm....