Wed Dec 5, 2012, 05:59 AM
unhappycamper (60,364 posts)
Scott Camil: Internationally Known Winter Soldier Finds Peace With War Buddies
http://www.huffingtonpost.com/steve-karras/scott-camil-a-winter-soldier_b_2171046.html?utm_hp_ref=impact&ir=Impact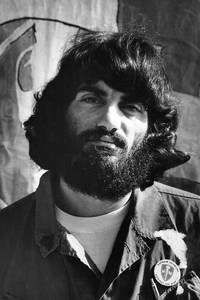 V.V.A.W. 1971
Scott Camil: Internationally Known Winter Soldier Finds Peace With War Buddies
Steve Karras
Posted: 12/03/2012 4:14 pm
Scott Camil's Marine Corps fitness report written before he left Vietnam states the following: &quot
Sergeant Camil) can be trusted to complete any task assigned to him and often takes the initiative to do the odd, unglamorous but necessary jobs that arise from time to time. Under fire he is extremely cool."
He was praised for his "complete knowledge" of his job as a forward observer -- to call in artillery on enemy targets from the field -- his organizational skills, his fierce motivation, and his keen ability to instruct enlisted men and officers alike.
But no adjectives or elevated language could convey the gravity of what Sergeant Camil had experienced during his 13-month tour, and the extended six months he volunteered to stay on and fight. And however laudatory the officer who evaluated Camil, he couldn't possibly have known that the 21-year-old sergeant would apply the same skills that made him a good marine to a tireless life of activism.
Camil's entrance into the antiwar movement was gradual. When he came home from Vietnam in November 1967 he served two more years in the Marine Corps and had time to adjust from combat.
5 replies, 1937 views
Replies to this discussion thread
| | | | |
| --- | --- | --- | --- |
| 5 replies | Author | Time | Post |
| Scott Camil: Internationally Known Winter Soldier Finds Peace With War Buddies (Original post) | unhappycamper | Dec 2012 | OP |
| | Victor_c3 | Dec 2012 | #1 |
| | unhappycamper | Dec 2012 | #2 |
| | Victor_c3 | Dec 2012 | #3 |
| | unhappycamper | Dec 2012 | #4 |
| | Victor_c3 | Dec 2012 | #5 |
---
Response to unhappycamper (Original post)
Wed Dec 5, 2012, 02:04 PM
Victor_c3 (2,146 posts)
1. great article
A lot of what was said really resonated with me.
---
Response to Victor_c3 (Reply #1)
Thu Dec 6, 2012, 06:03 AM
unhappycamper (60,364 posts)
2. Did you see any of the IVAW Winter Soldier videos?
---
Response to unhappycamper (Reply #2)
Thu Dec 6, 2012, 07:09 AM
Victor_c3 (2,146 posts)
3. no I haven't, but thanks for the link. I'll have to watch these when I get a chance to at work
My anti-war stance is something that is developing very slowly in me. I hate war and I'm appalled by it, but I do believe there are justified military interventions. My (admittedly limited) grasp on what happened in the Balkans makes me think that Bosnia/Kosovo was justified. Also, I believe that we would have been justified sending troops into Rwanda to stop the bloodshed there. Likewise, the current deployment of US troops to the Congo to fight the Lord's Militia is also a good use of our military.

My biggest sticking point is how negligent and dishonest the media and our government is when it comes to reporting what is really happening in the wars we are involved in. Getting the truth out, from what I can gather in my very cursory reading, is what much of Winter Soldier project is all about.

Again, thanks for your links and posts!
---
Response to Victor_c3 (Reply #3)
Thu Dec 6, 2012, 07:39 AM
unhappycamper (60,364 posts)
4. It took me almost twenty years to become firmly anti-war after my last 'vacation' in Vietnam.
Last edited Thu Dec 6, 2012, 09:34 AM - Edit history (1)
My tipping point came on two 1/2 hour car rides driving Howard Zinn to/from a Winter Soldier fundraiser in the Boston area. He was an inspirational man.

I support VVAW, Veterans for Peace and IVAW on a regular basis. FWIW, I've met some amazing people in these organizations.

Howard Zinn was a member of our VFP chapter.

A few years ago I was walking with Paul Atwood (Smedley VFP member) on a march. I had just read one of his books - War and Empire: The American Way of Life. While we were walking and talking I mentioned that his book sounded a lot like Howard Zinn's writing. Paul told me his thesis advisor was Howard.

Another veteran in our VFP chapter was both a grunt and a Combat Medic during his two 'vacations' in Vietnam. He has multiple Silver Stars (!), multiple Bronze Stars (one with a "V" device), multiple Purple Hearts and a shitload of other shiny baubles. A nicer man you will never meet.

We have an annual veteran's weekend in Maine. Perhaps you would like to join us in 2013?
---
Response to unhappycamper (Reply #4)
Thu Dec 6, 2012, 02:59 PM
Victor_c3 (2,146 posts)
5. Yes, I'd love to try to make it to Maine however it might be a little out of my range at this point
I live about an hour north of New York City but it is hard for me to get away from home with my kids and family at this point in time. If there is ever anything going on closer to the NYC area, It'd be a lot easier for me to hit.

Are the details to these events posted on the organization websites? I'll have to look more at this.

Thanks.

---- edit----

I think I just answered my own question. Yes, there are local VFP chapters close to me and they do have a pretty extensive list of activities that they do. I'm going to have to push myself to make some time and to get myself out to get involved. They are talking about setting up groups of veterans to talk to high school students - and that is something that I'd love to do.