Sun May 9, 2021, 08:38 AM
Eugene (51,932 posts)
US Navy seizes weapons in Arabian Sea likely bound for Yemen
Source:
Associated Press
US Navy seizes weapons in Arabian Sea likely bound for Yemen
By JON GAMBRELL
May 9, 2021
DUBAI, United Arab Emirates (AP) — The U.S. Navy announced Sunday it seized an arms shipment of thousands of assault weapons, machines guns and sniper rifles hidden aboard a ship in the Arabian Sea, apparently bound for Yemen to support the country's Houthi rebels.
An American defense official told The Associated Press that the Navy's initial investigation found the vessel came from Iran, again tying the Islamic Republic to arming the Houthis despite a United Nations arms embargo. Iran's mission to the U.N. did not immediately respond to a request for comment, though Tehran has denied in the past giving the rebels weapons.
The seizure, one of several amid the yearslong war in Yemen, comes as the U.S. and others try to end a conflict that spawned one of the world's worst humanitarian disasters. The arms shipment, described as sizeable, shows that the war may still have far to run.
The guided-missile cruiser USS Monterey discovered the weapons aboard what the Navy described as a stateless dhow, a traditional Mideast sailing ship, in an operation that began Thursday in the northern reaches of the Arabian Sea off Oman and Pakistan. Sailors boarded the vessel and found the weapons, most wrapped in green plastic, below deck.
-snip-
Read more:
https://apnews.com/article/yemen-middle-east-e4bde7250333a85445fe9a9f0f1c64a8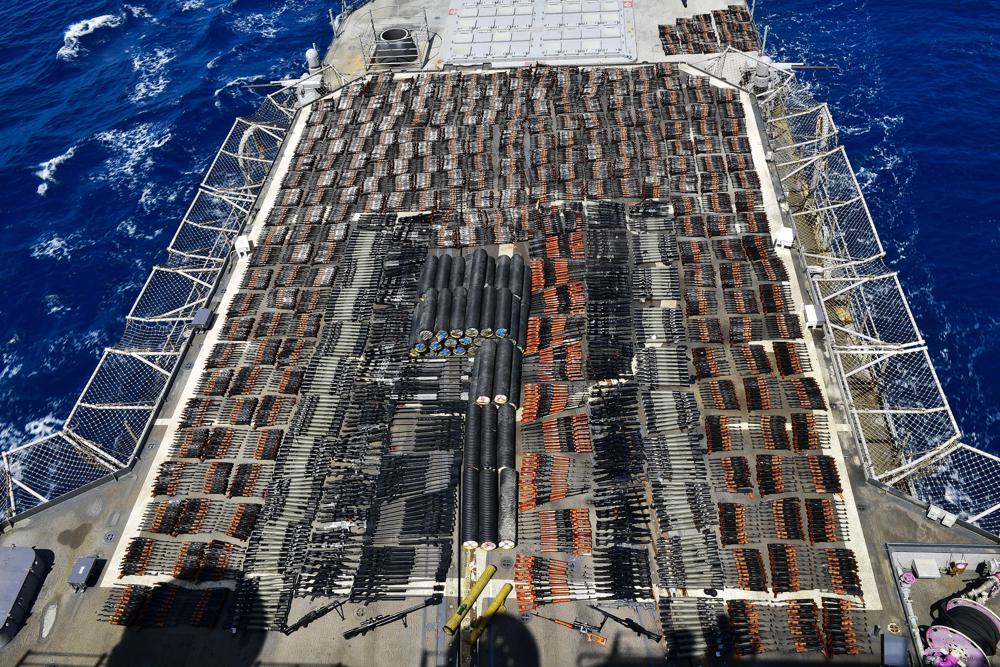 Weapons that the U.S. Navy described as coming from a hidden arms shipment aboard a stateless dhow are seen aboard the guided-missile cruiser USS Monterey on Saturday, May 8, 2021. The U.S. Navy announced Sunday it seized the arms shipment hidden aboard the vessel in the Arabian Sea, the latest-such interdiction by sailors amid the long-running war in Yemen. (U.S. Navy via AP)
0 replies, 794 views