Thu Aug 9, 2012, 08:56 AM
MinM (2,650 posts)
Adam Davidson's Journalistic Corruption: NPR Host Shills for Wall Street, While Taking their Money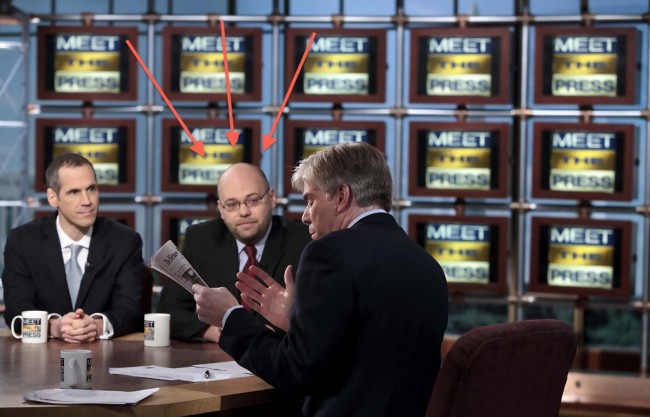 Adam Davidson's Journalistic Corruption: NPR Host Boosts for Wall Street, While Taking Undisclosed Banking Money
By Yasha Levine and Mark Ames • S.H.A.M.E. • August 8, 2012
"I feel like the voice of business journalism is sort of, it's an authoritative voice of God."
—Adam Davidson
Adam Davidson is the co-creator and host of the popular economic news radio program Planet Money. On air, Davidson plays the role of an earnest, brainy reporter who's doing his best to make sense of the complicated, jargon-filled world of finance to report business news in a way that NPR listeners can understand. However, behind the dweeby, faux-naive facade Adam Davidson presents to his listeners, is a shrewd propagandist with a long, consistent history of shilling for powerful and destructive interests—and failing to disclose his financial ties to the companies and industries he reports on.
Over the years, Davidson has boosted for the Iraq War and whitewashed the occupation of Iraq, praised sweatshop labor and "experimenting on the poor," attacked the idea of regulating Wall Street, parroted libertarian propaganda about the government's inability to directly create jobs, argued for "squeezing the middle class," and shamelessly fawned over Wall Street for allegedly blessing Americans with "just about anything that makes you happy." (Read Adam Davidson's full S.H.A.M.E. profile.)
While Adam Davidson has recently come under increasing scrutiny for using his NPR platform to promote the narrow interests of the super-wealthy in this country, little attention has thus far been given to Davidson's corruption—his numerous financial conflicts of interest that seriously undermine his claims to being a journalist, and instead reveal Davidson as a glorified product spokesman for his Wall Street sponsors.
Adam Davidson gained national media recognition as an on-air personality in 2008, after co-producing an episode for This American Life called "The Giant Pool of Money" about the implosion of subprime lending. Although Davidson's segment was praised for making the murky world of finance easier to understand, his framing of the subprime housing debacle served another purpose: It let Wall Street off the hook for its role in rampant criminal mortgage fraud and predatory lending...
http://shameproject.com/report/adam-davidson-corrupt-wall-street-booster/
Frontline's Astonishing Whitewash of the Crisis
Battling Wall Street: The Kennedy Presidency
2 replies, 1933 views
Replies to this discussion thread
| | | | |
| --- | --- | --- | --- |
| 2 replies | Author | Time | Post |
| Adam Davidson's Journalistic Corruption: NPR Host Shills for Wall Street, While Taking their Money (Original post) | MinM | Aug 2012 | OP |
| | snot | Aug 2012 | #1 |
| | snot | Aug 2012 | #2 |
---
Response to MinM (Original post)
Mon Aug 20, 2012, 01:51 AM
snot (10,263 posts)
1. K&R'd! Excellent article.
I've felt frustrated with the media's obtuseness on economic issues, including Planet Money's; now I see it wasn't just that.

But the sad thing is, Planet Money still did a better job on the story than practically anyone else!
---
Response to MinM (Original post)
Mon Aug 20, 2012, 01:51 AM
snot (10,263 posts)
2. And it's a dam' shame this is relegated to a relative DU backwater.