Sun Jan 26, 2014, 07:01 PM
gejohnston (17,502 posts)
hopefully common ground weekend: must read edition
SecularMotion's post started, in my mind, an important subject in not only the gun debate, but also an overlooked part of the civil rights movement.
http://www.democraticunderground.com/1172135867
Of course my reply was
http://www.democraticunderground.com/1172135867#post3
I caught this interview on C-SPAN's Book TV.
http://www.booktv.org/Watch/15231/After+Words+Nicholas+Johnson+Negroes+and+the+Gun+The+Black+Tradition+of+Arms+hosted+by+Zaheer+Ali.aspx
Amazon's PR Blurb:
Chronicling the underappreciated black tradition of bearing arms for self-defense, this book presents an array of examples reaching back to the pre—Civil War era that demonstrate a willingness of African American men and women to use firearms when necessary to defend their families and communities. From Frederick Douglass's advice to keep "a good revolver" handy as defense against slave catchers to the armed self-protection of Monroe, North Carolina, blacks against the KKK chronicled in Robert Williams's Negroes with Guns, it is clear that owning firearms was commonplace in the black community.

Nicholas Johnson points out that this story has been submerged because it is hard to reconcile with the dominant narrative of nonviolence during the civil rights era. His book, however, resolves that tension by showing how the black tradition of arms maintained and demanded a critical distinction between private self-defense and political violence.

Johnson also addresses the unavoidable issue of young black men with guns and the toll that gun violence takes on many in the inner city. He shows how complicated this issue is by highlighting the surprising diversity of views on gun ownership in the black community. In fact, recent Supreme Court affirmations of the right to bear arms resulted from cases led by black plaintiffs.
http://www.amazon.com/Negroes-Gun-Black-Tradition-Arms-ebook/dp/B00E2RWQHM
Looks like a good read for both sides of the gun issue, and anyone interested in civil rights history.
4 replies, 1445 views
Replies to this discussion thread
| | | | |
| --- | --- | --- | --- |
| 4 replies | Author | Time | Post |
| hopefully common ground weekend: must read edition (Original post) | gejohnston | Jan 2014 | OP |
| | NYC_SKP | Jan 2014 | #1 |
| | gejohnston | Jan 2014 | #2 |
| | NYC_SKP | Jan 2014 | #3 |
| | friendly_iconoclast | Jan 2014 | #4 |
---
Response to gejohnston (Original post)
Sun Jan 26, 2014, 08:35 PM
NYC_SKP (68,644 posts)
1. Reading the reviews led me to some articles of interest...
One worth bookmarking is from the Nation,
The Rifle on the Wall: A Left Argument for Gun Rights
(snip)
I think we should have this discussion honestly. If the latter is your position, say it. If you want to eliminate the Second Amendment right, mount a forthright political campaign to do so. Do not pussy-foot around with "I am not against the Second Amendment. I do not want to take your hunting rifles and your shotguns, and your antique muskets," when you really don't like the Second Amendment at all, would love to see it repealed, and wouldn't mind if everybody was forced to turn in every weapon that they owned.
'Cause, guess what: You're not fooling anybody. When your discourse reeks with intellectual and moral disdain for gun-rights and gun-rights advocates, when it never endorses, and indeed at best studiously avoids, the issue of gun ownership as a fundamental political right, it shows. And it certainly shows when you say outright that you'd love to confiscate all guns, no matter how you try to waffle on that later. Despite what's implied in the ever-present disdain, gun rights advocates are not, ipso facto, stupid (or violent, or crazy), and certainly not too stupid to see where you're heading. So let's stop gaslighting gun-rights supporters as paranoid when they state what they see:
Dianne Feinstein, who had a concealed carry permit when she felt a "sense of helplessness," saying: "If I could have gotten 51 votes in the Senate of the United States for an outright ban, picking up every one of them…. Mr. and Mrs. American turn 'em all in. I would have done it."
Not to mention Andrew Cuomo's more recent: "Confiscation could be an option. Mandatory sale to the state could be an option."
Of course, you could counter that nobody should believe a word of anything these politicians say, anyway. How persuasive is this performance by pry-it-from-my-cold-dead-hands Joe?
(end snip)
The entire piece is here:
http://www.thepolemicist.net/2013/01/the-rifle-on-wall-left-argument-for-gun.html
---
Response to NYC_SKP (Reply #1)
Sun Jan 26, 2014, 09:44 PM
gejohnston (17,502 posts)
2. the Nation article reminds me of an Edward Abbey quote
in Abbey's Road. "The tank, the B-52, the fighter-bomber, the state-controlled police and military are the weapons of dictatorship. The rifle is the weapon of democracy."
It works for my anti MIC/Empire rants as well.
---
Response to gejohnston (Reply #2)
Sun Jan 26, 2014, 09:52 PM
NYC_SKP (68,644 posts)
3. I'm sure you've seen this before, the New Capitalist Pyramid graphic:
It came up in my reading, hadn't seen it in a few years.
Note where the guns are, and note where the average American voter is.
Those who would do away with the RKBA are incapable of seeing themselves outside that outer ring and, apparently do understand how easily they could find themselves there.
All the moaning about a government out of control, the NSA and our war machine and corrupt voting, yet they'd somehow trust the government and police state to take our guns and remain defenseless.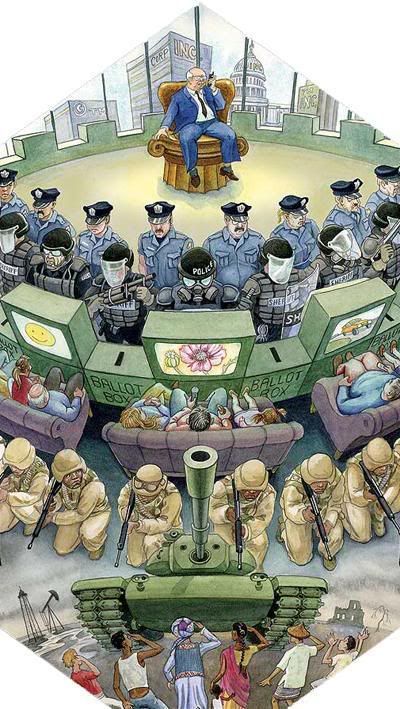 ---
Response to gejohnston (Original post)
Mon Jan 27, 2014, 02:26 PM
friendly_iconoclast (15,333 posts)
4. There's an interview excerpt on YouTube