Mon Feb 4, 2013, 11:53 PM
steve2470 (31,823 posts)
Richard III's scarred skeleton becomes a battlefield for academics
http://www.guardian.co.uk/uk/2013/feb/04/richard-third-skeleton-confirmed-leicester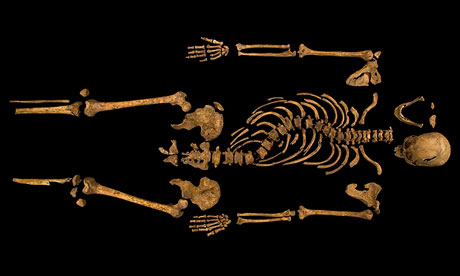 As in 1485, once the death of the king was confirmed, the arguments started. Was the search for the man in the car park a stunt and a media circus, or a classic piece of research archaeology based on sound science, which opens a window on a period of history fogged by Tudor propaganda?
The debate will certainly last longer than Richard's two-year reign. Before the identification had even been formally confirmed, the redoubtable historian Mary Beard had waded in on Twitter: "Gt fun & a mystery solved that we've found Richard 3. But does it have any HISTORICAL significance? (Uni of Leics overpromoting itself?))"
Meanwhile, the bones that have just been confirmed as those of Richard III – the last Plantagenet king, the last monarch to die on a battlefield, whose death ushered in the upstart Tudors – lay quietly in a calm room on the second floor of the Leicester University library, unknown to many of the students bustling in and out of the building.
Inevitably, the press conference in another building – with 140 registered journalists and camera crews from seven countries – was controlled mayhem, but the university had gone to extraordinary lengths to ensure that the actual remains were treated with respect.
5 replies, 1693 views
Replies to this discussion thread
| | | | |
| --- | --- | --- | --- |
| 5 replies | Author | Time | Post |
| Richard III's scarred skeleton becomes a battlefield for academics (Original post) | steve2470 | Feb 2013 | OP |
| | mgc1961 | Feb 2013 | #1 |
| | steve2470 | Feb 2013 | #2 |
| | oldironside | Feb 2013 | #3 |
| | mgc1961 | Feb 2013 | #4 |
| | oldironside | Feb 2013 | #5 |
---
---
Response to mgc1961 (Reply #1)
Tue Feb 5, 2013, 02:58 PM
steve2470 (31,823 posts)
2. you're very welcome ! :) nt
---
Response to steve2470 (Original post)
Tue Feb 12, 2013, 05:03 PM
oldironside (1,248 posts)
3. Now they're arguing about where to bury him.
York or Leicester. I would suggest York because it was his power base. Lets face facts, he didn't do much around Leicester except die, and given the hideous Tudor propaganda that generations of school children were faced with, it's really the least we can do.
---
---
Response to mgc1961 (Reply #4)
Wed Feb 13, 2013, 05:08 PM
oldironside (1,248 posts)
5. I don't think there's too much doubt that York would be better.
The problem is that we are in for an awful lot of bullshit which will probably involve his character being assasinated again. Yes, he was a bastard, but so were all medieval kings. Life was nasty, brutish and short. If he'd made an extra five yards at Bosworth Field we'd be arguing about where to bury Henry Tudor, and Richard would be lauded above Henry VIII.

The bottom line is that he was an important figure in English history and deserves a proper grave. Wether or not he gets the sort of respectful burial he would have approved of will tell us how far England has come from the Wars of the Roses.