Sun Sep 2, 2012, 10:23 PM
CHIMO (9,223 posts)
The war that Canada won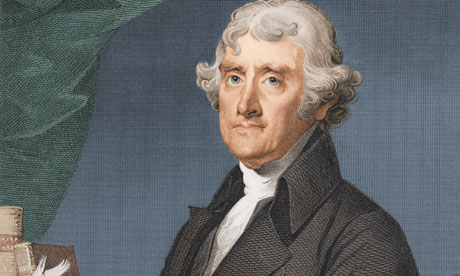 Thomas Jefferson: in 1812 he declared that 'taking British Canada would be a mere matter of marching'. Photograph: Stock Montage/Getty Images
In an anniversary-obsessed year – with the Titanic centenary, the bicentenary of Dickens's birth (and Shakespeare's 448th), and the Queen's Diamond Jubilee – one such opportunity is largely conspicuous by its absence. Yet not everyone gets to burn down the White House after eating a fleeing president's dinner. There is even a helpful clue in the title: the War of 1812. It followed the US Congress's indignant declaration of war on 24 June against – yes – imperial Britain, a country grappling with a mad King George III, a murdered PM (Spencer Perceval) and a 20-year struggle with France.
Strange that, apart from a couple of new histories, the 30-month conflict on land, sea and lake has had little attention in either country, though Canada pays more. Its existence as an independent country with an undefended 3,000-mile land border is one of several major consequences of a silly conflict that embarrassed both sides – and still does.
Britain had its hands full fighting Napoleon in 1812, and (as in 1914-17) Americans were cross with the way both sides' embargoes disrupted their trade. But they were especially cross with maritime Britain for seizing British-born sailors to serve in the Royal Navy, and for supporting tribal warriors like Tecumseh in the frontier wars.
http://www.guardian.co.uk/commentisfree/2012/sep/02/war-that-canada-won-1812-forgotten
http://www.dailymotion.com/video/xobhy_tchaikovsky-overture-1812_music
2 replies, 1195 views
Replies to this discussion thread
| | | | |
| --- | --- | --- | --- |
| 2 replies | Author | Time | Post |
| The war that Canada won (Original post) | CHIMO | Sep 2012 | OP |
| | covenant | Sep 2012 | #1 |
| | DavidL | Oct 2012 | #2 |
---
Response to CHIMO (Original post)
Mon Sep 17, 2012, 12:01 PM
covenant (9 posts)
1. The past has passed
Last edited Mon Sep 17, 2012, 01:11 PM - Edit history (3)
The past has passed away. With due respect and without reference to anybody, still many people have lingering thoughts of injustices committed in the past. Forget the past. Aim at the present. We all should wage war against all that are evil. One thing that threatens us all is indiscriminate terrorism where Arab terrrorists indiscriminately bomb public places without regard that innocent people or their innocent fellow Muslims be killed. Ultimate evil has roots in the Holy Bible: "In those days, good shall become better and evil shall remain and become more evil.". And so has other religions' respective "bibles" have predicted. Let us pray for the salvation of our souls and our beloved brethren whatever his or her political color is. Man is by nature good
---
Response to CHIMO (Original post)
Sat Oct 6, 2012, 03:25 PM
DavidL (384 posts)
2. The war of 1812 is seldom given much attention
I see it in a way as the second phase of the war of independence with Great Britain, the first being the Revolutionary War, largely started by Madison because of conflicts over sailors and ships in the Atlantic Ocean, America's trade routes to Europe, as well as some British incitement of Indian revolts in the territories, where Great Britain still desired to attain more control than simply over Canadian lands.
A mere 30 years had passed since the end of the Revolutionary War, and alliances in Canada and the USA were shifting only gradually towards and within the new nation, the United States. Canada was, in many ways, the foothold of Great Britain remaining in North America. There was, of course, a third nation with a foothold in North America, France, with strongholds in Quebec, and in parts of the Louisiana territory, extending into St Louis, and other parts of what is now the American Midwest. Although France had sold her interests in American Territory in the areas below Canada to the USA, several largely French-American outposts still remained in the Louisiana territory along the Mississippi. French towns in North America were considered by the British as rightfully belonging to the British after the French having been defeated in Europe.
Madison, in June 1812, got a declaration of war from Congress, and began battling with British encampments, as close as the naval areas around the port of Baltimore, just a few weeks later.
The war between Great Britain and France in Europe really took Britain's prime attention for the first two years of the war of 1812. Two major American land battles, (although there were others smaller ones), in Washington, DC and New Orleans, were the major events on US soil, the second, the Battle of New Orleans, actually took place about two weeks AFTER a treaty between the US and Great Britain had been reached in Ghent, Belgium, December 24, 1814, and Jackson defeated 5000 British troops that January day, earning himself high praise, and, eventually, the U.S. Presidency and our legacy of "Jacksonian democracy".
24,000 American and British soldiers lost their lives during this war, yet really no land changed hands as a result of this war. America and Britain went back to an "ante-bellum status quo" in territorial terms.
The real losers in this war, disastrous for them, the Native Americans, they simply lost land, people, rights, and were almost forgotten from this point forward until the late 1850'-1870's.
Lots of interesting video on this:
http://www.pbs.org/wned/war-of-1812/the-film/watch-film-and-bonus-features/