Mon Feb 4, 2013, 02:03 PM
JeffHead (1,186 posts)
Adopted 2 shelter cats update. Day 29
Thank you all for your kind comments on my initial post. Just thought I'd update you all on how things are going.
This is Belle.
She is the sweetest little cat ever! Starting from the first night she curls up in bed with Me and Mrs. JeffHead just purring her little heart out. But, she has a dark side. She is very protective of the litter box. I like to call her the poop nazi. Every time she hears the other cat scratching around in the box she freaks out and has to go see what's going on and afterward has to do some grounds keeping of her own. It has caused a few accidents on the other cats part but, when she curls up in your lap and starts turning on the cute all is forgiven.
This is Pat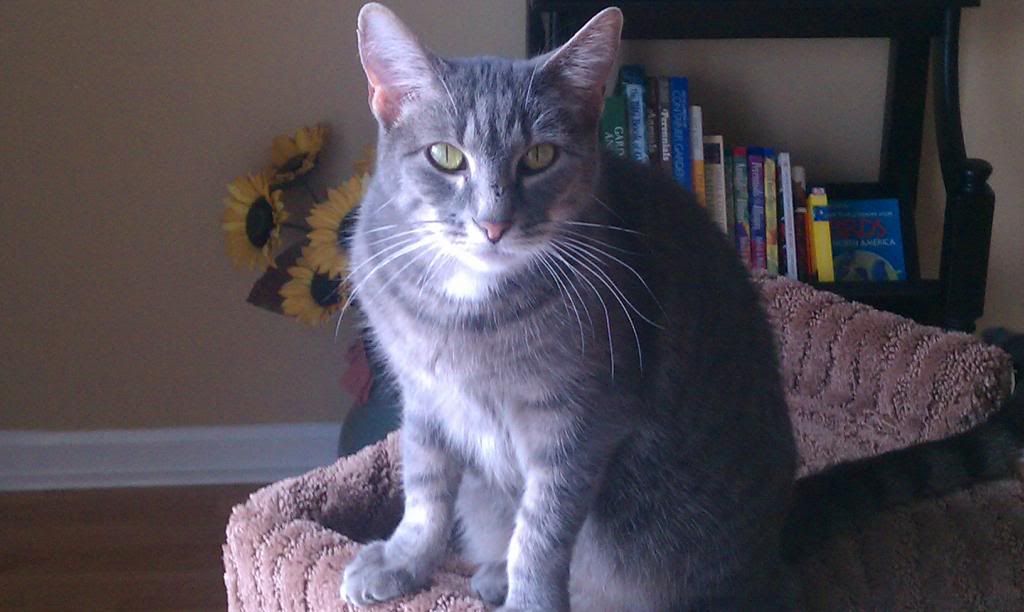 We named her Pat because, she may be a girl, she's not very ladylike. She's a long, lean, jumping machine, and very curious so she's been on top of every shelf, cabinet, and curtain rod in our house. She's knocked a few things off and broken a few things but that is to be expected. Oh, and did I mention she farts. Not your average run of the mill farts, I'm talking paint peeling, run a buzzard off a gut wagon farts. She also doesn't like to be touched all that much so I didn't think she would be much of a lap cat. The other day I was sitting in the chair watching tv and all of a sudden she jumped on the back of the chair and slowly made her way down to my lap and curled up and slept there for a couple hours. I think she's settling in nicely and gaining some level of trust so hopefully she will not cause too much trouble in the future.
All in all we made a good choice in these two. They have never had a real home having spent most of their lives in a shelter so I'm sure this is all new to them too. It's been pretty cool having them around and we love them both very much. I'm glad we could give them a home and get them out of that shelter. So after 29 days I still feel pretty good.
7 replies, 1289 views
Replies to this discussion thread
| | | | |
| --- | --- | --- | --- |
| 7 replies | Author | Time | Post |
| Adopted 2 shelter cats update. Day 29 (Original post) | JeffHead | Feb 2013 | OP |
| | The Velveteen Ocelot | Feb 2013 | #1 |
| | Phentex | Feb 2013 | #2 |
| | JeffHead | Feb 2013 | #4 |
| | ginnyinWI | Feb 2013 | #3 |
| | yellerpup | Feb 2013 | #5 |
| | Curmudgeoness | Feb 2013 | #6 |
| | MadrasT | Feb 2013 | #7 |
---
Response to JeffHead (Original post)
Mon Feb 4, 2013, 02:10 PM
The Velveteen Ocelot (53,726 posts)
1. They are beautiful!
---
Response to JeffHead (Original post)
Mon Feb 4, 2013, 02:24 PM
Phentex (13,274 posts)
2. They are beauties!
It's great you could give them a good home. Pat looks like she posed for you.
---
Response to Phentex (Reply #2)
Mon Feb 4, 2013, 02:44 PM
JeffHead (1,186 posts)
4. It was one of the rare times when she is awake that she stayed put for a second
Most of the pictures I have of her are a grey blur
---
Response to JeffHead (Original post)
Mon Feb 4, 2013, 02:31 PM
ginnyinWI (15,671 posts)
3. aren't those cat trees nice?
Ours love to scratch on the sisal covered posts, and don't scratch anywhere else anymore. I have it next to a window that looks into the back yard and bird feeder (a good ways away so the birds don't care).
---
Response to JeffHead (Original post)
Mon Feb 4, 2013, 02:50 PM
yellerpup (11,651 posts)
5. Sweet.
If you have the room, you could try two litter boxes. That has worked pretty well in the past to help kittehs solve their territorial issues. Some kitties are very territorial. I'll post this video of Penny keeping Jake off "her" rug, an example of my little girl's extremism when it came to territory.


---
Response to JeffHead (Original post)
Mon Feb 4, 2013, 07:18 PM
Curmudgeoness (18,181 posts)
6. They look like they are happy to be with you.
Beautiful cats. I have had my rescue cat for 1-1/2 years, and he is just starting to really get comfortable. He would never curl up with me, and he refused to come up on the bed, but he has slowly learned what makes me happy. It took a long time, but he finally is making himself at home. This is the longest he has been in a home, and he will be here a lot longer! Give them time.

As to the litter box situation, get a second litter box. It doesn't mean that it will make any difference, because it might not, but they do suggest that a multi-cat home have more than one box. I have usually had two cats in the house at a time, and two litter boxes, and both cats used both boxes, so there was no way to deal with one cat being territorial. But it might help. And this also may settle down with time.

Glad you gave these lovely cats a home!

---
Response to JeffHead (Original post)
Thu Feb 7, 2013, 01:14 PM
MadrasT (7,237 posts)
7. What beautiful kitties.
I have a girl-cat that sounds a lot like Pat. Minus the farts.
Yay for you and your kitties settling in and becoming a family!