Tue Dec 29, 2020, 09:17 AM
Judi Lynn (149,410 posts)
From Tazi to Afghan Hound... from hunter's friend to silken-haired pet Kate Clark 29 Dec 2020
Kate Clark 29 Dec 2020
Winter is the time when Afghan hunters go up into the snowy mountains with their dogs, known as
tazis.
These are lean, graceful creatures who use speed and keen sight to catch their prey. To the outside world, they became known as the 'Afghan hound' after officers in the British colonial army brought individual dogs to London a century ago. They were immediately popular; one of the first dogs, Zardin, was taken to Buckingham Palace for the queen to view and after he died, was stuffed and put on display in the British Museum. The Afghan hound has since been bred for its long coat, which is groomed to look like silk. AAN's Kate Clark, considers the place of the tazi, as hunter in Afghanistan and lustrous-haired pet in Britain, as well as its appearance in art, poetry and modern genetics, with interviews in Afghanistan by Sayed Asadullah Sadat and Fazl Muzhary.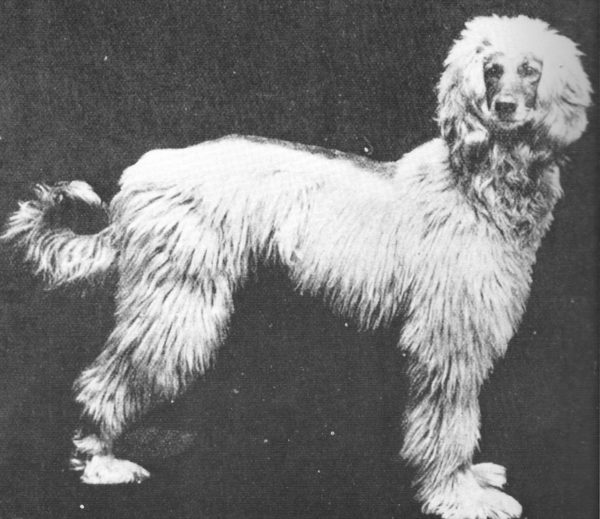 The tazi, Zardin, brought from Afghanistan and exhibited in London in 1907, created a
national sensation.

The tazi is faster, by far, than other dogs, and unlike other dogs, it never gets fat. When we're out hunting, the rabbits hear us [humans] walking. But the tazi understands the situation and runs ahead and, being so lean, it makes no noise, not even on snow.
Qari Amanullah, Andar district of Ghazni
In Zurmat, most tazis have a long body and a narrow, elongated head. The nose is black. The eyes are dark and almond-shaped. The neck is long and strong and the legs long and straight; the hind legs larger and covered with hair. The tazi has long, silky hair. It is a dog with grandeur, not always sociable, but sweet, lovely and loyal.
Momin Khodayar, Zurmat district of Paktia
The Afghan Hound is an aristocrat, his whole appearance one of dignity and aloofness with no trace of plainness or coarseness. He has a straight front, proudly carried head, eyes gazing into the distance as if in memory of ages past. The striking characteristics of the breed-exotic, or "Eastern," expression,* long silky topknot, peculiar coat pattern, very prominent hipbones, large feet, and the impression of a somewhat exaggerated bend in the stifle [1] due to profuse trouserings – stand out clearly, giving the Afghan Hound the appearance of what he is, a king of dogs, that has held true to tradition throughout the ages.
More:
https://www.afghanistan-analysts.org/en/reports/context-culture/from-tazi-to-afghan-hound-from-hunters-friend-to-silken-haired-pet/
1 replies, 631 views
Replies to this discussion thread
| | | | |
| --- | --- | --- | --- |
| 1 replies | Author | Time | Post |
| From Tazi to Afghan Hound... from hunter's friend to silken-haired pet Kate Clark 29 Dec 2020 (Original post) | Judi Lynn | Dec 2020 | OP |
| | tblue37 | Dec 2020 | #1 |
---
Response to Judi Lynn (Original post)
Tue Dec 29, 2020, 12:47 PM
tblue37 (48,233 posts)
1. I had an Afghan Hound in the 1970s to 1980s. Jason was an adorable, sweet, and goofy dog.