Wed Dec 25, 2019, 05:40 PM
question everything (37,111 posts)
An offshoot of Meals on Wheels, Ani-Meals on Wheels helps feed the pets of disadvantaged older adult
Itty Bitty the Kitty is more entertaining than TV.
"That's my sugar. Ooh, he's a show!" said his owner, Diane, as the energetic tabby pounced on a new toy.
That toy, a colorful length of braided fleece, was delivered by Jay Wilcox, a volunteer for Ani-Meals on Wheels. Wilcox also brought a month's worth of donated provisions — a bag of dry chow, six cans of seafood-flavored cat food and the new amusement — to the third-floor apartment, greeting Diane by name and asking, "How's your baby?" The 70-year-old retired secretary (who asked that only her first name be used) lives in a rent-assisted building for older adults. As a Meals on Wheels client, she regularly receives healthy meals. Now her in-house entertainment and adored companion, Itty Bitty, does, too.
(snip)
Every month, Ani-Meals volunteers pack 1,200 pounds of pet food and deliver it to 170 animals, mostly cats, that live with Meals on Wheels clients served by Community Emergency Service (CES) in south Minneapolis. The program is part of an effort to recognize the role that companion animals play in the health and well-being of the people Meals on Wheels serves.
Meals on Wheels has long been credited with helping low-income seniors and people with disabilities retain their independence by providing them with nutritious food. The regular lunchtime drop-offs by friendly volunteers also offer a connection for homebound clients. A few years ago, Meals on Wheels America (the national organization that supports the thousands of community-based programs) discovered that many of its clients shared their limited food with their pets.
In 2016, the national organization offered grants to local Meals on Wheels programs to establish Ani-Meals on Wheels. In Minneapolis, CES relies on grants and individual donations of pet food, kitty litter and cash. Volunteers sort, pack and deliver the pet supplies.
More..
http://www.startribune.com/an-offshoot-of-meals-on-wheels-ani-meals-on-wheels-helps-feed-the-pets-of-disadvantaged-older-adults/566438582/#1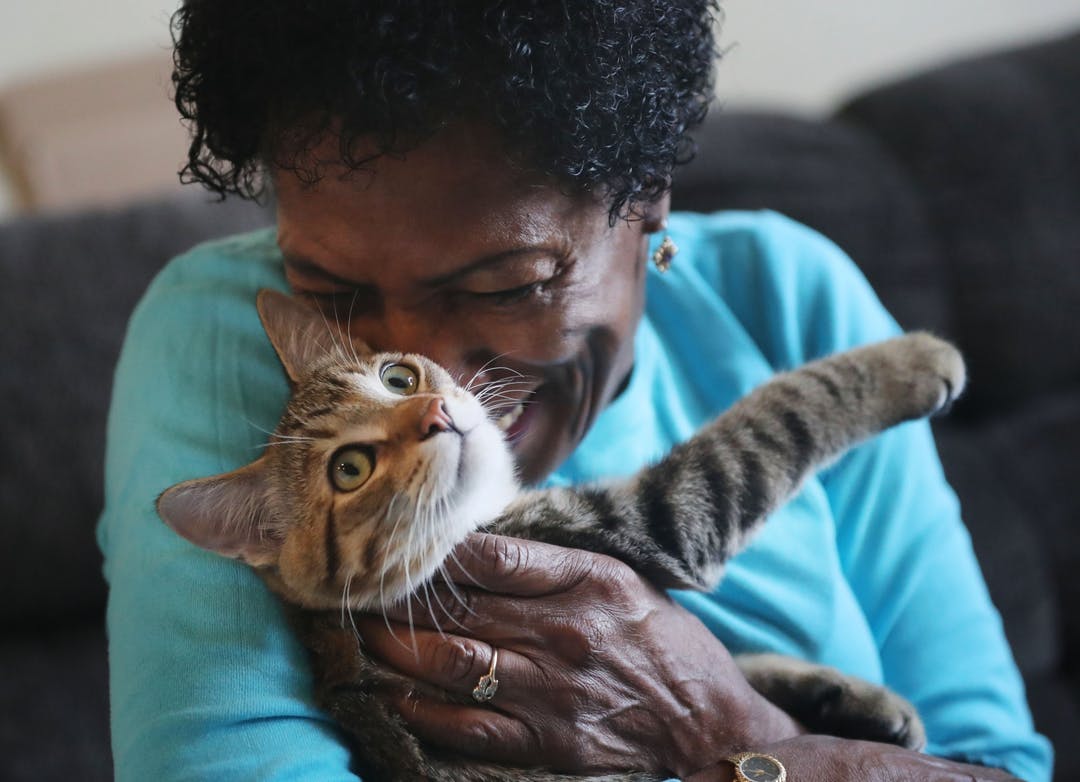 4 replies, 589 views
Replies to this discussion thread
| | | | |
| --- | --- | --- | --- |
| 4 replies | Author | Time | Post |
| An offshoot of Meals on Wheels, Ani-Meals on Wheels helps feed the pets of disadvantaged older adult (Original post) | question everything | Dec 25 | OP |
| | Demovictory9 | Dec 25 | #1 |
| | erronis | Dec 25 | #2 |
| | progree | Dec 25 | #3 |
| | JudyM | Dec 25 | #4 |
---
Response to question everything (Original post)
Wed Dec 25, 2019, 07:53 PM
Demovictory9 (9,761 posts)
1. k&r
---
Response to question everything (Original post)
Wed Dec 25, 2019, 08:15 PM
erronis (7,456 posts)
2. I deliver MoW and know at least half of my clients have pets
usually pretty small and not needing a lot of food like my 2 60/100 pound dogs.

I'll agree that the pets are the centers of their lives in many cases and are an inexpensive way to bring joy to their lives.

---
Response to question everything (Original post)
Wed Dec 25, 2019, 08:29 PM
progree (5,565 posts)
3. I thought it said "Anti-Meals on Wheels" at first, LOL.
---
Response to question everything (Original post)
Wed Dec 25, 2019, 10:26 PM
JudyM (14,770 posts)
4. K&R