Mon Oct 14, 2019, 08:36 PM
Judi Lynn (136,686 posts)
A massive mastiff had to be rescued after getting exhausted on a mountain hike
A massive mastiff had to be rescued after getting exhausted on a mountain hike
Amanda Jackson
By Amanda Jackson, CNN
Updated 9:15 PM ET, Mon October 14, 2019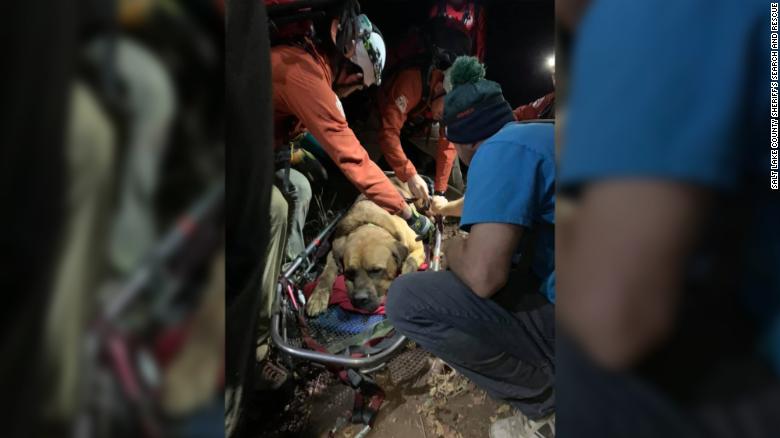 Floyd, a 3-year-old mastiff, was rescued Sunday.
(CNN)Floyd the mastiff went for a hike with his owner up the Grandeur Peak trail near Salt Lake City on Sunday. But when it was time to come down, Floyd was too exhausted and just sat down.
Thanks to the Salt Lake County Sheriff's Office search and rescue team, the 190-pound dog made it home by being carried back down the trail.
The rescue team was called around 6:30 p.m. after other hikers passed Floyd on the trail and saw his owner needed help. The 3-year-old dog wouldn't budge and temperatures in the area were quickly dropping, according to police.
"The team is completely volunteer," Sgt. Melody Gray of the Unified Police Department, which works with the sheriff's search and rescue team, told CNN. "They had no hesitation whatsoever, even when they heard it was a dog."
More:
https://us.cnn.com/2019/10/14/us/mastiff-rescue-utah-trnd/index.html
Team Rescues 190-Pound Mastiff, Owner In Millcreek Canyon
Share
BY KSL TV
OCTOBER 14, 2019 AT 5:25 AM
https://ksltv.com/423408/team-rescues-190-pound-mastiff-owner-in-millcreek-canyon/
3 replies, 616 views
Replies to this discussion thread
| | | | |
| --- | --- | --- | --- |
| 3 replies | Author | Time | Post |
| A massive mastiff had to be rescued after getting exhausted on a mountain hike (Original post) | Judi Lynn | Oct 2019 | OP |
| | hlthe2b | Oct 2019 | #1 |
| | Boomer | Oct 2019 | #2 |
| | hlthe2b | Oct 2019 | #3 |
---
Response to Judi Lynn (Original post)
Mon Oct 14, 2019, 08:52 PM
hlthe2b (75,171 posts)
1. Poor babe...I do hope they had him examined and perhaps a cardiac workup...
Given the unusual exhaustion for a dog so young and likewise the current issues with some dogfoods and cardiomyopathy...

Hopefully, he was just out of shape. Good on the volunteers.
---
Response to hlthe2b (Reply #1)
Mon Oct 14, 2019, 09:12 PM
Boomer (3,279 posts)
2. 3 years old is not young for a mastiff
Sadly, it's closer to middle age. Their average life expectancy is short, only about 6-7 years.
---
Response to Boomer (Reply #2)
Mon Oct 14, 2019, 09:16 PM
hlthe2b (75,171 posts)
3. Fully aware..
It remains far too young not to have been able to complete the downhill part of the hike unless he was severely out of shape, had some major musculoskeletal issues or as suggested was showing signs of cardiovascular insufficiency.