Thu May 14, 2020, 04:30 PM
NJCher (24,033 posts)
What's for Dinner, Thurs., May 14, 2020
Halibut steaks cooked in a cast iron pan with lime juice and seasonings.
Broccoli rabe, red onion, and Yukon potato (small one).
Rice balls. Have a crispy exterior and a tiny bit of hot something--cayenne or something similar.
I made the salad with my spiralizer. It's Zucchini Salad with Goat Cheese, Red Onion, Scallion, with Mint and Parsley. The dressing is olive oil and lemon juice with seasonings. Here's a pic: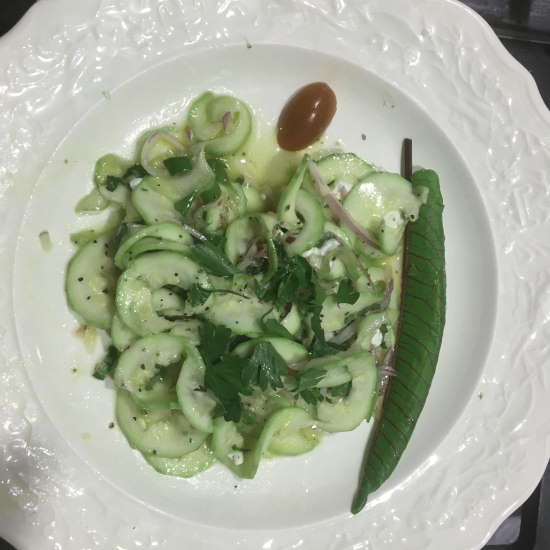 10 replies, 338 views
Replies to this discussion thread
| | | | |
| --- | --- | --- | --- |
| 10 replies | Author | Time | Post |
| What's for Dinner, Thurs., May 14, 2020 (Original post) | NJCher | May 14 | OP |
| | woodsprite | May 14 | #1 |
| | NJCher | May 14 | #7 |
| | woodsprite | May 14 | #10 |
| | brokephibroke | May 14 | #2 |
| | MissMillie | May 14 | #3 |
| | japple | May 14 | #5 |
| | lkinwi | May 14 | #4 |
| | FoxNewsSucks | May 14 | #6 |
| | NJCher | May 14 | #8 |
| | PJMcK | May 14 | #9 |
---
Response to NJCher (Original post)
Thu May 14, 2020, 04:38 PM
woodsprite (9,899 posts)
1. That looks awesome!
We're calling out for dinner tonight. Blackened salmon tacos with nopales salad, Mexican Street Corn, Queso Flameado & chips, margaritas, and for dessert, homemade carrot cake w/ Cream cheese icing. It's hubby's b'day. He wanted some kind of salmon and wanted carrot cake.

I wanted to give him the dinner he requested since I know his present isn't going to arrive until August 5th (an upgrade to a 65" TV for the den).
---
Response to woodsprite (Reply #1)
Thu May 14, 2020, 06:08 PM
NJCher (24,033 posts)
7. wow, sounds like hubby rates at your house
I had to look some of those dishes up, but when I got to Queso Flameado my mouth started watering so much I vowed to go to a Mexican market around here, if I can find one.

Great b'day present, too! Esp'ly for Covid times.


---
Response to NJCher (Reply #7)
Thu May 14, 2020, 10:12 PM
woodsprite (9,899 posts)
10. It also means he'll have a bigger TV to play Borderlands on in the den
while the rest of the family watches the TV in the living room
We have a real run on birthdays from April 13 through May 14 (1 or 2 per week). This year (especially with the covid stuff) we tried doing things a bit different. My mom always used to make me tarragon chicken w/ white wine and a dark chocolate cake w/ marshmallow frosting. I haven't had that chicken recipe for years so my daughter made that whole meal for me for my birthday. For our daughter we called out to her favorite restaurant and our son's girlfriend made lemon curd topped cheesecake for dessert. For our son (a Cinco de Mayo baby born in the year of the dragon), we did take-out from his favorite TexMex restaurant with an Adzuki bean cake for dessert (a recipe he had made for a school project in high school). Then hubby's was tonight. A few of the days in between were sprinkled with my MIL, a BIL, and a nephew's birthdays.
No more birthdays until my brother's in June! WooHoo!!!
---
Response to NJCher (Original post)
Thu May 14, 2020, 05:00 PM
brokephibroke (1,505 posts)
2. Salad with shrimp
---
Response to NJCher (Original post)
Thu May 14, 2020, 05:11 PM
MissMillie (30,764 posts)
3. I think we're going to have a pizza
Doctored-up frozen pizza. This one will have pepperoni, broccoli, onion and extra cheese.

I made some homemade soup earlier today, so I don't feel guilty about taking the evening off from the kitchen. It was going to be a pork meatball soup, but my ground pork hadn't thawed overnight, so I just browned it up in the skillet with some cut-up breakfast sausage links and dried basil, and added that to the pan of beef broth, tomato puree, carrots, onions, celery, bay leaf and pasta shells. Pretty tasty.

I don't make a lot of soup in the warm weather, so this may be it for a while--unless I try my hand at gazpacho later this summer when the tomatoes come in.


---
Response to MissMillie (Reply #3)
Thu May 14, 2020, 06:02 PM
japple (8,103 posts)
5. I had the same issue with the frozen ground turkey I was thawing in the fridge. I put it in a
stainless steel bowl (with a cover) and tried to thaw it in a sink with cold water. It got partly thawed, so I just put on a pair of gloves and worked on it until it was completely thawed. Then I made turkey meatloaf. I LOVE this recipe.
Confetti Turkey Meatloaf
https://www.washingtonpost.com/recipes/confetti-meatloaf/16658/
2 teaspoons plus 2 tablespoons extra-virgin olive oil
1 large or 2 small bell peppers (any color), stemmed, seeded and cut into small dice
1 small red onion, cut into small dice
4 cloves garlic, minced
1 teaspoon dried oregano
1 1/2 teaspoons kosher salt
1/2 teaspoon freshly ground black pepper
1 tablespoon Worcestershire sauce
6 oil-packed sun-dried tomatoes, drained and minced
2 large handfuls flat-leaf parsley and/or basil leaves, chopped
3/4 cup whole-milk ricotta cheese
1 pound ground turkey, preferably dark meat (may substitute ground chicken, pork or beef)
DIRECTIONS
Preheat the oven to 400 degrees. Line a rimmed baking sheet with parchment paper, then use 2 teaspoons of the oil to coat the parchment.
Heat the remaining 2 tablespoons of oil in a large skillet over medium-high heat. Once the oil shimmers, stir in the bell pepper and onion; cook for about 8 minutes, stirring a few times, or until the vegetables have softened and are browned on the edges. Turn off the heat and stir in the garlic. Let cool.
Transfer to a large bowl; add the oregano, salt, pepper, Worcestershire sauce, tomatoes, parsley and ricotta, stirring until well incorporated. Add the turkey and use your clean hands to work it into the mixture.
Transfer to the baking sheet; shape the mixture into a tight loaf that is 10 inches long and 4 inches wide (it will be about 1 inch high). Roast (middle rack) for 35 to 40 minutes, or until an instant-read thermometer inserted into the center registers 165 degrees.
---
Response to NJCher (Original post)
Thu May 14, 2020, 05:26 PM
lkinwi (994 posts)
4. Italian sausage with roasted peppers and tomato sauce in a pita, a potato-vegetable medley side.
Possibly Iíll have mason jar ice cream for dessert. Itís my first attempt, so Iím keeping my fingers crossed.
---
Response to NJCher (Original post)
Thu May 14, 2020, 06:03 PM
FoxNewsSucks (1,943 posts)
6. Cornmeal-crusted tilapia.
Pan fried, and I'm making some sauteed fresh green beans

That salad looks so good! I haven't often spiralized anything for a salad, I think a get it out most often to make spiral sweet potato fries.

---
Response to FoxNewsSucks (Reply #6)
Thu May 14, 2020, 06:11 PM
NJCher (24,033 posts)
8. almost looks like cucumbers, doesn't it?
But it's a fresh zucchini that the RG had purchased only an hour or two before preparation. The pic doesn't show a lot of goat cheese, which is really what makes this salad good. That's a cherry tomato half and a half-leaf of red-veined sorrel to decorate the plate.

Yeah, try it for salads. I think it's really fun, trying all the different cutting inserts that came with it.
---
Response to NJCher (Original post)
Thu May 14, 2020, 07:16 PM
PJMcK (12,512 posts)
9. Slightly Asian
Boneless pork chops marinated in sesame oil and hot chili sauce. Those will be grilled and sliced and served on a bed of lo main noodles, (actually linguine!), with the remainder of the sauce poured over it all.

I'm making a salad of iceberg lettuce with red onions, sliced green pepper and cherry tomatoes with a ginger dressing drizzled on top.

I bought a chocolate candy bar for dessert!