Thu Dec 27, 2012, 04:28 PM
Viva_La_Revolution (28,791 posts)
Holiday Feasting Share/ShowOff Thread!
Last edited Thu Dec 27, 2012, 11:53 PM - Edit history (1)
I feel the need to share the most excellent recipes we noshed this yule...
Ginger Nuts
(from the Vintage Sawa2000 Swedish cookie press booklet)
9 oz unsalted butter
7 oz sugar
14 oz flour
1 t. molasses
1 egg
1 t. baking soda
1 t. ginger
1 t. cardamom
1 t. cinnamon
Nozzle #6, decorate with half a blanched almond. Bake at 350-390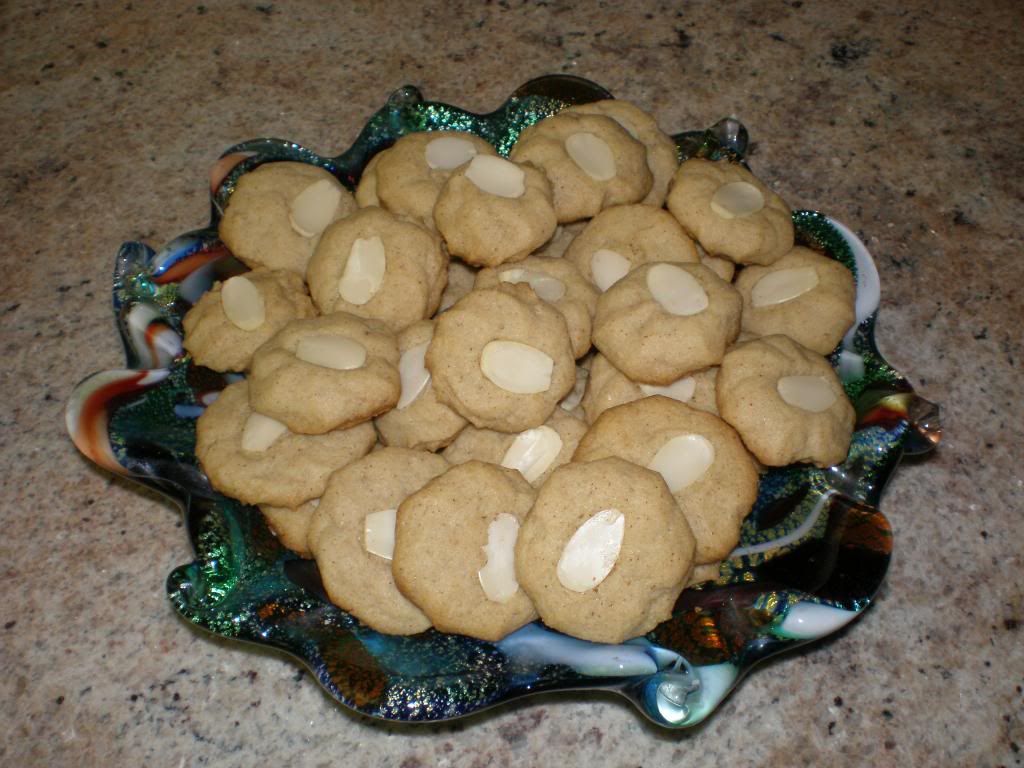 Utterly Deadly Southern Pecan Pie baked in cast iron
from
http://www.myrecipes.com/recipe/utterly-deadly-southern-pecan-pie-50400000116225/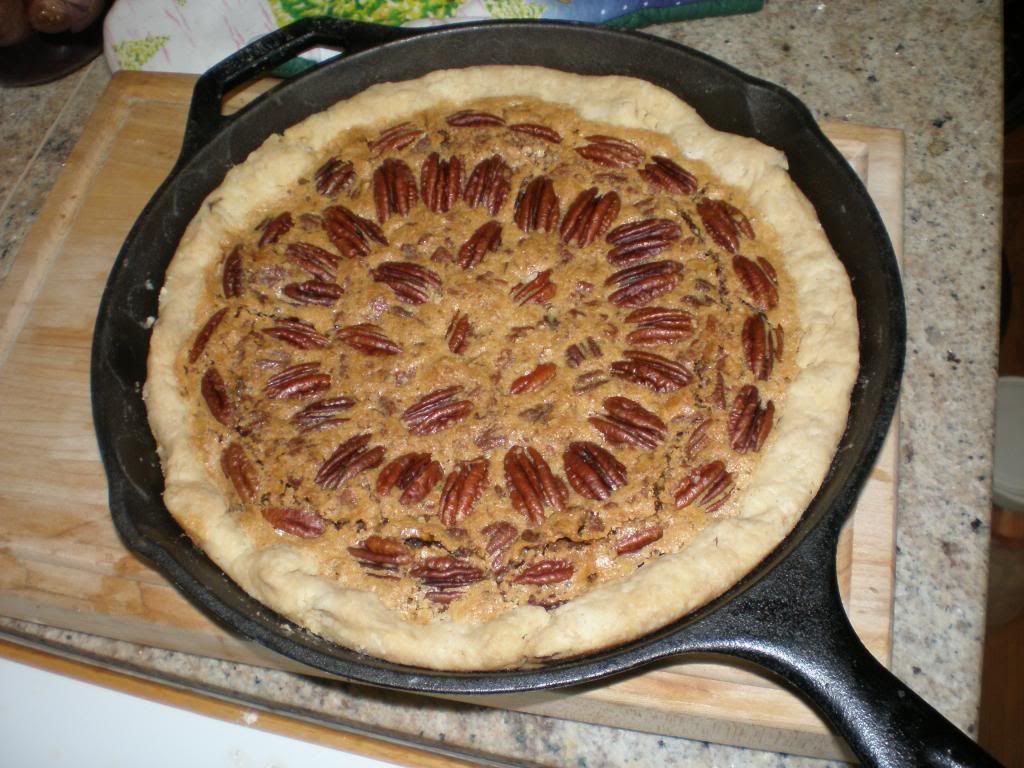 Lizzie's Spoils-of-war Orange Cake
(from The Midwife's Revolt by Jodi Daynard. Excellent book, the cake is sublime. I baked it in a chrysanthemum bundt pan)
For the cake: Beat together 8 soup spoons (TBLspoons) of butter with one cup
of sugar until fluffy. Mix in two eggs and three soupspoons juice from an
orange. In a separate bowl, blend one and two-thirds cup of flour, a teaspoon
baking powder, and half a teaspoon salt. Add to wet mixture along with one
cup buttermilk. Blend well. Add one cup raisins, one half cup chopped
walnuts and one soupspoon orange zest, finely chopped. Pour the mixture into
a buttered pan and bake forty-five to fifty minutes (350 degrees).
For the icing: Stir two soupspoons of orange juice and two cups powdered
sugar together until the sugar dissolves completely and the icing is smooth.
The icing should be thick enough to coat the back of a spoon. If it is too thick,
add more liquid; if too thin, add a little sugar.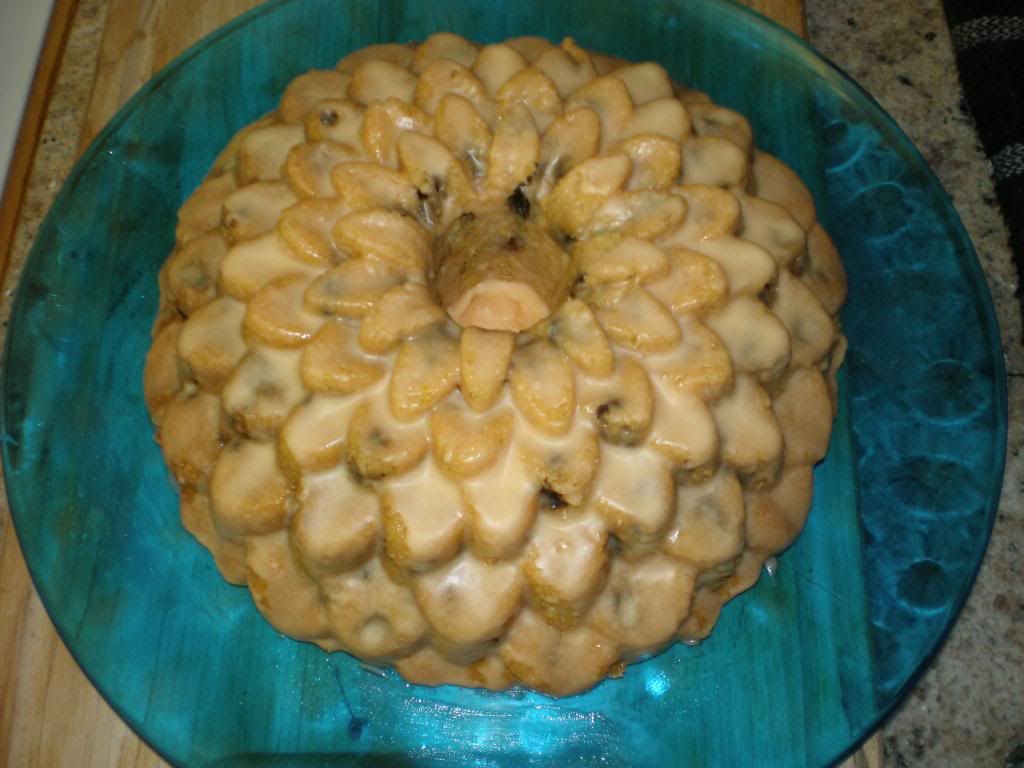 last piece with bonus puddle of glaze..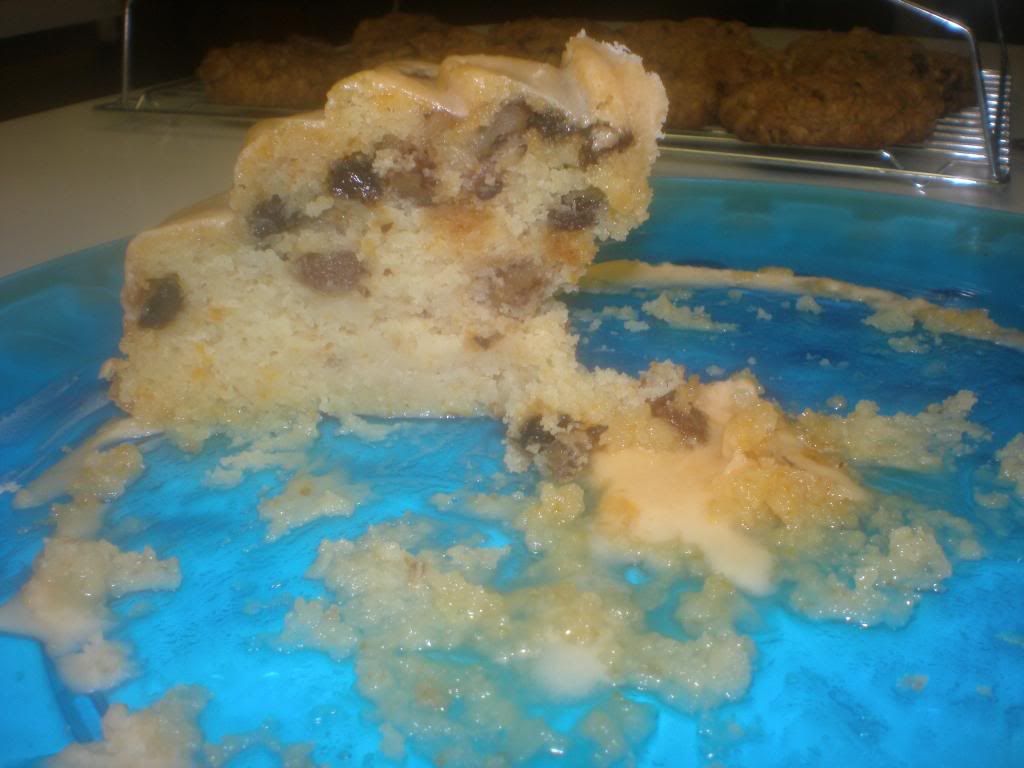 this last one is the final version of Lemon Dreams (that I came up with all by myself with much help from the Tasting Crew)
Lemon Dreams
1 c. softened butter
8 oz cream cheese
2 c. sugar
cream till fluffy, add
3 eggs
1 t. vanilla extract
Separately, sift together
5 3/4 cups unbleached flour
2 t. baking powder
1/2 t. baking soda
1/2 t. salt
Add dry to wet, mix well. Divide into 4 parts, flatten and chill for 2 to 48 hours. Roll out 1/8 thick, cut with biscuit size, or half-biscuit size cutters. bake at 375 for 10-12 min, till just when edges and tops start to brown.
Glaze: Mix 3 cups powdered sugar with 2 Tblspoons lemon zest, 1/2 t. melted butter and 1/3 cup lemon juice. Glaze will be thick enough to stick but thin enough to run down the sides when swirled on in small spoonfuls.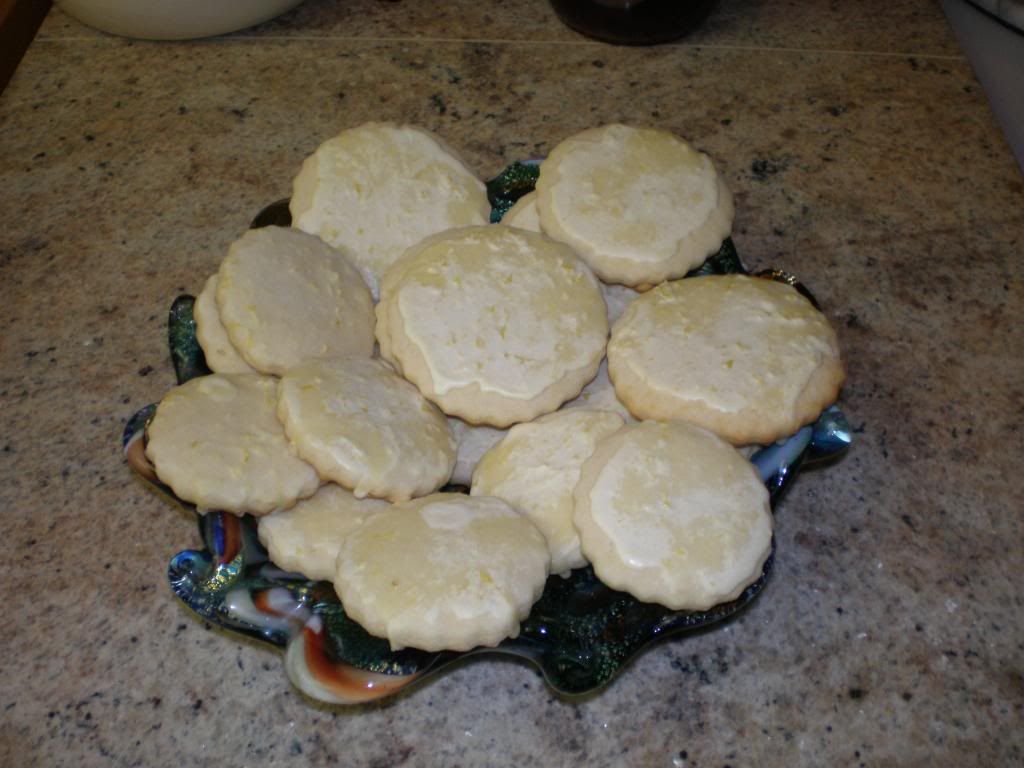 Please share your favorites from your own celebrations! I'm already planning for next year
4 replies, 5031 views
Replies to this discussion thread
| | | | |
| --- | --- | --- | --- |
| 4 replies | Author | Time | Post |
| Holiday Feasting Share/ShowOff Thread! (Original post) | Viva_La_Revolution | Dec 2012 | OP |
| | Whisp | Dec 2012 | #1 |
| | LancetChick | Dec 2012 | #2 |
| | jodidaynard | Aug 2013 | #3 |
| | Viva_La_Revolution | Aug 2013 | #4 |
---
---
Response to Viva_La_Revolution (Original post)
Fri Dec 28, 2012, 01:30 AM
LancetChick (272 posts)
2. Gorgeous.
Especially that last slice of Orange Cake. Thanks for the recipes and photos!
---
Response to Viva_La_Revolution (Original post)
Sun Aug 4, 2013, 07:43 AM
jodidaynard (1 post)
3. Spoils of War Cake!
I was so delighted to come across your photo of my heroine Lizzie's cake. I hadn't made it myself, and it looks truly stunning and delicious. I would like to post it on my Facebook author page. Also, I would be happy if you liked my FB page so that I can discover who you are! All the best, Jodi
---
Response to jodidaynard (Reply #3)
Sun Aug 4, 2013, 01:02 PM
Viva_La_Revolution (28,791 posts)
4. I'm honored! Of course you may.
I love History, and your book was one of the best I've read in the past few years.