Thu Dec 13, 2012, 02:25 PM
Major Nikon (36,037 posts)
Carbonating beverages
Since the subject of making carbonated water comes up frequently, I thought I would post details on how I do it here, with a list of supplies in case you want to do this yourself. Certainly Sodastream is one option which is certainly easier to set up. You just buy the Sodastream system and supplies and off you go. The problem with Sodastream is that the carbonators don't really last all that long and they are expensive. The large size (130L) costs $30 to exchange and $50 to buy one outright from Sodastream. Perhaps they are cheaper at other places, I'm not sure. I'm not really sure how to compare the Sodastream carbonator to say a 5lb CO2 bottle since Sodastream doesn't list the quantity of CO2 by weight. If I were to guess I'd say you're probably getting about 1lb of CO2 with the large carbonator at best which means a 5lb bottle of CO2 is going to be about 5 times more. My local home brew supply shop charges $10 to refill a 5lb CO2 bottle. So you get about 5 times more for 1/3rd the cost. The materials I'm listing will cost you roughly $125 before shipping charges. Add to this $10 to get your tank filled. So the initial cost is a bit more, but long term it's going to pay for itself, especially if you make a lot of fizzy water and I do. I love carbonated water and always keep some in the fridge. Occasionally I make my own root beer and ginger ale. If your family goes through a lot of soda and you want to make your own (using your own sweeteners), a system like this makes a lot of sense. I have a 20lb bottle and I don't think I've had it filled in over a year and the bottle is not even close to being empty plus I make a lot of fizzy water.
Here's what you need and how to do it.
Regulator:
http://www.beveragefactory.com/draftbeer/regulator/double/commercial_double_gauge_beer_co2_regulator.shtml
5lb Tank (or larger):
http://www.beveragefactory.com/draftbeer/tanks/co2/C5.shtml
Ball lock:
http://www.beveragefactory.com/draftbeer/couplers/homebrew/BLGI-MFLB.shtml
Carbonator cap (might want to buy 2-3 so you can do more bottles at once):
http://www.amazon.com/LiquidBread-The-Carbonater/dp/B0064OKADS
5/16" hose:
http://www.beveragefactory.com/draftbeer/hoses/airtubing/516BAL_beer_air_line_mfl.shtml
The squeeze clamp that comes with the hose sucks, so buy a better clamp at your local hardware store along with some tephlon tape to seal the all the fittings. That's all you need besides a wrench to tighten everything. Set the regulator to between 30-40 psi after you get the tank filled. I keep mine at 40.
You can have the tank filled at home brew shops, some liquor stores, gas distributors, and perhaps welding supply shops. Naturally the bigger tank you have, the less you'll need to fill it. You may want to check around and see how far you have to go to get it refilled before you decide on a bottle size. The carbonator cap fits both 2 liter bottles and 20 oz bottles(or any other bottle that uses the same size cap). I use coke bottles because the plastic is a bit thicker than the really cheap soda bottles. Make sure you remove the plastic ring from the bottle.
With this setup you can carbonate most anything liquid like soda, tea, water, juice, and even home brew beer. You can also recharge partially used 2 liter soda bottles so they don't go flat. Charging the bottles is pretty simple. You just push the pin on the carbonator cap and squeeze the air out of the bottle, turn on the valves, and put the ball lock valve on the carbonator cap to charge and shake the hell out of it for a couple of minutes then remove the ball lock and turn off your valves. You can drink it right away, but it gets a bit more fizzy if you let it sit for an hour or so for whatever reason. If you do it right you'll get at least as much carbonation as commercial soda.
Lots of stuff on the utubes:
5 replies, 3780 views
Replies to this discussion thread
| | | | |
| --- | --- | --- | --- |
| 5 replies | Author | Time | Post |
| Carbonating beverages (Original post) | Major Nikon | Dec 2012 | OP |
| | hobbit709 | Dec 2012 | #1 |
| | Major Nikon | Dec 2012 | #2 |
| | NMDemDist2 | Dec 2012 | #3 |
| | Major Nikon | Dec 2012 | #4 |
| | NMDemDist2 | Dec 2012 | #5 |
---
Response to Major Nikon (Original post)
Sat Dec 15, 2012, 08:13 AM
hobbit709 (41,694 posts)
1. My refill for the 60L costs me $16.12 including tax
It will last me 3-4 weeks.
The carbonated water I used to buy costs me about $1/L. Lemon juice is cheap and that's what I use for flavor about 90% of the time. The once or twice a month that I drink a real soda, I get a Mexican coke down at my local grocery-usually a buck each.
I figure the initial cost of $90-including the spare 1/2L bottles has paid for itself since last spring when I bought it.
And I don't have to throw out a dozen plastic bottles a week into the recycling pickup.
---
Response to hobbit709 (Reply #1)
Sat Dec 15, 2012, 08:53 AM
Major Nikon (36,037 posts)
2. That's the some of the same reasons I started carbonating at home
Even cheap carbonated water adds up when you're drinking it every day and buying larger sizes doesn't help because the more times you open the bottle, the flatter it gets.
Making root beer and ginger ale is quite cheap and I was carbonating with yeast before I bought my tank. As far as flavored soda goes, that's about all I do and not very often for those. Coke is one thing I haven't been able to reproduce cheaply. It's not a big deal, but my wife enjoys a coke every now and then. I did find a place that sells flavoring that is supposed to taste just like coke, but I figured out the cost of making it and realized I could buy it for about the same price. I've been thinking about getting some just so I can make it on demand with real sugar when my wife wants one.
http://www.cube-cola.org/
---
Response to Major Nikon (Original post)
Sat Dec 15, 2012, 08:56 AM
NMDemDist2 (49,313 posts)
3. i have two 5# tanks
one of which is hooked to the Soda Stream thanks to co2doctor.com, the other is back up from when we need to refill
$8 at the welding shop to refill, usually about every 4-5 weeks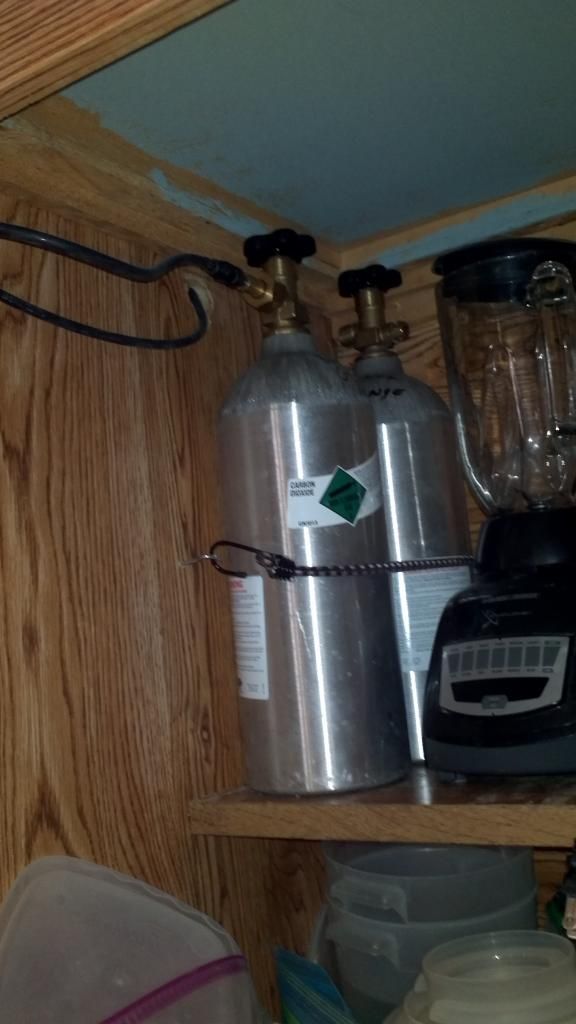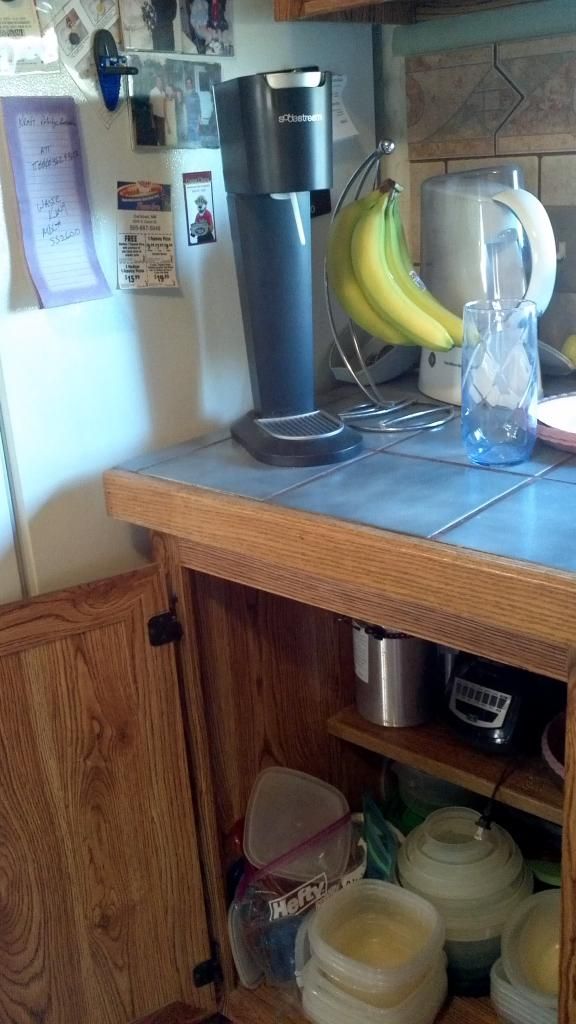 ---
Response to NMDemDist2 (Reply #3)
Sat Dec 15, 2012, 09:17 AM
Major Nikon (36,037 posts)
4. Nice setup
I just keep my 20lb tank in my pantry with the hose on a hook.
---
Response to Major Nikon (Reply #4)
Sat Dec 15, 2012, 10:29 AM
NMDemDist2 (49,313 posts)
5. sadly a pantry isn't an option here
and the Soda Stream was a Xmas gift a few years ago, we just had to get it usable. which it totally is now