Wed Jul 24, 2013, 04:56 PM
LeftofObama (4,243 posts)
Seduced by the Illusion: The Truth About Transformation Photos
There is no doubt that we live in a world of manipulation, false promises and exaggerated claims. This is especially true in the fitness industry. I've been a personal trainer for more than 11 years, and clients and friends are always telling me about the next amazing diet or exercise program. Like Insanity or P90X hold the secrets to fat loss.
The reasons these programs become so popular is because they are presented and marketed very well. These marketing campaigns use testimonials and before-and-after transformation photos. Before I claim it's all bullshit, I want to make it clear that there are definitely some very impressive, genuine physical transformations out there. What I do take issue with are the transformations that are manipulated with Photoshop, professional lighting, postures to degrade or enhance their look, pro tans, sucking in or pushing out a bloated belly or flexing muscles vs. not flexing to obtain an optimal look.
In my opinion, these photos are selling false or exaggerated promises of what 90 days, etc., of their program can achieve. Long-lasting results take years of consistency, hard work and dedication. Results that happen quickly are often temporary, and this is another factor that needs to be taken into account when looking at these transformations. Did the individual cut calories to starvation levels or cut out entire food groups to reach a very low body fat percentage for the photo shoot, only to rebound a few days or weeks later? This must be considered when setting your goals and expectations based on someone's program.
I decided to take my own transformation photos to see what was possible with just a few easy tweaks. About six months ago I was around 185 pounds and about 16 percent body fat. I was feeling particularly bloated on the day, so I asked my girlfriend to take a before shot. I then shaved my head, face and chest and prepared for the after shot, which was about an hour after I took the before shot. I did a few push ups and chin ups, tweaked my bedroom lighting, sucked in, tightened my abs and BOOM! We got our after shot.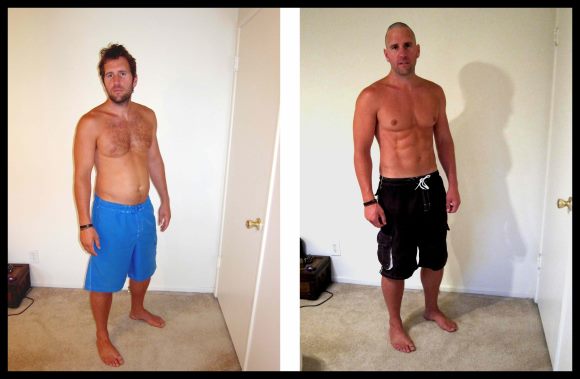 This particular set of photos took under an hour to produce...

More at link...
http://www.huffingtonpost.com/andrew-dixon/weight-loss-secrets_b_3643898.html
9 replies, 5016 views
Replies to this discussion thread
| | | | |
| --- | --- | --- | --- |
| 9 replies | Author | Time | Post |
| Seduced by the Illusion: The Truth About Transformation Photos (Original post) | LeftofObama | Jul 2013 | OP |
| | Scuba | Jul 2013 | #1 |
| | LeftofObama | Jul 2013 | #2 |
| | Scuba | Jul 2013 | #3 |
| | Denninmi | Jul 2013 | #4 |
| | LeftofObama | Jul 2013 | #5 |
| | flibbitygiblets | Apr 2018 | #9 |
| | Raffi Ella | Aug 2013 | #6 |
| | LeftofObama | Aug 2013 | #7 |
| | Raffi Ella | Aug 2013 | #8 |
---
---
Response to Scuba (Reply #1)
Wed Jul 24, 2013, 05:47 PM
LeftofObama (4,243 posts)
2. I don't know.
Do you think I should re post it in the lounge just in case?
---
Response to LeftofObama (Reply #2)
Wed Jul 24, 2013, 05:59 PM
Scuba (53,475 posts)
3. You should probably cross-post to each and every forum just to make sure.
---
Response to LeftofObama (Original post)
Thu Jul 25, 2013, 02:55 AM
Denninmi (6,581 posts)
4. Same for "Lifestyle Lift" non-surgical "face lift" system
Which is advertised by some plastic surgeons. The befores of the subject are wrinkled, jowled, and haggard, with no makeup, mousy hair, etc. in the after photos the women's e been given complete makeovers, tons of makeup, new hair styles and dye jobs to get rid of gray hair, etc.


---
Response to Denninmi (Reply #4)
Thu Jul 25, 2013, 05:17 AM
LeftofObama (4,243 posts)
5. Yep! I agree.
On the one Life Style Lift commercial I saw the women look rough in the before pictures and absolutely stunning in the after pictures, but the man looks the same both before and after because he doesn't look like he's had makeup caked on. It's actually hard to tell that he's had anything done at all.
---
Response to LeftofObama (Reply #5)
Mon Apr 23, 2018, 03:42 PM
flibbitygiblets (7,220 posts)
9. A reputable aesthetics company does before & after photos with no makeup
---
Response to LeftofObama (Original post)
Thu Aug 1, 2013, 01:16 PM
Raffi Ella (4,465 posts)
6. Wow, how did he hide those abs!?
Last edited Thu Aug 1, 2013, 04:32 PM - Edit history (1)
I'm in great shape but all I'd have to do is put on a pair of shorts a size or two too small and stand a certain way and I'd look like a frump that sat on the couch eating cheetos everyday. Still though, my 'before pictures' wouldn't be hiding abs like that or anything close. Not sure how he hid those. I think he had some help from self tanner or bronzer there.
---
Response to Raffi Ella (Reply #6)
Thu Aug 1, 2013, 03:45 PM
LeftofObama (4,243 posts)
7. I think so too.
I have no doubt that a professional make up artist would be familiar with light and shadow enough to know where to apply what ever make up is needed to make the abs pop. I have a feeling that's what happened here.
---
Response to LeftofObama (Reply #7)
Thu Aug 1, 2013, 04:43 PM
Raffi Ella (4,465 posts)
8. Like you guys were saying about the lifestyle makeover thing-
make up really can transform, even for guys. I don't know, I just looked up average body fat for guys 21-40 and low is around 8% so I guess 16% body fat could give him a six pack like that and still allow for the soft looking arms. I don't know though. Still, the point he's making is true. There are a million things you can do to make yourself look better. His before and after photos are a stunning example.