Wed Dec 19, 2012, 09:14 AM
xchrom (108,903 posts)
River blindness: from disease control to elimination
http://www.guardian.co.uk/global-development-professionals-network/2012/dec/17/river-blindness-disease-africa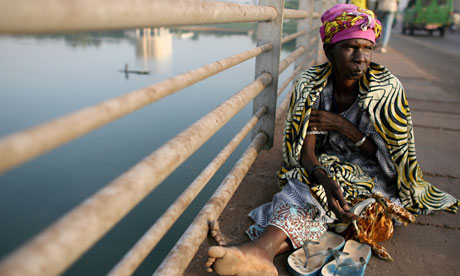 A woman sits by the Niger river. The parasite that causes river blindness is transmitted to humans by the black fly, which breeds in fast-flowing rivers. Photograph: Nic Bothma/EPA
The implications of shift from disease control to elimination are considerable, as has been the case with the objective to eliminate onchocerciasis (better known as river blindness) by 2025, decided by the African Programme for Onchocerciasis Control (APOC) back in 2009. Controlling the disease only required river blindness to fall to prevalence levels where it is no longer a public health problem, but with elimination, every last case must be tracked down. As one expert put it: "Before, we'd see a few red dots on the map and we'd sleep well; but now, every red dot makes us feel further away from elimination."
Onchocerciasis is a parasitic infection that causes skin and eye inflammation and can lead to blindness. The parasite is transmitted to humans by the black fly, which breeds in fast-flowing rivers. The disease – and the flies – used to be so pervasive in some areas that the population sometimes abandoned their villages, often in fertile agricultural areas. About 99% of cases are in sub-Saharan Africa, the rest in South America.
Aerial spraying in west Africa in the 1970s and 1980s, which sought to decimate black fly populations, were largely successful. Then in 1987, mass drug administration with Ivermectin was launched, first in west Africa and then across all endemic countries: the drug was donated by pharmaceutical company Merck and distributed by trained community volunteers, making chemotherapy a much cheaper and more widely available solution than vector control.
Together, 20 years of vector control and 25 years of Ivermectin treatment have brought onchocerciasis prevalence down to insignificant levels in many countries. Bissan Yiriba, an entomologist at the Multi-Disease Surveillance Centre (MDSC) at APOC in Ouagadougou, Burkina Faso, a laboratory that monitors onchocerciasis prevalence, says that people who have lost their sight to the disease or present the telltale 'leopard skin' lesions are now a rarity. But the disease still exists. "We have gone from 1000 to 1," he says metaphorically, "but now we need to go from 1 to 0".
0 replies, 657 views