Tue May 25, 2021, 02:18 PM
Eugene (52,488 posts)
Mali's coup leader Assimi Goita seizes power again
Also:
Mali: leader of 2020 coup takes power after president's arrest
(The Guardian)
______________________________________________________________________
Source:
BBC
Mali's coup leader Assimi Goïta seizes power again
25 May 2021
Mali's president and prime minister have been ousted by the officer who led last year's coup and became vice-president of an interim government.
Col Assimi Goïta says President Bah Ndaw and PM Moctar Ouane failed in their duties and were seeking to sabotage the country's transition.
They were arrested hours after a government reshuffle which saw two senior army officers replaced.
Col Goïta says elections will still go ahead next year as planned.
But he ignored pleas from the UN chief, the African Union, the Economic Community of West African States (Ecowas), the EU and the US that the president and prime minister be released without any preconditions.
-snip-
Read more:
https://www.bbc.com/news/world-africa-57239805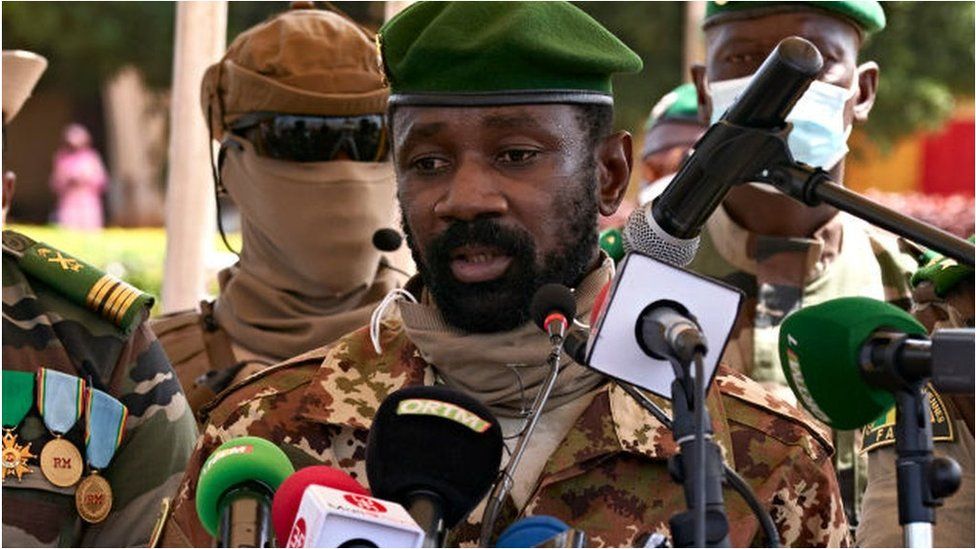 Assimi Goïta, who now serves as vice-president, said he was not consulted about a cabinet reshuffle (AFP)
______________________________________________________________________
Source:
The Guardian
Mali: leader of 2020 coup takes power after president's arrest
World leaders condemn 'grave and serious' kidnapping of Mali's leaders as Col Assimi Goïita seizes power
Emmanuel Akinwotu in Lagos and agencies
Tue 25 May 2021 18.04 BST
Mali's interim vice-president, Col Assimi Goïta, who led a military coup last year, has declared he has seized power from the transitional president and prime minister, after they failed to consult him about the formation of a new government.
In a statement broadcast on state television, Goïta said Mali's civilian president, Bah Ndaw, and prime minister, Moctar Ouane, had been placed "outside of their prerogatives", and that he orchestrated their arrests and removal to the Kati military base, outside of the capital, Bamako.
The military's actions drew swift international outrage, widely seen as the second military-led coup in under 10 months. European Union leaders, the African Union and the US condemned the "kidnapping" of Mali's civilian leaders on Monday night, and warned of potential sanctions against those responsible.
In the statement read through an aide in response to the outrage, Goïta defended the actions of the military. "The vice-president of the transition saw himself obligated to act to preserve the transitional charter and defend the republic," the statement said.
He condemned a cabinet reshuffle on Monday in which two influential cabinet ministers appointed from the military were removed, branding it "demonstrable intent to sabotage the transition". Elections would be held next year, in accordance with the transition agreement, made following the Goïta-led coup last August.
-snip-
Read more:
https://www.theguardian.com/world/2021/may/24/mali-president-prime-minister-and-defence-minister-arrested-sources-say
0 replies, 388 views