Thu Apr 1, 2021, 01:34 PM
left-of-center2012 (28,824 posts)
What Amtrak's expansion plan would look like for New England
The national passenger rail operator's "bold vision" includes new service in Maine, Massachusetts, New Hampshire, and Vermont. Amtrak says it could reach "millions" of new customers with increased funding from President Joe Biden's new infrastructure plan — including some in New England.
Following the release of Biden's plan Wednesday, the quasi-public national passenger rail operator released a new version of its 2035 expansion proposal, which includes more than 30 new routes and more frequent service on over 20 lines.
According to Amtrak, the plan could serve up to 160 new communities across the country over the next 15 years.
https://www.boston.com/news/politics/2021/04/01/amtrak-plan-2035-new-england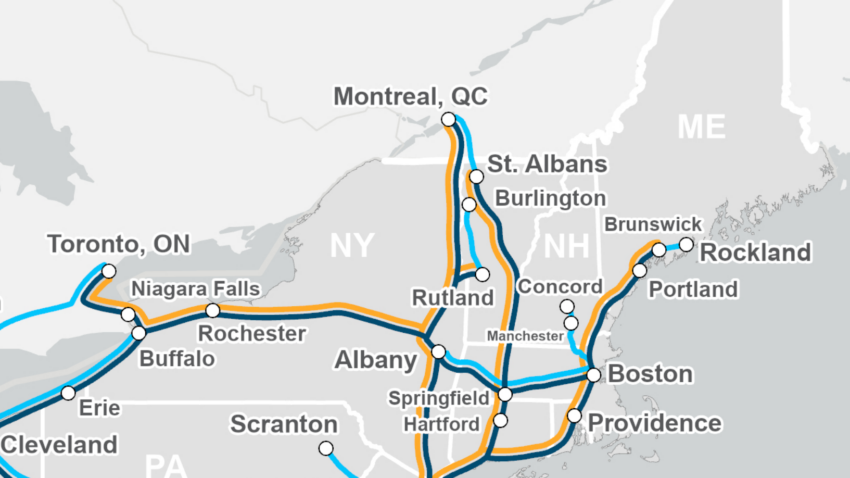 3 replies, 837 views
Replies to this discussion thread
| | | | |
| --- | --- | --- | --- |
| 3 replies | Author | Time | Post |
| What Amtrak's expansion plan would look like for New England (Original post) | left-of-center2012 | Apr 2021 | OP |
| | OAITW r.2.0 | Apr 2021 | #1 |
| | 4Q2u2 | Apr 2021 | #2 |
| | OAITW r.2.0 | Apr 2021 | #3 |
---
Response to left-of-center2012 (Original post)
Thu Apr 1, 2021, 01:42 PM
OAITW r.2.0 (9,850 posts)
1. Disappointed with the plan in ME.
(1) There should be an extension to Waterville / Newport / Bangor / Atlantic Canada.
(2) From Newport, there should be a line to North Conway, NH and on to Burlington, Vt / Montreal, CA.


These changes would have a huge positive impact on tourism and connect Atlantic Canada to points South - Portland, ME / Dover, NH / Boston, MA.

When I head down to Stoughton (20MI south of Boston), I have a 4.5 hour drive to visit my SO. The Downeaster from Newport connects to Boston and I could take the Red Line or, even better, the Metroliner direct to Stoughton....and have a 10 minute walk from the station. Probably the same amount of time, but far more relaxing and, bonus, they have a club car to get snacks and drinks.
---
Response to OAITW r.2.0 (Reply #1)
Thu Apr 1, 2021, 03:00 PM
4Q2u2 (1,171 posts)
2. Open land problem
To efficiently traverse for a Train is the strait line. There will have to be large land taking to accomplish better rails in NE.
The Acela Boston to NY barely cut down travel time because of track turns and lack of straightaways. It can only hit top speed for 9 minutes of the trip.
---
Response to 4Q2u2 (Reply #2)
Thu Apr 1, 2021, 04:00 PM
OAITW r.2.0 (9,850 posts)
3. There are established train tracks from Brunswick to Bangor
Brunswick/Waterville/Newport/Bangor would probably need upgrading tracks for passengers, but the infrastructure is more less in place for all 4 locations....a pretty straight line too, that follows 95.

Newport intersects 95 (N/S) and Route 2 (E/W)that pretty much goes from the coast to western, Me. This would be a very popular and important nexus to cover.

The new stations are a local option, but the stations already on the Downeaster line are very well designed by the town/city that it serves. The economic revitalization of the area where stations are cited have been pretty amazing, especially at the Biddeford Saco station.