Tue Mar 16, 2021, 10:22 AM
marmar (73,211 posts)
The CEO of Amtrak Thinks Americans Are Ready for Trains Again
The CEO of Amtrak Thinks Americans Are Ready for Trains Again
And he says sleeper cars are making a comeback.
BY HENRY GRABAR
MARCH 15, 2021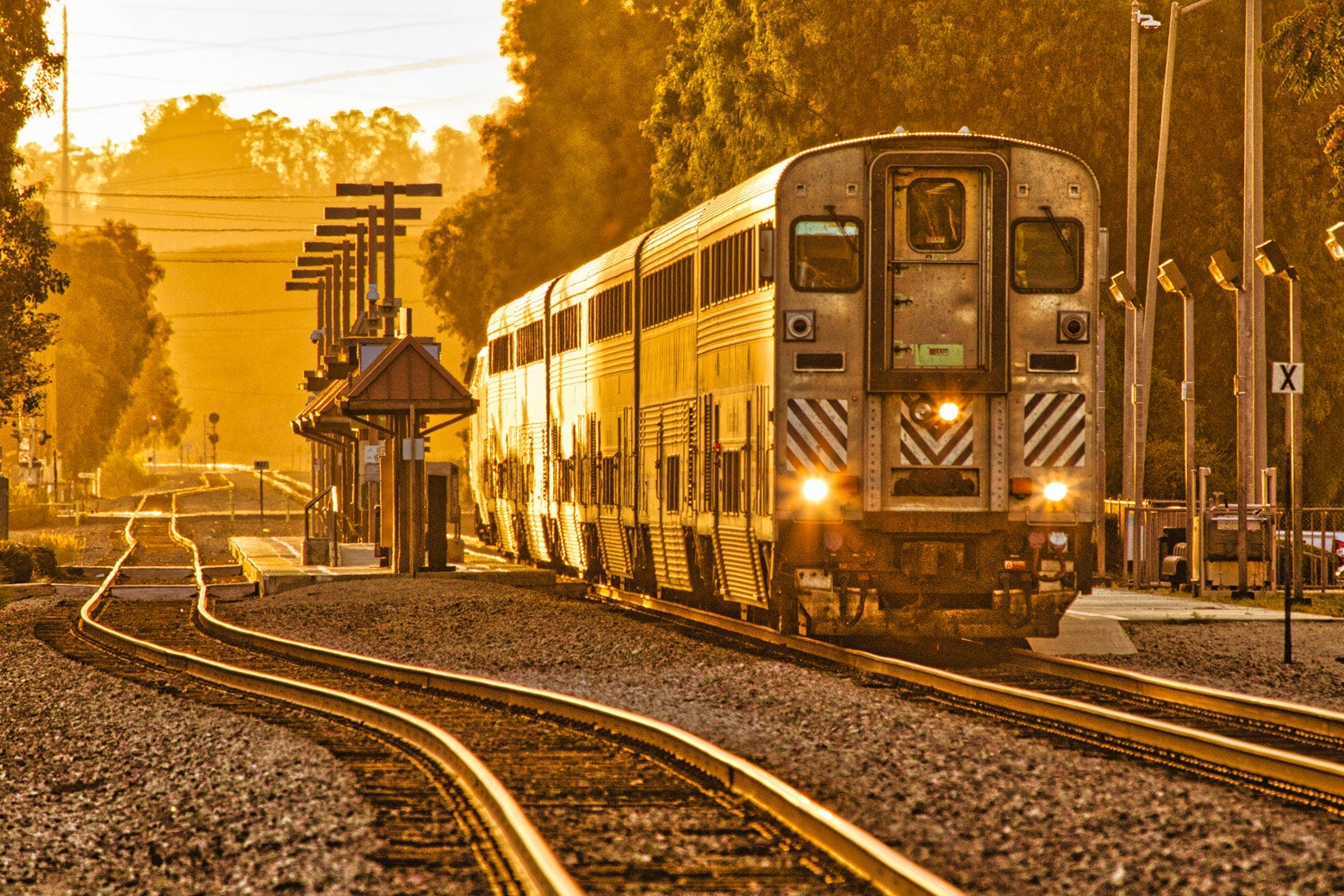 (
Slate
) William J. Flynn took over as CEO of Amtrak at the worst possible time. It was April 2020—one month after the country locked down—and ridership on the quasi-public passenger rail network was down by 97 percent. Two recovery bills later, Amtrak's finances have been shored up. Though business remains way down, vaccines are rolling out, and Flynn aims to double Amtrak's pre-pandemic ridership in the next two decades. We spoke last week about what America's interstate rail system could look like after COVID. We discussed major undertakings like the Gateway Project, the new tunnel beneath the Hudson River connecting New York and New Jersey, which Senate Majority Leader Chuck Schumer has called the most important infrastructure project in the country. Flynn told me he does not pay attention to the astronomical cost of rail construction in the United States relative to peer countries. He also outlined his beef with freight railroads, explained why he welcomes private-sector competition, and showed me where he thinks Amtrak has room to grow after its 50th birthday next month. Our conservation has been edited and condensed for clarity.
Henry Grabar
: Looking forward to a post-COVID world, where do you see the places where Amtrak can compete? What sort of trips—by car, by plane—and between which cities? What are the circumstances outside of the Northeast Corridor where you think Amtrak has room to grow?
William J. Flynn
: For Amtrak, if you look at the network that we run today, it looks a lot like the network we had in 1971, 50 years ago, when we were created, but boy, population and demographics have changed, right?
There's 100 million more people in the United States today than there were when Amtrak was created in 1971. And if you look about the shift of where people moved to and where they have moved from, there are 20, 25 dense corridors across our nation where Amtrak has little to no service. And that's where people have moved to. Think about the corridors in Arizona, between Phoenix and Tucson and Flagstaff, and the route between Las Vegas and Southern California. Look at the growth that we've experienced in the Carolinas, for example, from Raleigh to Charlotte and Greensboro and Winston-Salem—we started the service there a couple of years ago with two trains a day, and we're looking to grow that to six trains a day along that route.
....(snip)....
There's been a return of low-cost sleeper trains in Europe, where they're catching on with young people who don't want to fly, and maybe want the romance of the experience or something like that. Is that something that you have looked at for Amtrak?
Right now, our sleepers are essentially fully utilized. I told you that our ridership is in the low 20s right now, compared to pre-COVID times. But our sleepers, when we look at our long-distance trains, we're actually operating not at 20 percent of demand, we're operating at 34 to 35 percent of normal on three-day-a-week service down from seven. Several months ago, we had to bring sleeper cars out of storage and put them in service because our sleepers are simply sold out. Travelers like the sleeper product. They find it to be a good deal and they like the fact they can get in a sleeper car and close the door. ...............(more)
https://slate.com/business/2021/03/amtrak-ceo-interview-trains-coronavirus.html
7 replies, 922 views
Replies to this discussion thread
| | | | |
| --- | --- | --- | --- |
| 7 replies | Author | Time | Post |
| The CEO of Amtrak Thinks Americans Are Ready for Trains Again (Original post) | marmar | Mar 2021 | OP |
| | Cracklin Charlie | Mar 2021 | #1 |
| | GPV | Mar 2021 | #4 |
| | Cracklin Charlie | Mar 2021 | #6 |
| | Delmette2.0 | Mar 2021 | #2 |
| | Butterflylady | Mar 2021 | #3 |
| | PoindexterOglethorpe | Mar 2021 | #5 |
| | Vogon_Glory | Mar 2021 | #7 |
---
Response to marmar (Original post)
Tue Mar 16, 2021, 10:25 AM
Cracklin Charlie (10,069 posts)
1. America has always been ready for trains.
The petrobarons took them away from us in the 1970s.


---
Response to Cracklin Charlie (Reply #1)
Tue Mar 16, 2021, 11:20 AM
GPV (70,419 posts)
4. My grandfather lamented the fact that we stopped being able to travel coast to
coast only on rails. Back when there were streetcars in most major cities with train stations, it was possible.
---
Response to GPV (Reply #4)
Tue Mar 16, 2021, 12:25 PM
Cracklin Charlie (10,069 posts)
6. My dad worked for the railroad.
I remember him telling me that when rich folks could travel mostly by air, the railroads would be left to die. He was right.

Only a few years later, as he was retiring, did he figure out that the Petromob was gonna fill the highways with diesel trucks to replace all the goods previously shipped by rail.

This process seemed to happen quite rapidly. He was a little bitter about it.
---
Response to marmar (Original post)
Tue Mar 16, 2021, 10:36 AM
Delmette2.0 (2,941 posts)
2. I like traveling by train.
Years ago my sons and I traveled from Northern Montana to Minneapolis. None of us wanted the mind numbing experience of Eastern Montana and N. Dakota. One son had a fear of flying, so the train was the thing to do.

As soon as you get on board vacation starts. You can hang out in your own space, go to the observation car, or diner car. I don't remember a bar car.

Montana folks are getting up the idea to restart the Southern line. That would be awesome!
---
Response to marmar (Original post)
Tue Mar 16, 2021, 11:18 AM
Butterflylady (2,415 posts)
3. I love train travel
The only problem is in my area I have to travel to Philly from Harrisburg and then take a train to the Carolinas. So from where i I live it takes 12 hrs whereas car takes 8 hrs.
---
Response to marmar (Original post)
Tue Mar 16, 2021, 11:59 AM
PoindexterOglethorpe (20,143 posts)
5. I love a long distance train.
Would have taken an epic journey from New Mexico to Seattle that way last April. But the thing I was going to attend in Seattle got cancelled by mid-March, and so the journey got cancelled. Hopefully it will happen next year.

A couple of friends of mine have already booked a long train trip several months from now.

I love to travel, and do as much as I realistically can. I am so looking forward to resuming my trips.
---
Response to marmar (Original post)
Thu Mar 18, 2021, 08:14 AM
Vogon_Glory (8,060 posts)
7. Long-Distance Travel: Amtrak is a skeleton of a skeleton
Last edited Thu Mar 18, 2021, 11:53 AM - Edit history (1)
The problem with long-distance trains in the South and in the trans-Mississippi West is that Amtrak's system is a skeleton of a skeleton caused largely by right-wing-driven funding cuts.

There are a lot of routes that ought to have trains but don't, (no) thanks to right-wing fibbertarians in Washington and red-State statehouses.

I personally think that Tulsa and Oklahoma City ought to have passenger rail connections to St. Louis. There ought to be a Dallas to Houston train, not just serving the end-points, but the towns along the way. A Dallas-Houston Denver train is a train might be again.

And discontinued Amtrak trains like the Pioneer and the Desert Wind.

EDIT: But guess what states like Texas, Oklahoma, Kansas, Utah, and Idaho all have in common?

If you guessed Republican governors and legislators, you guessed correctly.