Mon Sep 23, 2019, 12:15 PM
left-of-center2012 (19,006 posts)
The end of the Amtrak dining car
Amtrak says it is reinventing its dining service on long-distance trains, killing the traditional dining car to create more "flexible" and "contemporary" dining options. The carrier says the change, starting this fall on the one-night routes east of the Mississippi River, is driven by the desire to save money and lure a younger generation of new riders — chiefly, millennials known to be always on the run, glued to their phones and not particularly keen on breaking bread with strangers at a communal table.
The change allows the railroad to cut costs associated with cooking aboard and keeping up with the white-tablecloth service that was once known to rival high-end restaurants and clubs. Passengers in roomettes and bedrooms, considered premium riders, will have the choice to have meals delivered to their rooms. If desired, they will be able to use a new version of a dining car, open exclusively to them, with booths, but no white linens. Eventually, Amtrak said, it may get rid of the booths altogether and create a more contemporary lounge setting.
The new menu offers a variety of prepackaged meals; for example, red wine braised beef and chicken fettuccine. In the morning, passengers will be able to pick up a pastry and coffee from a buffet-style continental breakfast. Coach riders will eventually be able to buy the meals offered to premium riders, but in the cafe car.
Amtrak began testing boxed meals on its Crescent trains. Last year it eliminated full meals and introduced the "more contemporary" dining menu on the Capitol Limited (D.C.-Chicago) and Lake Shore Limited (Chicago-New York). Since then it has tweaked the menu based on customer feedback. Officials, learned, for example, that the public's perception of food boxes wasn't as favorable as it hoped, and that passengers wanted more hot food options. So, as it expands the new dining concept, there will be five prepackaged hot meal choices and no boxes. Eventually, Wilander said, riders will be able to pick their meal online, ahead of their trip.
New dining options Amtrak will be serving aboard their updated train service
include Creole shrimp and andouille sausage.
(Evelyn Hockstein/For The Washington Post)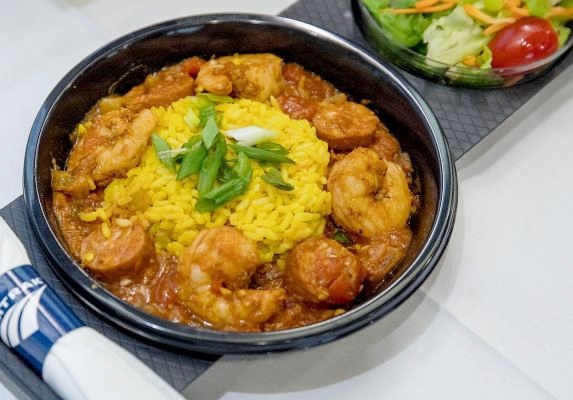 https://www.washingtonpost.com/local/trafficandcommuting/the-end-of-an-american-tradition-the-amtrak-dining-car/2019/09/21/d63cca3a-d888-11e9-bfb1-849887369476_story.html
0 replies, 292 views