Mon Nov 12, 2018, 11:57 PM
violetpastille (1,483 posts)
Salsa De Mesa (Hot, Cheap and Easy)
So this is how I make Salsa De Mesa. If you go through a lot of salsa it just makes sense to make it yourself. You get it how you want it, you save money and you don't have to deal with the empty jars.
Salsa Liberation.
Get together:
1 pound of roma tomatoes. This comes out to around six tomatoes.
Garlic! Most recipes say two cloves. So I use around six cloves.
Serrano peppers. I use three and I don't bother to seed them I just chop off the stem because I like my salsa a little hot. A little lip burning. If you like your salsa medium use two serranos and seed them. If you like mild use one serrano. You could use jalapenos, they are a milder pepper.
White Onion. I use one half onion. Use between one 1/4 and 1/2
Vegetable Oil. About 2 or 3 tablespoons.
Salt. About 1 tsp.
Cumin. Same.
Cilantro. This is very optional. Very. You probably wont miss it if you don't have it. Eight stalks of cilantro is enough.
Juice of a lime.
Steps:
Halve your tomatoes and put your tomatoes cut side facing up in a cast iron skillet or 9x13 pyrex.
Get your whole serrano peppers in there. And rough chop your onion into big wedges and add that. Put your peeled garlic in the spaces between. Fire up the broiler.
Broil for about 7 minutes. Your garlic should be browning a little. Take them out andput them in a blender jar.
Turn your serranos over so they roast on the other side. Leave your tomatoes be.
Broil another 7 minutes then put everything in the pan in the blender jar with the garlic including any pan juices if you have them.
Add your salt, cumin, and cilantro and lime juice. Pulse till blended. Not too much. You don't want to totally liquefy it.
Now in a saucepan on medium high, heat your vegetable oil. When a drop of water splatters your oil is hot enough.
Add the ingredients from the blender jar, let them come to a boil. Now bring the heat down to a simmer and let that go for 15 minutes.
Now you're done. Add more salt if you like. You can eat your salsa warm, you can eat it room temperature. You can chill it. However you like. It will keep in the refrigerator for 5 days. In my house it doesn't last past day three.
And if you don't like fire roasted tomatoes, just skip that whole broiling step.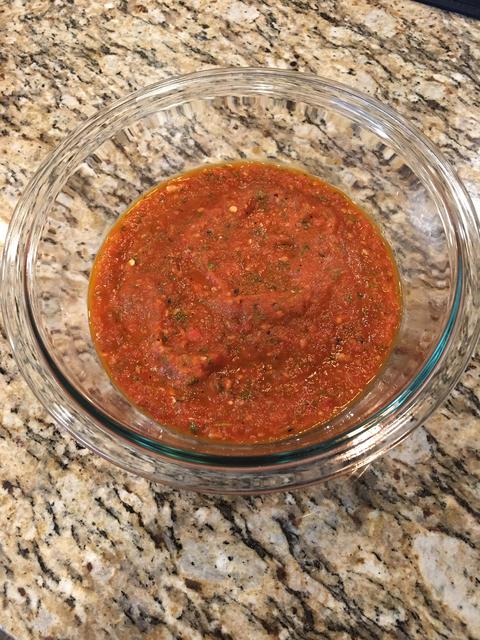 0 replies, 1027 views