Fri Mar 11, 2016, 02:36 AM
NNadir (27,136 posts)
February 2016 recorded as the worst February ever, by far, for carbon dioxide increases over the...
...previous year.
The Mauna Loa carbon dioxide observatory reports the monthly increases in CO[sub]2[/sub] over the previous year.
I keep a record of these monthly increases and sort them from greatest to least.
The data accessed today, March 11, 2016 is here:
Trends in Carbon Dioxide, Mauna Loa
The data has been recorded since 1958, with differences being recorded since 1959. The average concentration for this dangerous fossil fuel waste carbon dioxide shows that in February 2016, we were at 404.02 ppm. In February 2015, we were at 400.26 ppm.
The difference, 3.76 ppm over February 2015, exceeds the previous record value for any February of 3.18 ppm set in 2013. The third worst February was February 1999, at 3.00 ppm over February 1998,immediately after vast fires consumed much of the Southeast Asia Rain forest when fires meant to clear rain forest for palm oil plantations - for "renewable" biodiesel among other things - went out of control.
In fact, 3.76 ppm, is the worst monthly increase for
any
month in the total history of carbon dioxide measurements at Mauna Loa. The previous record worst month was October of 1998, at 3.64 ppm over October of 1997.
The popular solution for addressing this accelerating tragedy is of course, so called "renewable energy." One can have some arguments with people who insist that this approach, which has sucked two trillion dollars out of the world economy in the last ten years, is reasonable.
The data signature, written in the atmosphere in irrefutable terms, suggests otherwise.
It's, um, not working.
The scope of this failure might inspire some
shadenfreud
from nuclear advocates like myself, but I wish I'd been wrong actually.
Kliban put it well: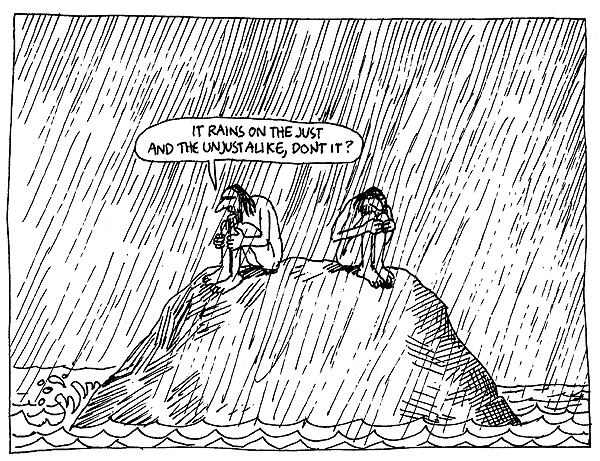 Have a nice Friday.
0 replies, 995 views