Sun May 17, 2015, 07:14 AM
RiverLover (7,830 posts)
"In the Hills & Hollows" Documentary to show how fracking has affected WV residents
About:
The boom and bust coal industry that has dominated the landscape of West Virginia for over a century is being replace by the natural gas industry. Rural West Virginian communities, steeped in history and heritage, are facing yet another uncertain future.
Background:
Due to a shift in market demand, and the development of technology to access the Marcellus Shale formation, a massive natural gas boom has swept through rural communities in the northern part of West Virginia. Much like the massive infrastructure built to support the coal industry, large new infrastructure systems are being built to produce and transport natural gas acquired through fracking. There are currently four pipelines proposed, each measuring over 3 feet in diameter, to transport natural gas from northern West Virginia to other states and ports for export.
In the Hills and Hollows investigates the boom and bust impacts that mono-economies based on fossil fuel extraction have on local communities. It provides an intimate look inside the lives of several West Virginia residents living in the middle of the boom and how their quality of life has changed by this industry. The film also explores the lives of residents who have become refugees, forced to leave their home, and the place they love as a result.
Why should I care about what is happening in West Virginia?
West Virginia is ground zero for fossil fuel extraction and is intrinsically linked to the country and the world.
As a nation we are at a crossroads in history. Are we ready to transition from fossil fuels to more environmentally and socially responsible forms of energy?
In the Hills and Hollows shows us the impact of today's energy on people living at its source, and convinces us that we need another way. The objective of this film is to inspire an urgent conversation about what is at risk and what we can not afford to ignore. Because mainstream news and large media corporations are not giving residents a voice the urgency is at an all time high for independent filmmakers to ensure these stories are heard by mass audiences.
https://www.kickstarter.com/projects/1800822293/in-the-hills-and-hollows?ref=video
When I first moved to Ohio last year, I was shocked by the amount of fracking, and the enormous amount of radioactive, toxic waste being disposed of in the state. I learned how Ohio EPA is basically shut out from oversight and most people are completely in the dark about the dangers of fracking. The industry has made it political and the media plays into that. It closes minds and prevents people from seeing the truth about fracking.
I fantasized about doing a documentary interviewing residents in rural eastern Ohio. But then I read about Ohio fracking activists being investigated and harassed. And where does one even start with something like that, especially with no time, few resources, and no film experience or contacts?
So much like Josh Fox did with "Gasland", Keely Kernan is living my dream. But she needs help with funding. I hope she gets it!!
Fire at a West Virginia frack site in 2010
Swath of destruction for a pipeline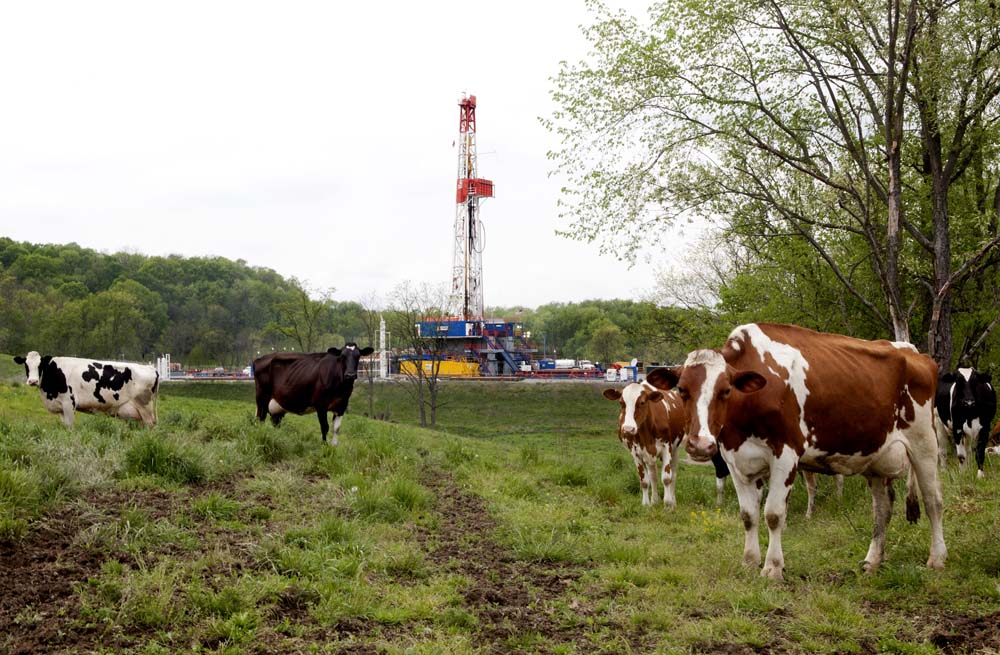 Fracking is interfering with farming in WV
2 replies, 902 views
Replies to this discussion thread
| | | | |
| --- | --- | --- | --- |
| 2 replies | Author | Time | Post |
| "In the Hills & Hollows" Documentary to show how fracking has affected WV residents (Original post) | RiverLover | May 2015 | OP |
| | Champion Jack | May 2015 | #1 |
| | mackdaddy | May 2015 | #2 |
---
Response to RiverLover (Original post)
Sun May 17, 2015, 01:14 PM
Champion Jack (5,316 posts)
1. K&R
---
Response to RiverLover (Original post)
Sun May 17, 2015, 04:10 PM
mackdaddy (874 posts)
2. I am less than a mile from an Injection (fracking sewage) well.
I am in SE Ohio, but just west of Athens and most of the actual gas wells. Bus about 8 tenths of a mile from me is an Injection well where all of the leftover liquid waste from wells in OH, PA, and WV are brought and pumped into the earth. I call it a sewage well instead of an injection well because that is what it really is.

No one in this area I have mentioned it to even know the thing exists. I did not know it was there when I bought this place 12 years ago either. I keep wondering how much of this wast (that included radioactive elements as well as volatile hydrocarbons and all of the secret poisonous materials they put into fracking fluid) can be shoved down into that one hole. I used to see a few "brine" tankers a week. Now I see dozens a day from several companies passing by on the highway.

I think it is just a matter of time until some unknown fissure or crack now or in the future has this stuff bubble up into my well, or the city water wells a couple of miles further up.


A separate issue for fracked wells is that they have a very short lived production life. Old style gas wells could produce for over 20 years. From what I have read, fracked well have a very high initial production but are played out in less than 5 years. This is boom times for frackers right now, but the gold-rush could be gone in a few years, and they will be all gone except for the permanently polluted aquifers.