Tue Aug 19, 2014, 09:34 AM
LiberalAndProud (12,799 posts)
Climate change: It's for the birds.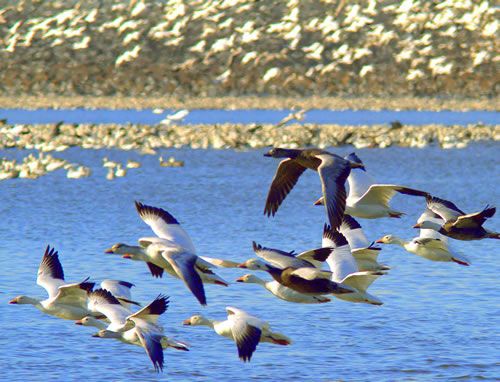 [font size="4"]Changing Great Plains Climate and Bird Migrations
[/font]
http://www.prairiefirenewspaper.com/2013/12/changing-great-plains-climate-and-bird-migrations
Changes in goose numbers were dramatic. When I first visited Squaw Creek in the early 1960s, snow goose numbers typically peaked there at about 150,000 birds. By 1978 the snow geese at Squaw Creek peaked at 280,000. These numbers reached 350,000 by 1982 and had attained a record high of 600,000 by 1986. Since then the refuge's peak snow goose numbers have at times reached a million birds.
-- snip --
To illustrate changes in migration timing, in 1966 and 1967 snow geese arrived at Squaw Creek during the second and third weeks of September, and their numbers peaked at an average of 165,000 during the last week of October and first week of November. They had nearly all departed by the end of December. By comparison, between 2008 and 2012 maximum numbers ranged from 390,000 to 1,425,000 birds, typically peaking in late November or early December. In 2013 they didn't arrive until the first week of November. In the past few years snow geese have remained in the general vicinity of Squaw Creek all winter, even though outside the refuge's boundaries they have been subjected to intense hunting pressures during an extended hunting season that lasts through January.
A similar delayed migration was happening to Canada geese and cackling geese along the Platte River in central Nebraska during these same decades, with their numbers gradually increasing to about one hundred thousand birds overwintering in the Platte Valley by the early 2000s. Smaller numbers of snow geese, Ross's geese and greater white-fronted geese likewise now sometimes overwinter in the state. Sandhill cranes have overwintered in the central Platte valley in substantial numbers since 2011.
-- snip --
By the early 2000s it was clear to biologists, as had been concluded much earlier by climatologists, that the world was not as it had been and that a long-term climatic warming trend had arrived. An extended nine-year drought and unusually warm summer temperatures brought the news home to Nebraska in 2002. The drought lasted nearly a decade and was followed by a return visit in 2013. While a few Nebraska politicians have professed that the warming trend was only an unavoidable "cyclical" event, rather than an indicator of a long-term climate change resulting largely from human influences, the facts speak to the contrary.
-- snip --
0 replies, 1671 views