Mon Apr 28, 2014, 09:38 PM
nationalize the fed (2,169 posts)
Energy.gov: Top 11 Things You Didnít Know About Fuel Cells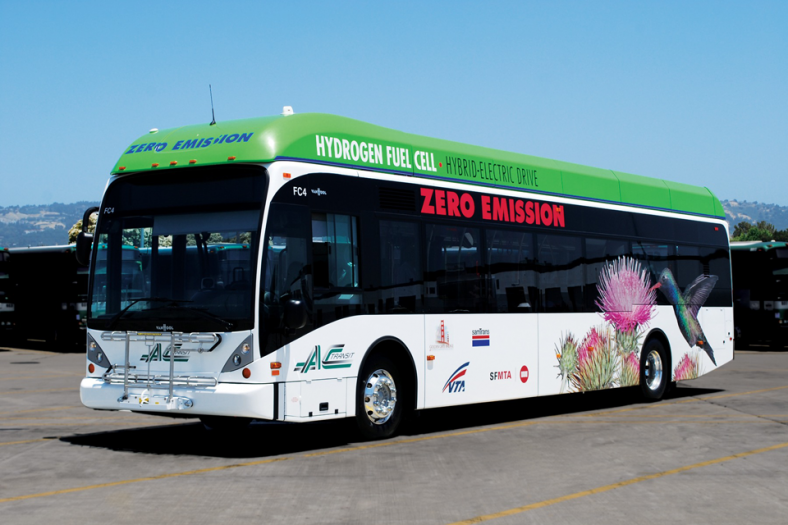 Zero Emission Bay Area (ZEBA) -- a group of regional transit agencies in Northern California -- operates twelve, zero-emission, fuel cell buses in real-world service throughout the Bay Areaís diverse communities and landscapes. | Photo courtesy of Leslie Eudy, NREL
11. Similar to a battery, a fuel cell is a device that produces electricity through an electrochemical reaction -- a chemical reaction that generates electricity without any combustion. Unlike batteries, fuel cells donít run down or need recharging. As long as there is a constant source of fuel and oxygen, fuel cells will continue to generate power.
Check out the fuel cell animation to learn how fuel cells work.
9. While hydrogen is a common fuel source for fuel cells, it isnít the only one. Fuel cells can produce electricity using hydrogen-rich fuels, such as biogas, natural gas, propane, methanol and diesel.
8.
Fuel cells have the potential to revolutionize the way we power the nation
. Hydrogen-powered fuel cells are not only pollution-free -- the only emissions are heat and water as byproducts -- but they also can have more than two times the efficiency of traditional combustion technologies.
4. Fuel cells can be used in a wide range of applications -- not just light-duty transportation. Companies -- such as FedEx, Sysco, Walmart and Coca Cola -- are using fuel cells to power material handling equipment like forklifts, and major telecommunications companies -- such as Sprint and AT&T -- are using them as emergency backup power for cell phone towers all over the country
Full list:
http://energy.gov/articles/top-11-things-you-didn-t-know-about-fuel-cells
3 replies, 2736 views
Replies to this discussion thread
| | | | |
| --- | --- | --- | --- |
| 3 replies | Author | Time | Post |
| Energy.gov: Top 11 Things You Didnít Know About Fuel Cells (Original post) | nationalize the fed | Apr 2014 | OP |
| | kristopher | Apr 2014 | #1 |
| | nationalize the fed | Apr 2014 | #2 |
| | NYC_SKP | Feb 2015 | #3 |
---
Response to nationalize the fed (Original post)
Wed Apr 30, 2014, 02:35 PM
kristopher (29,798 posts)
1. #12
---
Response to kristopher (Reply #1)
Wed Apr 30, 2014, 07:34 PM
nationalize the fed (2,169 posts)
2. Source?
---
Response to nationalize the fed (Reply #2)
Tue Feb 17, 2015, 05:33 PM
NYC_SKP (68,644 posts)
3. I'm sorry, your graphic is claptrap and Top Gear, well, LOL. HERE is the source you asked for, p.3.
Source:
http://www.metricmind.com/data/bevs_vs_fcvs.pdf
Now your graphic compares FCEVs under mystical imaginary conditions for generation against Battery Electric Vehicles using US grid power or all renewable.
It FAILS to show what the GHG emissions are under similar conditions, ie using US grid power or all renewable.
Thus, it's claptrap. It was submitted to and published among other creations by the US government, but such publication does not represent validation.