Mon Dec 31, 2012, 06:32 AM
xchrom (108,903 posts)
Energy company staff working at climate ministry
http://www.guardian.co.uk/environment/2012/dec/30/energy-companies-climate-ministry-decc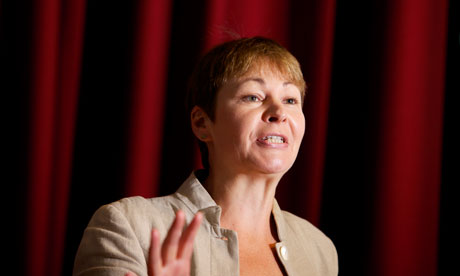 Caroline Lucas wrote to the cabinet secretary in 2011 with a warning about secondments. She received no reply. Photograph: Christopher Thomond for the Guardian
Almost two dozen employees from companies including the energy giants British Gas and npower are working at the Department of Energy and, in most cases, are being paid by the government to do so, documents released under freedom of information rules reveal. Oil companies such as Shell and ConocoPhillips also have staff inside the department, and civil servants have travelled in the opposite direction to work for the companies.
The Green party MP Caroline Lucas, who made some of the FOI requests, said: "Fossil fuel giants should have no place at the heart of government given that their current investment strategies run contrary to the need to build a low-carbon future that delivers both security and prosperity. It's even more outrageous that taxpayers are footing the bill for some of these secondments, including from British Gas-owner Centrica, at a time when British Gas customers are struggling in the face of a 6% rise in their energy bills, and the company is expected to make £1.4bn profits after tax this year.
"These corporations obviously don't lend out their employees without expecting something in return."
A spokeswoman for the Department of Energy and Climate Change said: "Secondees bring with them knowledge and expertise which are vital to helping Decc do its job effectively. Likewise, seconding Decc staff into industry – be that oil, gas, renewables or other areas – provides insight into the challenges faced by those sectors. It is normal for secondees to be paid directly by Decc or for their company to be refunded for their time; this is standard practice across government."
1 replies, 632 views
Replies to this discussion thread
| | | | |
| --- | --- | --- | --- |
| 1 replies | Author | Time | Post |
| Energy company staff working at climate ministry (Original post) | xchrom | Dec 2012 | OP |
| | gtar100 | Dec 2012 | #1 |
---
Response to xchrom (Original post)
Mon Dec 31, 2012, 04:11 PM
gtar100 (3,356 posts)
1. I think that spokeswoman for the DECC is full of crap.
A government agency, in my opinion, should exist to represent the best interests of "the people". It would not be difficult for them to find scientists who are perfectly capable of understanding the "challenges faced by those sectors" that are also not compromised by ties to private companies. Also, I wonder if she could provide examples of other employees with similar arrangements from the "renewables and other areas" industries.

There is something seriously wrong at the DECC if companies can raise their rates 6% and then expect a £1.4bn profit. It tells me that these people who have ties to the industries they should be regulating really don't have the interests of the people at heart and will only do what is in the interests of their employers in the oil and gas industries.

If we are to survive the folly of this age of fossil fuels, it seems to me the most important first steps is to not allow the regulated to control the regulators.