Thu Dec 20, 2012, 03:38 PM
GliderGuider (21,088 posts)
Temperature Rise with Methane Feedbacks
The world is currently on the climate path defined by the IPCC scenarios A1FI and RPC 8.5 - the most extreme scenarios contemplated by the UN. Despite the fact that they are already extreme, the potential effects of carbon feedbacks from melting permafrost and methane hydrates have not been included. These effects are now looking more likely, so it would be a good idea to get a feel for how they might affect temperatures in the future.
Here is my initial attempt at quantifying them. Because I'm not a climate modeler I've used some fairly "basic" approaches.
The basic trends for carbon and temperature are taken from the IPCC models - the A1FI curve comes from here:
http://www.ipcc-data.org/sres/ddc_sres_emissions.html
and the RPC 8.5 curve comes from here:
http://thingsbreak.files.wordpress.com/2012/01/improved-constraints-on-21st-century-warming-derived-using-160-years-of-temperature-observations.pdf
The total amount of carbon locked away in permafrost and hydrates is a bit of a guess right now, so I used the midrange of the estimates from Wikipedia, and came up with a combined value of 3,000 gigatonnes. I treat all the carbon as CO2, and ignore the fact that methane has a much greater global warming potential than CO2. That makes my numbers somewhat more conservative.
Next there's the question of how fast the carbon might be released as the temperature rises. I treat both the permafrost and hydrates as a single pool of sequestered carbon. The graph shows two possibilities based on different percentages of the carbon melting out. The first has 0.04% of the carbon being released per year per degree of temperature rise. That means that with a one degree rise 0.04% of the the total carbon store is released per year, and at 2 degrees 0.08% is released. The second estimate is twice that - a one degree rise releases 0.08% per year.
I assumed that the impact of the extra carbon on the temperature would be proportional to the amount of additional carbon released. Thus 25% extra carbon over the A1FI scenario would cause a 25% increase in the temperature anomaly as given by RCP 8.5.
All these assumptions are open to question, but I'm happy using them for illustration purposes.
So here is the graph: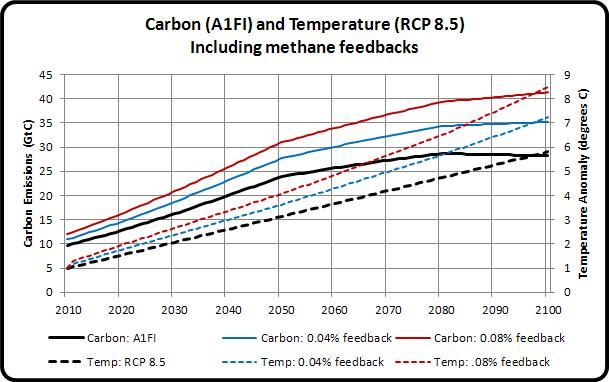 My high feedback scenario releases an additional 13 GtC per year by 2100, and causes a 2.7 degree rise in the temperature anomaly compared to the baseline scenario.
If we stay on the IPCC's extreme pathways (that we are currently on) and the permafrost and hydrates melt out rapidly, a temperature rise of +4C by 2050 is within the realm of possibility. I doubt we'd see +8C in 2100 - civilization would have crashed long before then, eliminating our anthropogenic emissions entirely.
2 replies, 1175 views
Replies to this discussion thread
| | | | |
| --- | --- | --- | --- |
| 2 replies | Author | Time | Post |
| Temperature Rise with Methane Feedbacks (Original post) | GliderGuider | Dec 2012 | OP |
| | GliderGuider | Dec 2012 | #1 |
| | CRH | Dec 2012 | #2 |
---
Response to GliderGuider (Original post)
Thu Dec 20, 2012, 11:12 PM
GliderGuider (21,088 posts)
1. I just realized that this is a runaway warming scenario.
If we heat the planet to a point where the emissions from melting permafrost/hydrates are over say 7 GtC/year - as much as we were emitting from fossil fuels in 2000 - the warming will be self-sustaining even if we stop burning entirely. The planet wouldn't keep warming as quickly as it would if we kept burning fossil fuels, but it would keep warming - and it wouldn't cool down to a point where the permafrost and hydrates would stop melting.

If we get a feedback going to the extent that the "meltout" carbon is enough to keep the planet warming even if we stop burning it, we're cooked - at least over the long haul. The warming becomes self-sustaining until there's no more sequestered carbon to melt out. That occurrence would make geoengineering truly inevitable, because it would literally be the only chance we have.

I don't know why it took me so long to figure this out. When I was looking at this graph a few minutes ago, the penny finally dropped. Permafrost/hydrate melting really is the genie we won't be able to put back into the bottle. I guess it's December 21, 2012 after all.
---
Response to GliderGuider (Reply #1)
Fri Dec 21, 2012, 09:08 AM
CRH (1,553 posts)
2. Yes, it is this system dynamic, ...
that tips us into inevitable continued warming. It might take a decade or century longer, but this single feedback feeding back gives fuel to the heat engine. Once the permafrost and cathrates defrost, it is an irreversible heat cycle on human time scales. The pipe dreams of geo engineering would not effect the melt (fuel) cycle, only gas concentrations, and then, only if it was done on an incredibly massive scale.

Even without exponential climate sensitivity, the various feed backs being triggered now, give the effects of thermal inertia yet another temperature driven feedback. Add in a constant fuel over the next couple of centuries, if it takes that long, and our lot can be described as, irreversible. Anything that can't interrupt the systemic heat engine cycle, will not stop rising temperatures. The only question remaining, is how fast.