Sun Jun 17, 2012, 12:34 PM
hatrack (42,931 posts)
Arctic Sea Ice Cover In Mid-June Tracking Well Below 2007's Record-Low Extent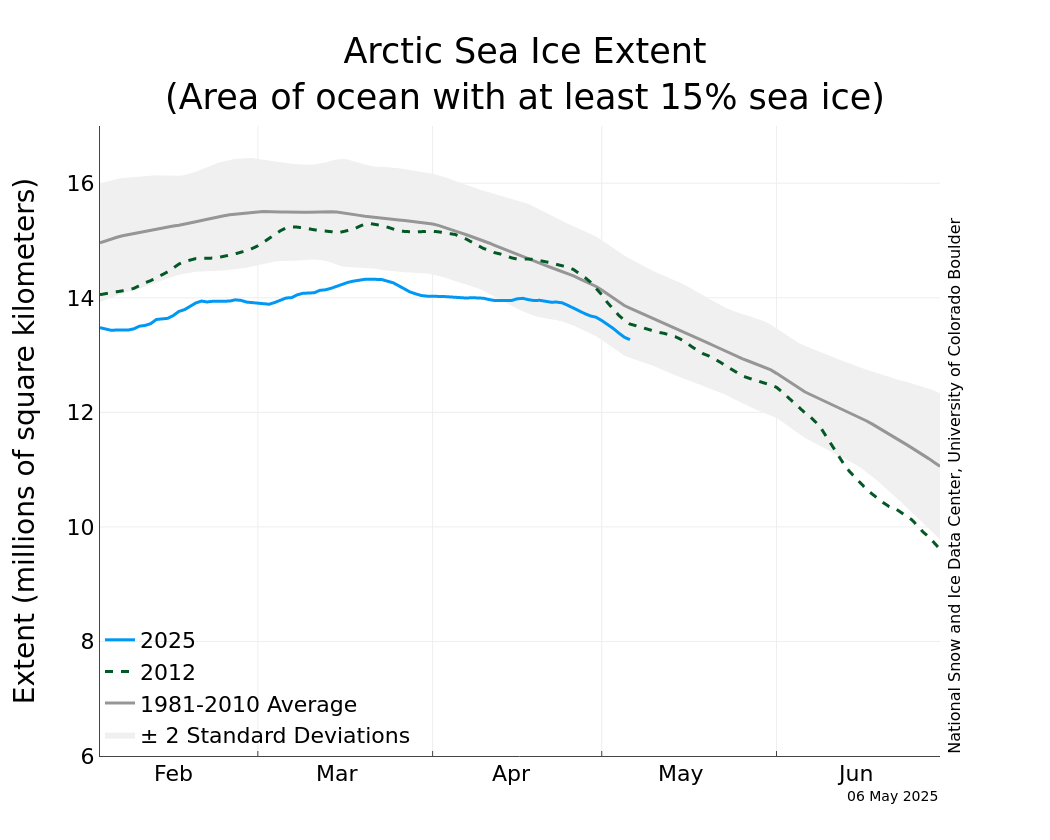 EDIT
The Beaufort Sea north of Alaska and Canada and the Laptev Sea north of Siberia are also melting quickly. "We don't normally see ice opening so fast in those areas," says Meier. "This is an indication that the ice there is pretty thin."
As you can see from the satellite mosaic of the Arctic for today, 14 June (above), the rapidly melting Laptev Sea lies at the downstream end of the mighty Lena River in Siberia. The Beaufort Sea lies at the downstream end of Canada's mightiest river, the MacKenzie River (delta not visible)—where May temperatures rose well above the 20th-century average (see last image, below).
Ice thickness data (above) show the Beaufort's sea ice to be thin—3 to 6 feet (1 to 2 meters). That's the signature of first-year ice. Which means it will be prone to melting completely this summer. Sorry, polar bears, bearded seals, ringed seals, and walruses.
EDIT
May 2012 also marks the 36th consecutive May and the 327th consecutive month—that's more than 27 years—with a global temperature above the 20th century average, reports NOAA's Environmental Visualization Laboratory.
EDIT/END
http://www.motherjones.com/blue-marble/2012/06/arctic-sea-ice-falls-below-ominous-milestone
4 replies, 1601 views
Replies to this discussion thread
| | | | |
| --- | --- | --- | --- |
| 4 replies | Author | Time | Post |
| Arctic Sea Ice Cover In Mid-June Tracking Well Below 2007's Record-Low Extent (Original post) | hatrack | Jun 2012 | OP |
| | intaglio | Jun 2012 | #1 |
| | XemaSab | Jun 2012 | #2 |
| | emmadoggy | Jun 2012 | #3 |
| | GliderGuider | Jun 2012 | #4 |
---
Response to hatrack (Original post)
Sun Jun 17, 2012, 03:31 PM
intaglio (8,170 posts)
1. What's worse is the volume
---
Response to hatrack (Original post)
Sun Jun 17, 2012, 04:46 PM
XemaSab (60,212 posts)
2. In the last 9 days we've lost HELLA ice
---
Response to hatrack (Original post)
Sun Jun 17, 2012, 09:22 PM
emmadoggy (2,098 posts)
3. K & R. That is a scary-fast drop. nt
---