Tue Jan 14, 2020, 11:34 PM
hatrack (48,799 posts)
New Year's Floods In Jakarta Worst In Decades; Some Areas Of City Already Sinking 10 Inches/Year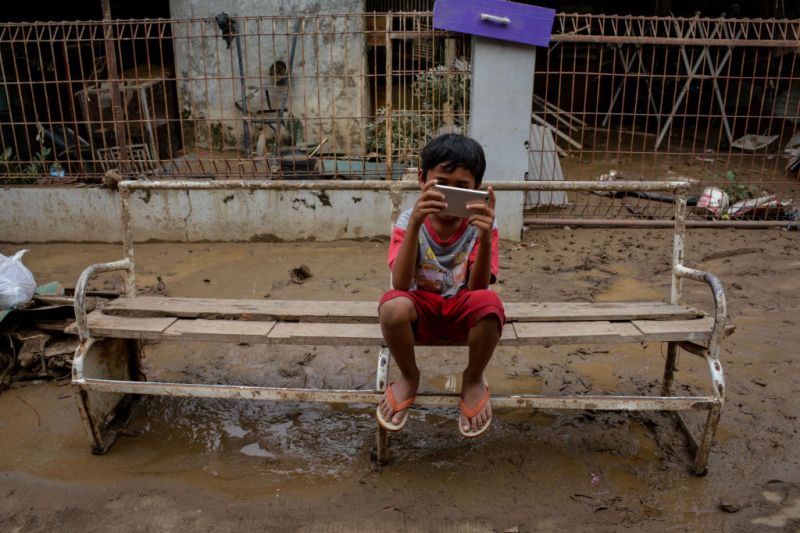 A boy plays on a phone after the flood in Bekasi, Indonesia, on 3 January 2020. Photo: Sijori Images / Barcroft Media / Getty Images
"It was like the end of the world," says Nurhayati, dabbing her eyes with the hem of her hijab. On December 31st swollen clouds emptied over Indonesia's capital, dumping 377 millimetres of rain in one day. That is the most since records began in 1886, according to the state weather agency. The river near Nurhayati's home in an eastern suburb of Jakarta burst its banks, overturning vehicles parked alongside. Within hours the water had risen nearly eight metres, engulfing one-storey houses. Nurhayati's neighbour, Pudji, says she had to wait for 22 hours before she could be rescued from her roof.
Heavy rains overwhelm Jakarta almost every year. But this flood was easily the worst for a decade. It submerged a dozen districts in greater Jakarta, many of which had never previously been inundated, and caused landslides. At least 67 people are dead: some drowned, some died of hypothermia or were electrocuted. Nearly 400,000 people abandoned their homes and sought refuge in shelters.
Problems that have plagued Jakarta for decades exacerbated the disaster. Upgrades to the sewer system have not kept pace with the relentless expansion of the city. Sewers and rivers are often clogged with silt and rubbish.
Limited availability of tap water means that about two-fifths of Jakartans rely on wells. Sucking so much liquid out of the ground is making the whole city sink. Forty percent of it is already below sea level, and some districts are subsiding by 25cm each year. Pumps are supposed to carry floodwaters out of low-lying areas and into Jakarta Bay, explains Leonard Simanjuntak of Greenpeace Indonesia. But last week most of them broke. Why? They were submerged by floodwater, according to an official from the Water Resources Agency.
EDIT
https://desdemonadespair.net/2020/01/flooding-in-jakarta-is-the-worst-for-over-a-decade-more-rainfall-expected-it-was-like-the-end-of-the-world.html
2 replies, 285 views
Replies to this discussion thread
| | | | |
| --- | --- | --- | --- |
| 2 replies | Author | Time | Post |
| New Year's Floods In Jakarta Worst In Decades; Some Areas Of City Already Sinking 10 Inches/Year (Original post) | hatrack | Tuesday | OP |
| | Mickju | Wednesday | #1 |
| | progree | Wednesday | #2 |
---
Response to hatrack (Original post)
Wed Jan 15, 2020, 12:16 AM
Mickju (399 posts)
1. One more nail in our coffin.
---
Response to hatrack (Original post)
Wed Jan 15, 2020, 12:17 AM
progree (5,551 posts)
2. At least Indonesia's pop growth rate is slowing down: 1.15% rate, fertility rate: 2.32