Fri Apr 27, 2012, 11:54 AM
OKIsItJustMe (17,688 posts)
Folding light: Wrinkles and twists boost power from solar panels (by 47%)
http://www.eurekalert.org/pub_releases/2012-04/pues-flw042712.php
[font face=Times, Times New Roman, Serif]Public release date: 27-Apr-2012
Contact: John Sullivan
js29@princeton.edu
609-258-4597
Princeton University, Engineering School
[font size=5]Folding light: Wrinkles and twists boost power from solar panels[/font]
[font size=3]Taking their cue from the humble leaf, researchers have used microscopic folds on the surface of photovoltaic material to significantly increase the power output of flexible, low-cost solar cells.
The team, led by scientists from Princeton University,
reported
online April 22 in the journal
Nature Photonics
that the folds resulted in a 47 percent increase in electricity generation. Yueh-Lin (Lynn) Loo, the principal investigator, said the finely calibrated folds on the surface of the panels channel light waves and increase the photovoltaic material's exposure to light.
"On a flat surface, the light either is absorbed or it bounces back," said Loo, a professor of chemical and biological engineering at Princeton. "By adding these curves, we create a kind of wave guide. And that leads to a greater chance of the light's being absorbed."
The research team's work involves photovoltaic systems made of relatively cheap plastic. Current solar panels are typically made of silicon, which is both more brittle and more expensive than plastics. So far, plastic panels have not been practical for widespread use because their energy production has been too low. But researchers have been working to increase that efficiency with the goal of creating a cheap, tough and flexible source of solar power.
…[/font][/font]
http://dx.doi.org/10.1038/nphoton.2012.70
3 replies, 1668 views
Replies to this discussion thread
| | | | |
| --- | --- | --- | --- |
| 3 replies | Author | Time | Post |
| Folding light: Wrinkles and twists boost power from solar panels (by 47%) (Original post) | OKIsItJustMe | Apr 2012 | OP |
| | IDemo | Apr 2012 | #1 |
| | OKIsItJustMe | Apr 2012 | #2 |
| | IDemo | Apr 2012 | #3 |
---
Response to OKIsItJustMe (Original post)
Fri Apr 27, 2012, 12:56 PM
IDemo (16,926 posts)
1. My money's on sliver cells:
Similar concept using grooves rather than folds -
This new approach, utilizes a proprietary micromachining method to form deep vertical grooves in a 200mm wafer, from which come ~5000 millimeter or two wide, <50µm thick cells, fabricated within the wafer frame.
The super-thin, elongated cells are then harvested, put into subassemblies, and laid out in modules, with carefully spaced gaps that help maximize light capture on both sides of the cell surface.
http://www.solar-facts-and-advice.com/transform-solar.html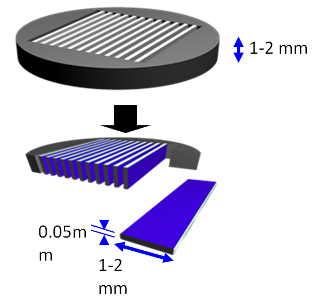 ---
Response to IDemo (Reply #1)
Fri Apr 27, 2012, 01:41 PM
OKIsItJustMe (17,688 posts)
2. This method is appealing to me
http://www.nature.com/nphoton/journal/vaop/ncurrent/full/nphoton.2012.70.html
[font face=Times, Times New Roman, Serif][font size=3]…

Some of the simplest light-harvesting systems in nature rely on the presence of surface structures to increase internal light scattering. We have extended this concept to increase the efficiencies of man-made solar energy harvesting systems. Specifically, we exploit the wrinkles and deep folds that form on polymer surfaces when subjected to mechanical stress to guide and retain light within the photo-active regions of photovoltaics. Devices constructed on such surfaces show substantial improvements in light harvesting efficiencies, particularly in the near-infrared region where light absorption is otherwise minimal. We report a vast increase in the external quantum efficiency of polymer photovoltaics by more than 600% in the near-infrared, where the useful range of solar energy conversion is extended by more than 200 nm. This method of exploiting elastic instabilities of thin, layered materials is straightforward and represents an economical route to patterning photonic structures over large areas to improve the performance of optoelectronics.

…[/font][/font]
---
Response to OKIsItJustMe (Reply #2)
Fri Apr 27, 2012, 02:51 PM
IDemo (16,926 posts)
3. Hard to say now which (if either) will prevail
Sliver technology has been under development since 2000 and claims to use only 10% of the expensive silicon of traditional 2D cells, but the assembly process does reduce some of the cost benefit. It is in production using established fabrication technology though. The dollar/Watt figures will be the ultimate test of marketability.