Fri Apr 27, 2012, 08:51 AM
xchrom (108,903 posts)
Does consumption need tackling before population?
http://www.guardian.co.uk/environment/blog/2012/apr/26/royal-society-report-consumption-population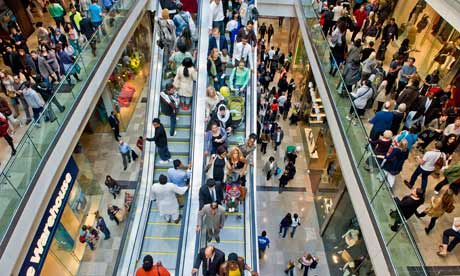 Shoppers converge in their thousands on the Westfield Shopping Center in East London's Stratford for the grand opening on 13 September 2011. Photograph: Sarah Lee for the Guardian
9.15am The Royal Society has published today a landmark report - 21-months in the making - that it says is the "first substantive offering" in its 350-year history on the topic of the "impacts of human population and consumption on the planet".
The report (pdf, 5.7MB) lays out nine recommendations for, what it hopes, will "be a springboard for further discussion and action". In doing so, it appears to imply that rising consumption levels need tackling ahead of rising population levels:
In the short term it is of the utmost urgency to reduce consumption and emissions that are already causing damage, for example greenhouse gases, deforestation, and land use change amongst others. Furthermore, unless the goal is a world in which extreme inequality persists, it is necessary to make space for those in poverty, especially the 1.3 billion people living in absolute poverty, to achieve an adequate standard of living.
The intertwined issues of consumption and population have, of course, long been cornerstones of the wider environmental debate. But, in recent years, the consensus among environmental commentators seems to have moved towards the view that over-consumption is, indeed, the more pressing concern. In 2011, when the human population reached 7bn for the first time, a major report by French national agencies concluded rather bluntly that "the rich must stop consuming so much".
But what are your views? If quoting figures to support your points, please provide a link to the source. I will also be inviting various interested parties to join the debate, too. And later on today, I will return with my own verdict.
5 replies, 1149 views
Replies to this discussion thread
| | | | |
| --- | --- | --- | --- |
| 5 replies | Author | Time | Post |
| Does consumption need tackling before population? (Original post) | xchrom | Apr 2012 | OP |
| | Trillo | Apr 2012 | #1 |
| | xchrom | Apr 2012 | #2 |
| | OKIsItJustMe | Apr 2012 | #3 |
| | bananas | Apr 2012 | #4 |
| | GliderGuider | Apr 2012 | #5 |
---
Response to xchrom (Original post)
Fri Apr 27, 2012, 11:05 AM
Trillo (9,152 posts)
1. According to this, I'm probably rich.
I had a stainless steel kitchen sink drain whose rubber plug began leaking. The drain assembly was purchased in 1999, and installed then. Over time and use, it's rubber plug had deteriorated, it was old and had cracked in multiple places around its sealing surface. I went to all the local hardware stores of which I'm familiar, and could not find a replacement plug (with strainer) of the correct size. I couldn't even find a plug of its size without the strainer. So, the only option was to replace the entire drain plug assembly. They're not particularly expensive, but replacing plumbing usually leads to problems due to corrosion, different lengths of pipes required, etc., and it takes labor time to replace.

After replacement, the new drain had vastly reduced flow, due to it's design, and when the sink was draining, I needed to find something else to do, and come back some few minutes later, or stand there and wait.

So, back to the hardware store to find a different sink drain/strainer assembly which apparently has what industry says is a "double cup design" and designed for "cast iron sinks". Nah, this is a stainless steel sink. Nowhere on the drain assembly packaging is there any indication that that "a double cup design" flows faster when draining, yet that is exactly what the "double cup design" does. When talking to retail sales folks in these hardware store, the only response is "I never heard that before".

So, the lesson of this experience is that in order to buy a replacement drain plug, industry seems to have found ways to force folks to replace a much larger drain unit assembly, and their packaging is deceptive or fails to disclose drain flow rates, causing the purchase of two of them, along with the labor costs incurred to replace the drain unit twice.

It seems like there would be less consumption if replacement sink drain plugs were manufactured in sizes that worked with the drain assemblies made 10 years earlier.

We've come so far since Henry Ford was alleged by grade school history books to have helped with standardization of manufacturing-size specifications in their mass-production lines, supposedly new processes at the time. Now, it seems industry understands that by changing sizes on some scheduled basis, more replacement parts can be sold, and more labor hours are needed. KaChing!

Perhaps nature's method was better, and more honest. If you needed some water, you walked down to the creek and took what you needed.

This seems like a little matter, but these are repeating patterns seen time and again over the years. The specifics always seem different, this time it was a kitchen sink drain problem. I would have much preferred to have spent a dollar or two on a rubber plug, than some $30+ in addition to all the time necessary to replace the entire drain unit, twice. Unfortunately, I need the sink to be able to hold water so dirty dishes can be soaked in detergent.

This, in my opionion, is an example of how industry has increased consumption beyond what is necessary to fix a simple problem. It takes extra energy to make all those extra parts. All the extra consumption is good for "jobs", and it's good for government "tax revenue", the only people it harms are the low fruit on the tree, like me and all the other "consumers" who seem to be given little choice. I can guarantee you, that had I been able to find a rubber plug of the correct size, that is all I would have replaced.
---
Response to Trillo (Reply #1)
Fri Apr 27, 2012, 11:11 AM
xchrom (108,903 posts)
2. i certainly feel your pain.
between your experience and building things that don't last...
---
Response to xchrom (Original post)
Fri Apr 27, 2012, 11:41 AM
OKIsItJustMe (17,680 posts)
3. Yes, to my mind this is a simple question
"Tackling Population" is something which will take decades or even centuries (barring some cataclysmic event.)

"Tackling Consumption" can happen in a much shorter time frame. (For example, how long would it take to institute gasoline rationing—assuming there was the political backbone to do so?)
---
Response to xchrom (Original post)
Fri Apr 27, 2012, 12:14 PM
bananas (27,505 posts)
4. Frances Moore Lappé has it right
see
http://www.democraticunderground.com/?com=view_post&forum=1024&pid=789
and
http://en.wikipedia.org/wiki/Frances_Moore_Lapp%C3%A9
edit to add for those who don't follow links:
Food scarcity is a dangerous myth - Frances Moore Lappé
http://www.ottawacitizen.com/mobile/story.html?id=6033424
Food scarcity is a dangerous myth
Sunday, January 22, 2012
By Frances Moore Lappé
More than 40 years ago, Paul Ehrlich's The Population Bomb
proclaimed that "the battle to feed humanity is already
lost," and today almost a billion people go hungry. In 2011,
a second food-price spike within only five years, along with
heart-wrenching images of famine in parched East Africa,
continued to keep the scarcity scare alive.
There's just not enough, right?
Well, no. Even on the "leftovers" - what's left over after
feeding a third of the world's grain to livestock and putting
more U.S. corn into cars than into animals or humans; even
after feeding a third of the world's fish catch to livestock
and simply wasting a third of all food - there's still enough.
The world food supply comes to nearly 3,000 calories each
day for every person on Earth, enough to make us all
chubby.
The scarcity frame is not just factually wrong, it's dangerous.
<snip>
Some excerpts of her bio on wikipedia:
Frances Moore Lappé (born February 10, 1944) is the author of 18 books including the three-million copy Diet for a Small Planet. She is the co-founder of three national organizations that explore the roots of hunger, poverty and environmental crises, as well as solutions now emerging worldwide through what she calls Living Democracy. Her most recent book is EcoMind: Changing the Way We Think to Create the World We Want

<snip>

In 2006 she was chosen as a founding councilor of the Hamburg-based World Future Council. She is also a member of the International Commission on the Future of Food and Agriculture and the National Advisory Board of the Union of Concerned Scientists. She serves as an advisor to the Calgary Centre for Global Community and on the board of David Korten's People-Centered Development Forum. In 2009 she joined the advisory board of Corporate Accountability International's Value the Meal campaign.[3] She is a Contributing Editor to YES! Magazine. Lappé's articles and opinion pieces have appeared in publications as diverse as The New York Times, O Magazine, and Christian Century. Her television and radio appearances have included a PBS special with Bill Moyers, the Today Show, CBS Radio, and National Public Radio.

Lappé has received 17 honorary doctorates from distinguished institutions, including the University of Michigan, Kenyon College, Allegheny College Lewis and Clark College and Grinnell College. She also held various teaching and scholarly positions:
-From 1984-1985, Lappé was a visiting scholar at the Institute for the Study of Social Change, at the University of California, Berkeley.
- From 2000-2001, Lappé was a visiting scholar at the Massachusetts Institute of Technology, Cambridge, Massachusetts.
- In 2003, Lappé taught with Dr. Vandana Shiva in Dehra Dun, India, about the roots of world hunger, sponsored by the Navdanya researching and agricultural demonstration center.
- In 2004, Lappé taught a course on Living Democracy at Schumacher College in England.
- In 2006 and 2008, Lappé was a visiting professor at Suffolk University, Boston.[4]

In 1987 in Sweden, Lappé became the fourth American to receive the Right Livelihood Award, often called the Alternative Nobel. In 2003, she received the Rachel Carson Award from the National Nutritional Foods Association. She was selected as one of twelve living "women whose words have changed the world" by the Women's National Book Association.

Lappé receiving the 2008 James Beard Foundation Humanitarian of the Year Award

In 2008, she was honored by the James Beard Foundation as the Humanitarian of the Year.In the same year, Gourmet Magazine named Lappé among 25 people (including Thomas Jefferson, Upton Sinclair, and Julia Child), whose work has changed the way America eats. Diet for a Small Planet was selected as one of 75 Books by Women Whose Words Have Changed the World by members of the Women's National Book Association in observance of its 75th anniversary.

Historian Howard Zinn wrote: "A small number of people in every generation are forerunners, in thought, action, spirit, who swerve past the barriers of greed and power to hold a torch high for the rest of us. Lappé is one of those." The Washington Post says: "Some of the twentieth century's most vibrant activist thinkers have been American women – Margaret Mead, Jeanette Rankin, Barbara Ward, Dorothy Day – who took it upon themselves to pump life into basic truths. Frances Moore Lappé is among them."

<snip>

---
Response to xchrom (Original post)
Fri Apr 27, 2012, 12:49 PM
GliderGuider (21,088 posts)
5. The population problem is getting better, while the consumption problem is getting worse.
Population is still going up, but at least the rate of increase is dropping.
The rate of increase of consumption is not dropping, as the proxy of atmospheric CO2 levels demonstrates.

Given the tone of the comments on that blog, I doubt anything significant is going to be done about either of them, though. The problems are too complex and politically charged.

Fortunately, the global economic collapse will do it for us, and nobody will have to take any blame at all...