Thu Apr 26, 2012, 10:00 AM
xchrom (108,903 posts)
Cut world population and redistribute resources, expert urges
http://www.guardian.co.uk/environment/2012/apr/26/world-population-resources-paul-ehrlich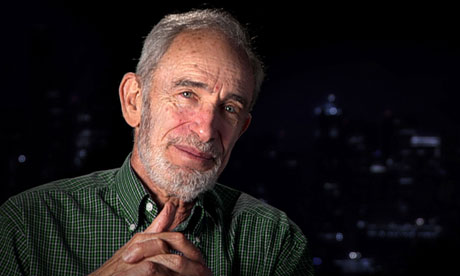 Paul Ehrlich says we face 'catastrophic or slow motion' disasters unless population is brought under control and resources redistributed. Photograph: Rex Features
The world's most renowned population analyst has called for a massive reduction in the number of humans and for natural resources to be redistributed from the rich to the poor.
Paul Ehrlich, Bing professor of population studies at Stanford University in California and author of the best-selling Population Bomb book in 1968, goes much further than the Royal Society in London which this morning said that physical numbers were as important as the amount of natural resources consumed.
The optimum population of Earth – enough to guarantee the minimal physical ingredients of a decent life to everyone – was 1.5 to 2 billion people rather than the 7 billion who are alive today or the 9 billion expected in 2050, said Ehrlich in an interview with the Guardian.
"How many you support depends on lifestyles. We came up with 1.5 to 2 billion because you can have big active cities and wilderness. If you want a battery chicken world where everyone has minimum space and food and everyone is kept just about alive you might be able to support in the long term about 4 or 5 billion people. But you already have 7 billion. So we have to humanely and as rapidly as possible move to population shrinkage."
4 replies, 1131 views
Replies to this discussion thread
| | | | |
| --- | --- | --- | --- |
| 4 replies | Author | Time | Post |
| Cut world population and redistribute resources, expert urges (Original post) | xchrom | Apr 2012 | OP |
| | saras | Apr 2012 | #1 |
| | mopinko | Apr 2012 | #2 |
| | qazplm | Apr 2012 | #3 |
| | GliderGuider | Apr 2012 | #4 |
---
Response to xchrom (Original post)
Thu Apr 26, 2012, 10:57 AM
saras (6,670 posts)
1. There is a small problem...
Radical redistribution of the world's resources, while necessary, is likely to wildly disrupt nearly everyone's life, and no one has given any serious thought as to what kind of government or other structures might be necessary to survive the transition. If we simply level things, the first world won't have the resources to keep utilities going - water, sewer, power, fuel.

It requires a completely new world economy, run on profoundly different principles than this one, as well as a planetfull of new/old technology. It will be interesting.

Of course, there's other problems... in the long run, "sustainable" means no mining. Mining simply isn't sustainable. That changes things.
---
Response to xchrom (Original post)
Thu Apr 26, 2012, 11:23 AM
mopinko (50,720 posts)
2. not very constructive for a guy who has been studying this for 50 years.
he says his prediction have been proven right, but i do not see that. i see his predictions of doom to be vastly overwrought.
what does he think we should do? i see nothing here about that.
---
Response to xchrom (Original post)
Thu Apr 26, 2012, 11:34 AM
qazplm (3,626 posts)
3. ok raise your hand
if you know how to humanely and rapidly shrink a population from 7 billion to 2 billion.
---
Response to xchrom (Original post)
Thu Apr 26, 2012, 11:46 AM
GliderGuider (21,088 posts)
4. It's easy to suggest things you know nobody will do.
You know, things like cut population, redistribute wealth, stop using fossil fuels, stop overfishing the oceans, bring the banks to heel, stop the free international flow of capital etc. etc.

Humanity has already entered the early stages of a "multiple organ failure scenario" involving resource limits, overpopulation, ecological devastation, financial collapse, air, water and land pollution, species extinctions, climate change, ocean acidification, the failure of national governance and international cooperation etc. It's all happening at once, which means it's far too late for well-meaning action on any single front to influence the overall outcome.

My expectation is that we will see a population decline, but it will be involuntary in response to worsening conditions. Given that it will be an uncontrolled descent, Ehrlich's estimate of 1.5 to 2 billion is probably about twice too high. We may stabilize at about a billion some time around the end of the century.

"That which must be done to avert the crisis will only be done as its consequence." ~Charles Eisenstein