Sun Apr 7, 2019, 10:31 AM
The_jackalope (1,660 posts)
Changes in the biosphere's composition in the last 12,000 years
Since 10,000 BCE, human biomass has gone up about 200x. Wild animal biomass has gone down by about 95% over the same time. Domesticated animal biomass has increased by 20x in the last century.
If that is not a sign of human overgrowth on the planet, nothing is. But hey, educating women is going to fix it all. GMAFB.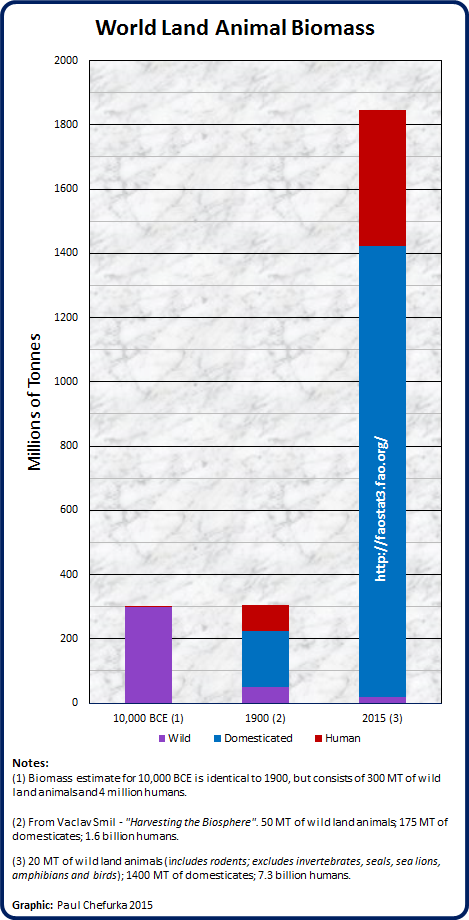 5 replies, 609 views
Replies to this discussion thread
| | | | |
| --- | --- | --- | --- |
| 5 replies | Author | Time | Post |
| Changes in the biosphere's composition in the last 12,000 years (Original post) | The_jackalope | Apr 2019 | OP |
| | Moostache | Apr 2019 | #1 |
| | The_jackalope | Apr 2019 | #2 |
| | Moostache | Apr 2019 | #3 |
| | The_jackalope | Apr 2019 | #4 |
| | Duppers | Apr 2019 | #5 |
---
Response to The_jackalope (Original post)
Sun Apr 7, 2019, 10:39 AM
Moostache (8,524 posts)
1. Educating women - to EMPOWER their decisions on child bearing - IS a big deal...
You may not have meant to, but that comes across very poorly in your post...

YES, human population is a serious issue...over population is also tied to poverty very closely.
YES, industrial farming and land use has been organized poorly...profits over people, calories over nutrition, etc.
YES, better decisions on animal husbandry and use are needed...cattle are a big deal here.

But suggesting that women's issues are not part and parcel of the major problem - an outdated and harmful patriarchal discriminatory power structure fueled by unregulated and run amok capitalism - is a tad short sighted...IMO.

Empowering women is a crucial step towards changing the system and changing the system is going to happen whether we are ready or want it or not...
---
Response to Moostache (Reply #1)
Sun Apr 7, 2019, 10:48 AM
The_jackalope (1,660 posts)
2. Better decision-making won't "fix" anything
We've made the best decisions we are capable of for the last 12,000 years. And yet here we are.

Yes, our situation will change, and we will come back to a more sustainable balance with (what is left of) the planet. No matter what decisions we make or don't make. Education will change the small picture, but not the big one. The future is out of our hands.
---
Response to The_jackalope (Reply #2)
Sun Apr 7, 2019, 11:06 AM
Moostache (8,524 posts)
3. Ships don't turn on a dime...
But moving the rudder starts the process of changing heading and direction...
Slowing the engines allows for more turning over shorter distances...muzzling women is akin to hitting the engines to full ahead.

Without concerted small changes, you may be right - large change can seem impossible...but only if we first accept fatalism that does not WANT small changes or large changes. Just because society is on a suicide path doesn't mean it's not worth trying to change course.

An educated (and equally VALUED) woman does NOT have to consent to marriage or child rearing as an only option...in many places with extreme over-population, that is not the case. India, Africa, Indonesia, and other places where women are completely unvalued and systemically oppressed and prevented from even basic education or skills attainment are slaves. One would have thought we crossed that rubicon centuries back...but they would be wrong.
---
Response to Moostache (Reply #3)
Sun Apr 7, 2019, 11:23 AM
The_jackalope (1,660 posts)
4. We're on a planetary version of the Exxon Valdez.
Slamming the rudder hard over at this point won't keep us off the rocks.

I should add that I think the only sensible thing to do at this point is for each of us to do whatever we think is right. It may not keep us from extinction, but it will help us feel like we did whatever we could.

My recipe for personal action in these final days amounts to this maxim: "Eat, drink and be mindful."
In more specific terms, my approach to living revolves around this set of precepts:

1. Stay awake to what's happening around us.
2. Don't get hung up by other people's "shoulds and shouldn'ts".
3. Occasionally re-examine your personal values. If they aren't in alignment with what you think the world needs, change them.
4. Hold all the world's various beliefs and "isms" lightly, including your own.
5. Don't blame people. Others are as much victims of the situation as we are – even the CEOs and politicians.
6. Blame, anger and outrage are pointless. They waste precious energy that we need for more useful work.
7. Forgive others. Forgive ourselves. For everything.
8. Laugh a lot, at everything – including yourself.
9. Enjoy life. It may be the only one you get.
10. Love everything just as deeply as you can.

But I don't imagine for a single instant that doing these things will "save the planet".
---
Response to The_jackalope (Original post)
Sun Apr 7, 2019, 03:07 PM
Duppers (21,553 posts)
5. Nice graphic, Paul!
Grab your armour and post this in general discussion.
Btw, if women were *really* educated, it'd help.
IF NOT, what's the point of even discussing this?