Thu Aug 31, 2017, 12:25 AM
Judi Lynn (142,487 posts)
A Stunning Display of Wildflowers Just Bloomed in One of the Driest Places on Earth
An "intense and unexpected rain" transformed Chile's Atacama Desert.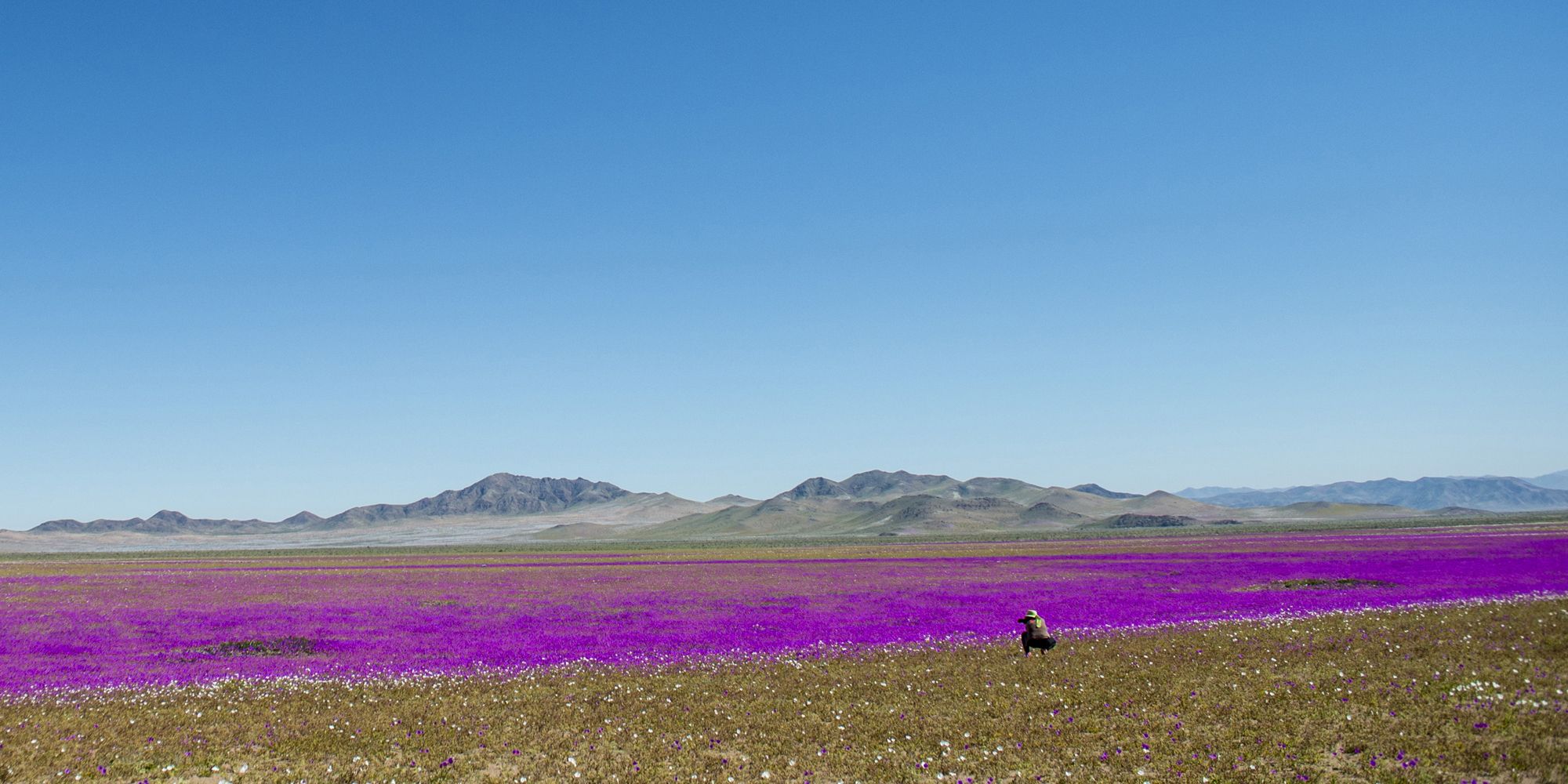 by LYNDSEY MATTHEWS
AUG 30, 2017  
Beyond the North and South Poles, Chile's Atacama Desert is the driest place on Earth. In any given year, this plateau in northern Chile only gets about 0.6 inches of rain, while some areas get as little as 0.04 inches.
Most of the time it looks like this—dry and arid.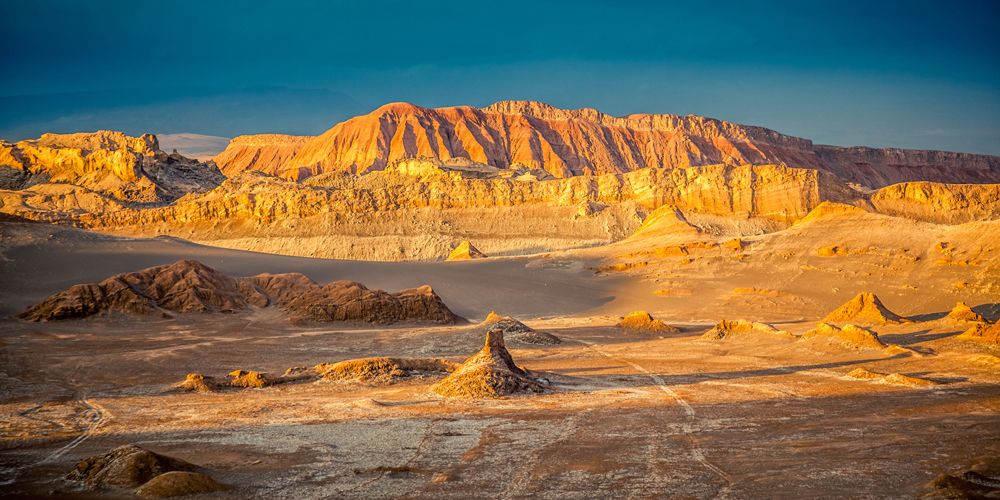 But after an "intense and unexpected rain," the desert floor erupted with a massive wildflower bloom that's drawing visitors from all over Chile and even farther away to come see the phenomenon that's known as "desierto florido" (flowering desert), the BBC reports.
More:
http://www.townandcountrymag.com/leisure/travel-guide/a12141685/atacama-desert-wildflower-bloom/
4 replies, 1889 views
Replies to this discussion thread
| | | | |
| --- | --- | --- | --- |
| 4 replies | Author | Time | Post |
| A Stunning Display of Wildflowers Just Bloomed in One of the Driest Places on Earth (Original post) | Judi Lynn | Aug 2017 | OP |
| | murielm99 | Aug 2017 | #1 |
| | Judi Lynn | Sep 2017 | #2 |
| | Judi Lynn | Sep 2017 | #3 |
| | Judi Lynn | Sep 2017 | #4 |
---
Response to Judi Lynn (Original post)
Thu Aug 31, 2017, 05:13 AM
murielm99 (26,622 posts)
1. Both pictures are breathtaking.
---
Response to Judi Lynn (Original post)
Sun Sep 3, 2017, 03:51 PM
Judi Lynn (142,487 posts)
2. The Worlds Driest Desert Blooms With Hundreds Of Flowers After Rare Rain
08/31/2017 12:49 pm ET
Wow.
By Jamie Feldman
Talk about flower power.
The Atacama desert in Chile, widely referred to as the world's driest desert, is currently experiencing a truly breathtaking phenomenon. After surprise heavy rainstorms showered the region, thousands of colorful flowers bloomed to blanket its surface.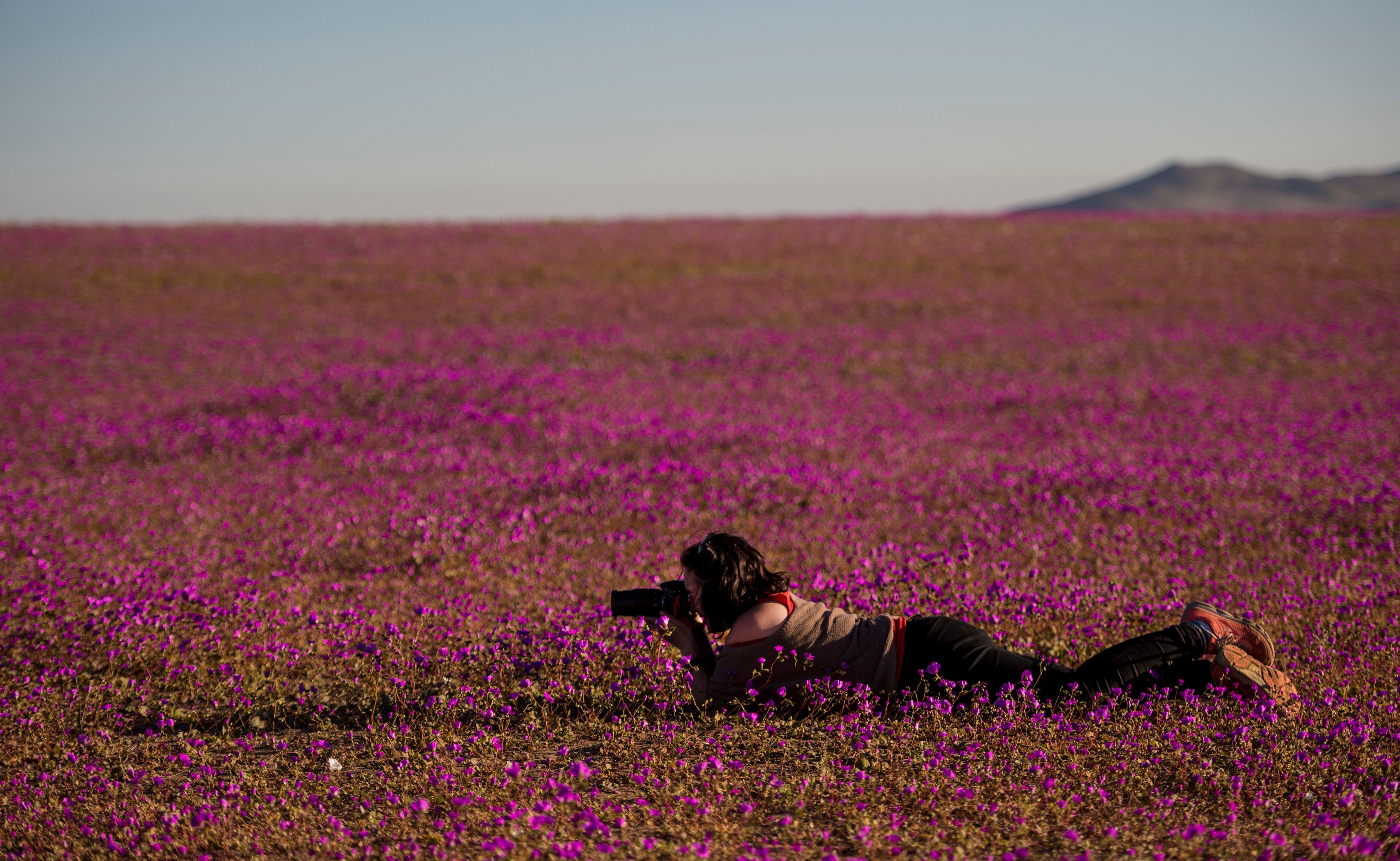 The climate is so dry in the Atacama that scientists use it as a way to gain insight about what life and living conditions might be possible on Mars, according to Reuters.
This stunning scene is referred to as desierto florido or flowering desert, and it typically only happens every five to seven years. However, the last time was in 2015, when the region saw the equivalent of seven years of rain in 12 hours, the Weather Channel reported.
More:
http://www.huffingtonpost.com/entry/atacama-desert-flowers_us_59a806b0e4b0a8d145738250?section=us_travel
---
Response to Judi Lynn (Original post)
Sun Sep 3, 2017, 04:10 PM
Judi Lynn (142,487 posts)
3. How the Atacama Desert Has Been Painted Pink with Flowers
— August 31, 2017 —
super/collider revisits the rare occurrence of Chile's most magical desert in full bloom
Where on Earth?
Atacama Desert, Chile
GPS Coordinates: 24°30′S 69°15′W
Two years ago in this very column, we wrote about a rare natural phenomenon that turns one of the driest places on the planet into a vast inland sea of pinks, purples and blues: the Atacama Desert 'superbloom'. All across the desert's southern edge, pink Malva flowers, red Garra de léon, purplish Pata de guanaco, red Añañuca blooms and around 200 other species have turned the usually brown landscape a into kaleidoscope of colour. Located in a rain shadow where very little precipitation falls, Chile's Atacama region is normally one of the driest places on Earth. Some weather stations in the highlands have never recorded rain, and flowers bloom only rarely here – usually only every five to seven years, when dormant seeds awaken.
To see another superbloom event this soon, then, is unusual; another indication that the world's climate is changing in all kinds of unpredictable ways. Usually coinciding with the cyclical El Niño weather pattern, millions of flowers do periodically bloom in the desolate desert. Buried beneath the surface, their bulbs await the arrival of the ephemeral moisture before bursting forth above ground.
According to the US National Park Service, which monitors similar, periodic superblooms in Death Valley, California: "most of the showy desert wildflowers are annuals, also referred to as ephemerals because they are short-lived. A deep soaking, gentle rain is essential for a desert floral display. To begin, a rainstorm of a half inch or more is needed to wash the protective coating off wildflower seeds and allow them to sprout. For plants to continue growing, rainstorms must come at evenly spaced intervals throughout the winter and spring. The best blooms are triggered by an early, winter-type rainstorm in September or October, followed by weather that brings above average rainfall to the desert. As the temperatures get warmer the well established plants then put on a growth spurt and start to bloom."
More:
http://www.anothermag.com/design-living/10117/this-desert-has-been-painted-pink-with-flowers
---
Response to Judi Lynn (Original post)
Sun Sep 3, 2017, 05:11 PM
Judi Lynn (142,487 posts)
4. See the World's Driest Desert Covered in Wildflowers