Tue Feb 12, 2013, 08:36 AM
HiPointDem (20,729 posts)
Chicago heating up again
There apparently have been regular ('nightly') large ('thousands') protests over school closings and budgeting:
http://www.schoolsmatter.info/2013/02/thousands-protest-chicago-school.html
They're getting standing room only turnout at school closing hearings: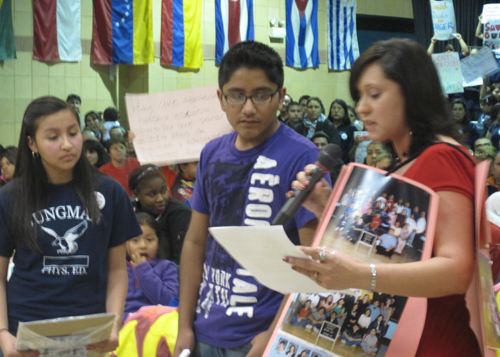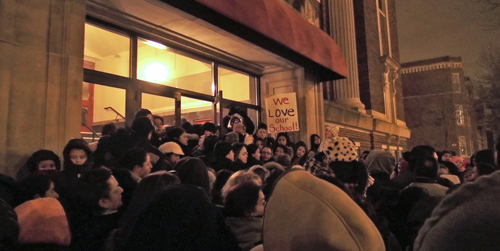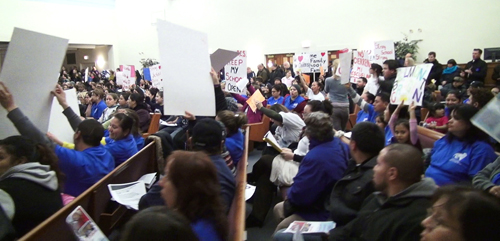 Chicago Teachers Union's House of Delegates voted, more than 800 strong, unanimously to support the MAP boycott of Seattle teachers and the Chicago activities of "More Than A Score."
CHICAGO—The Chicago Teachers Union (CTU) on Wednesday as part of its "Pencils Down" campaign against high-stakes standardized testing supported parent petitioning at more than 30 Chicago high schools and elementary schools to limit excessive standardized testing of students in Chicago Public Schools (CPS). Parents fanned out at schools across the city during morning drop-off and afternoon dismissal and collected hundreds of signatures in addition to more than 2,700 signatures collected in an online petition.
"Parents and educators are uniting in opposition to these tests and we're seeing those numbers increase both in Chicago and across the country," said CTU President Karen GJ Lewis. "This is a growing movement that's gaining more and more momentum each day."
Organized by the "More Than a Score Coalition," which includes the CTU, Parents 4 Teachers, Parents United for Responsible Education and Raise Your Hand for Illinois Public Education, the petitions asked CPS and the Chicago Board of Education to limit standardized testing and provide more transparency about the cost, amount and stakes of the 22 tests now being used in Chicago public schools.
This follows the unanimous passing of a resolution passed at a Wednesday night meeting of the CTU House of Delegates that pledged union support for the Seattle teachers' boycott of the MAP exam and More Than a Score efforts to end standardized testing for pre-school to second grade students; reduce testing for third grade students and above; and to end the use of standardized testing data to evaluate students and educators and close schools.
"I'm just so proud of these parents for the stand they're taking and the concern they have about the pressure these puts on their children," Lewis said. "Children need freedom to learn, to grow and to be themselves—to be children—and not have valuable classroom time turn into profit-driven online evaluation."
http://www.ctunet.com/blog/anti-testing-parent-petitioning-and-chicago-teachers-union-pencils-down-campaign-garners-hundreds-of-signatures-at-chicago-schools
0 replies, 936 views