Wed Jan 23, 2013, 01:16 AM
madfloridian (88,114 posts)
Some charter schools admit sending students back to public schools. How they "counsel out" kids.
Some charter schools admit sending students back to public schools. How they "counsel out" kids.
They get public money for their students. Therefore they should be required to keep the students who are low-performing or have problems....and provide for them. Public schools do that.
It's easy to claim higher test scores when you have counseled out those who might not test as well.
This post is by Gary Rubinstein, a TFA blogger.
Some Charters finally admit attrition then rationalize it
Up until very recently, most charter schools simply denied their attrition problem. I was frustrated by this because I 'knew' they were lying, just as a woman can 'know' that her husband is cheating on her. As I investigated several schools, I got the proof I needed. But, to take the cheating husband analogy a bit further. Getting 'proof' wasn't enough for me. I wanted the charters to admit what they've done.

I've gotten at least five examples of people at charters acknowledging their attrition over the last few months. The most notable is KIPP's own report card where, after saying that a school with high test scores and high attrition is not a great school, then admits that their attrition rate is 40% over four years (though they mask this number with some clever math.) Then in this article from a Florida newspaper a charter superintendent verifies their high attrition. In this New York Times article which was just published, an example of how charters counsel out kids is discussed.

I think that the 'party line' for charters, in the wake of all the evidence which is fairly easy to attain on the state websites is no longer to try to hide or deny their attrition. Instead, as you see in these articles, they have found a way to rationalize their attrition — to explain that it is a good thing! A place where I have seen this a lot is in some of the comments that have been left on my recent blog posts. In my post about expulsions from New Orleans charters, a reader identified as 'dcchilin' wrote

"I've worked in a high-performing charter, and yes, my school did expel some disruptive kids who were making it difficult for their peers to learn (or bringing drugs or weapons to school), and I'd do it again in a heartbeat to preserve a school culture where hard work and good behavior are the expectation for all."
That's great...let's allow public schools to do it as well. Right? That's a silly question, the answer is of course no.
Should we just let DC public schools expel anyone?
Charter schools get to do something similar. If that's fair (and some say it is), shouldn't DCPS get to do the same?

Emma Brown reports in the Washington Post that "DC charter schools expelled 676 students in the past three years, while the city's traditional public schools expelled 24."

Charter schools thus get rid of the problem students and often boost their own average test scores in the process. DCPS schools cannot expel elementary students and must convince judges to expel older students. Charters have no such restrictions.

..."Of course, I don't really support allowing DCPS to expel anyone into DYRS safety net schools. Instead, charters need to operate under the same expulsion policies as DCPS.
This is the Florida charter school which Rubinstein mentions above. They are openly feuding with the school board on their attrition rate. They arrogantly justify it.
McKeel Charter superintendent defends policies and practices.
McKeel Charter School System has no control over which students are admitted to its three schools, its superintendent said, but it does control who gets to stay.

...But McKeel has a specific, and very defined, policy on reasons for dismissal, including behavior, attendance and academic performance problems. Maready said McKeel students and parents sign contracts stating they understand the schools' rules as well as participation requirements for parents.

Failure to meet the requirements results in dismissal.
At a school board meeting one of the members read a letter sent out by McKeel Charter to a student they were sending to public schools.
FL charter school gets praise and high ranking..yet sent 12.5% of students back to public schools.
The letter:
School Board member Frank O'Reilly wants district official to start tracking how many students are transferred from charter schools to public schools as a result of their grades, social economic status or behavioral issues. During a work session this morning, O'Reilly read a letter sent by Harold Maready, superintendent of McKeel charter schools, to a parent about their third grader who flunked the FCAT.

"Your child does not meet the criteria to be a McKeel student," O'Reilly read.

If public schools were to reject students based on their academic performance, then they could be A schools, too, O'Reilly said.

"We must take every child that comes through that door whether we like it or not," O'Reilly said. ''That is a public school paid by taxpayers' dollars, and I like to remind Mr. Maready of that."
Here is a perfect example of "counseling out" a student. The source is the New York Times, and the charter is one founded by Eva Moskowitz. This is the school whose director said that by test day they were all "little test-taking machines."
How a charter school can "counsel out" a student after just a few days.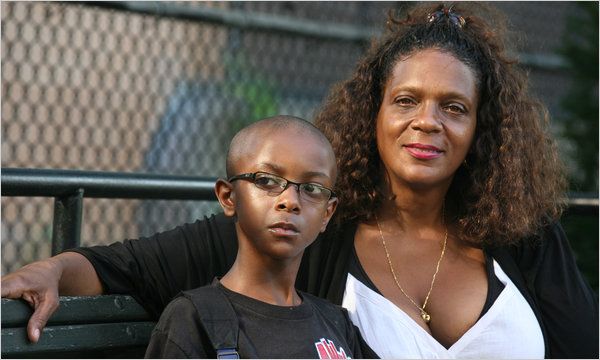 Librado Romero/The New York Times
Matthew Sprowal and his mother, Katherine. He left a charter school for a traditional public school, where he is flourishing.
By MICHAEL WINERIP
In Matthew's three years of preschool, Ms. Sprowal said, he had never missed time for behavior problems. "After only 12 days in your school," she wrote the principal, "you have assessed and concluded that our son is defective and will not meet your school criteria."

Five days later, Ms. Sprowal got an e-mail from Ms. Moskowitz that she took as a veiled message to leave. "Am not familiar with the issue," Ms. Moskowitz wrote, "but it is extremely important that children feel successful and a nine-hour day with more than 23 children (and that's our small class size!) where they are constantly being asked to focus and concentrate can overwhelm children and be a bad environment."

The next week, the school psychologist evaluated Matthew and concluded he would be better suited elsewhere: "He may need a smaller classroom than his current school has available."
A nine-hour day? 23 children? Heck of a long day, not a bad class size. She is calling the environment of her school a bad one for students with special needs. I wonder if she is aware she is doing that.
9 replies, 2756 views
Replies to this discussion thread
| | | | |
| --- | --- | --- | --- |
| 9 replies | Author | Time | Post |
| Some charter schools admit sending students back to public schools. How they "counsel out" kids. (Original post) | madfloridian | Jan 2013 | OP |
| | bluestateguy | Jan 2013 | #1 |
| | d_r | Jan 2013 | #2 |
| | duffyduff | Jan 2013 | #5 |
| | madfloridian | Jan 2013 | #8 |
| | LWolf | Jan 2013 | #3 |
| | madfloridian | Jan 2013 | #9 |
| | duffyduff | Jan 2013 | #4 |
| | madfloridian | Jan 2013 | #7 |
| | progressoid | Jan 2013 | #6 |
---
Response to madfloridian (Original post)
Wed Jan 23, 2013, 01:36 AM
bluestateguy (44,173 posts)
1. Ah yes.
Private schools do this all the time; problem students simply disappear.
The private elementary school I went to "counseled out" a new student once. He was a smart aleck, talked back to the teacher (I remember him once telling her "you're off your rock&quot
and disobeyed the teacher. He lasted one week. One day he just wasn't there anymore; and the teacher always changed the subject whenever we asked about him. I assume he was counseled out.
This is why it is not reasonable to expect the real public schools to compete with schools that have the advantage of being able to counsel out the troublemakers.
---
Response to bluestateguy (Reply #1)
Wed Jan 23, 2013, 04:58 AM
d_r (5,342 posts)
2. but private schools
don't get public money.

Public schools are charged with educating all children.

The charter schools are using public money to pick and choose who they will educate.
---
Response to d_r (Reply #2)
Wed Jan 23, 2013, 11:19 AM
duffyduff (3,251 posts)
5. That's why charter schools aren't public schools
The definition of what constitutes "public" is far more involved than something getting public money.

Private businesses get public money all the time, yet we don't call these companies public.

The schools were set up BECAUSE the operators wanted to steal public money for private gain.

It matters not whether these "schools" are for-profit or not.

The opponents of public education--really people who are anti-American, as far as I am concerned--pushed this concept of charter schools when vouchers to private schools proved overwhelmingly unpopular with voters.

The Bradley Foundation was intimately involved with perverting Al Shanker's rather naive idea and it caught on like wildfire.
---
Response to duffyduff (Reply #5)
Wed Jan 23, 2013, 06:18 PM
madfloridian (88,114 posts)
8. Good post.
Very true.
---
Response to madfloridian (Original post)
Wed Jan 23, 2013, 08:41 AM
LWolf (46,120 posts)
3. Think how great our country would be
if we just counseled out all the behavior problems and bad voters. Just in case I really need it,
I think this is part of the organized, systematic plan for "revamping" public education. One segment of the population will attend discriminating schools for those who can "perform" and "behave," and the rest will attend schools for churning out pools of cheap labor and cannon fodder.
---
Response to LWolf (Reply #3)
Wed Jan 23, 2013, 06:20 PM
madfloridian (88,114 posts)
9. Two tiers of education on the way.
---
---
Response to duffyduff (Reply #4)
Wed Jan 23, 2013, 05:06 PM
madfloridian (88,114 posts)
7. Public when convenient, private when needed.
Just whatever suits them at any given time.
---
Response to madfloridian (Original post)
Wed Jan 23, 2013, 12:29 PM
progressoid (42,000 posts)
6. Rec.