Fri Sep 21, 2012, 05:04 PM
Starry Messenger (32,229 posts)
The Endeavor flew over my school today!
This isn't strictly education news, but I wanted to share with my peeps in here.
It was incredibly moving! You'd think teenagers would be cynical about the space shuttle in this era of CGI, but they were excited too. I was out on the back patio on my prep when at around 10:30 we started to hear a WHOOOOOOSSHHHH high speed noise and I whipped out my phone to take a picture.
Kids came pouring out of the classrooms yelping in excitement too and took pictures (with the phones they are supposed to not have in class, lol). I'd love to see a collage of all of our photos. Everyone watched for a minute as the shuttle sped out of sight into the sun.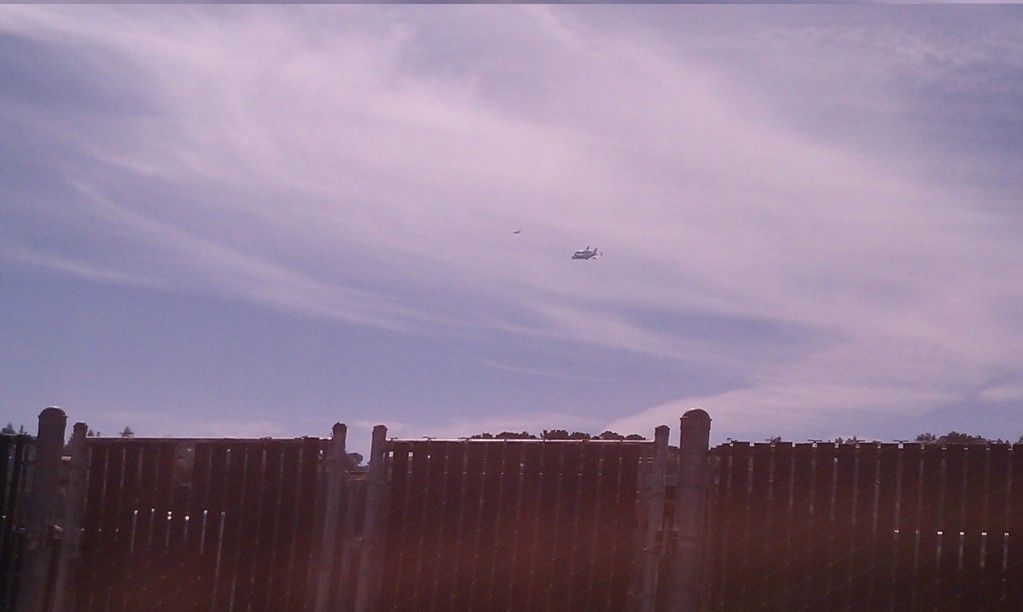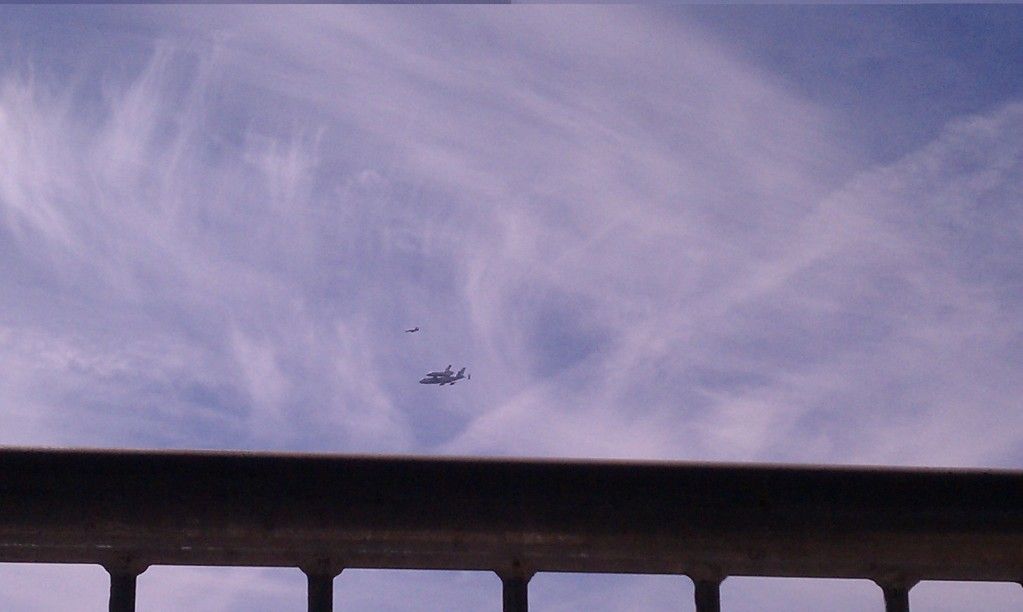 It was great and a little bittersweet sharing that moment at school together. Being a Gen-Xer, the Shuttle program was kind of "our" space program--seeing it end in my lifetime is rather sad. I hope the kids we are teaching now will go on to even greater ventures in outer space.
6 replies, 2879 views
Replies to this discussion thread
| | | | |
| --- | --- | --- | --- |
| 6 replies | Author | Time | Post |
| The Endeavor flew over my school today! (Original post) | Starry Messenger | Sep 2012 | OP |
| | LWolf | Sep 2012 | #1 |
| | Starry Messenger | Sep 2012 | #2 |
| | LWolf | Sep 2012 | #5 |
| | SCVDem | Sep 2012 | #3 |
| | Spitfire of ATJ | Sep 2012 | #4 |
| | skor584_2il | Sep 2012 | #6 |
---
Response to Starry Messenger (Original post)
Fri Sep 21, 2012, 06:48 PM
LWolf (46,120 posts)
1. It is great to see.
I lived, for 30 years, where the shuttles were built, tested, and, in the beginning, landed. My first ex worked on Discovery, and we were at the roll outs for a few.

I heard the sonic booms come in with the very first shuttle landing, and many thereafter. We kept track of the shuttle being transported back to Florida, just like your pictures.

My school, being a few miles away from Plant 42, was in the path of many test flights coming out of Lockheed, Boeing, and Northrup, and we often stopped to watch the skies and wave during recess.

Every teacher in a classroom the day the Challenger launched remembers, but it was particularly difficult for us, the shuttles being a big part of the local culture.

I, too, am a little sad to see the last of our space program. I'm glad you got to see Endeavor headed home.


---
Response to LWolf (Reply #1)
Fri Sep 21, 2012, 07:04 PM
Starry Messenger (32,229 posts)
2. Wow, thank you for sharing those wonderful memories.
I'm a little teary-eyed today. This was my first shuttle viewing ever and it's coming home forever at the end. I used to watch shuttle launches with my dad on TV, he'd get me up early to see them go up.

I wonder if there will be anything as grand as this again in our lives. Somehow corporate space programs aren't doing it for me...
---
Response to Starry Messenger (Reply #2)
Sun Sep 23, 2012, 05:48 PM
LWolf (46,120 posts)
5. There was a feeling, back then,
that the shuttles were just the beginning of a whole new world open to us. I probably wasn't paying much attention, but I was shocked when I realized the shuttles would be retired without moving forward with something new.
You are welcome for the memories, of course. I don't think about them all the time, and I don't live in CA anymore, but when I read your post, I could hear the sonic booms and see the shuttle coming in over the dry lake beds and Edwards Air Force Base.
---
Response to Starry Messenger (Original post)
Sat Sep 22, 2012, 10:15 AM
SCVDem (3,058 posts)
3. Over Hollywood
Someone elses video but this is what I saw.

We were fortunate to catch three passes. What a day!


---
---