Fri Jan 11, 2013, 09:15 PM
Omaha Steve (65,890 posts)
NFL players' union: No formal investigation planned into Redskins' handling of RG3's injury
http://www.foxnews.com/sports/2013/01/11/nfl-players-union-no-formal-investigation-planned-into-redskins-handling-rg3/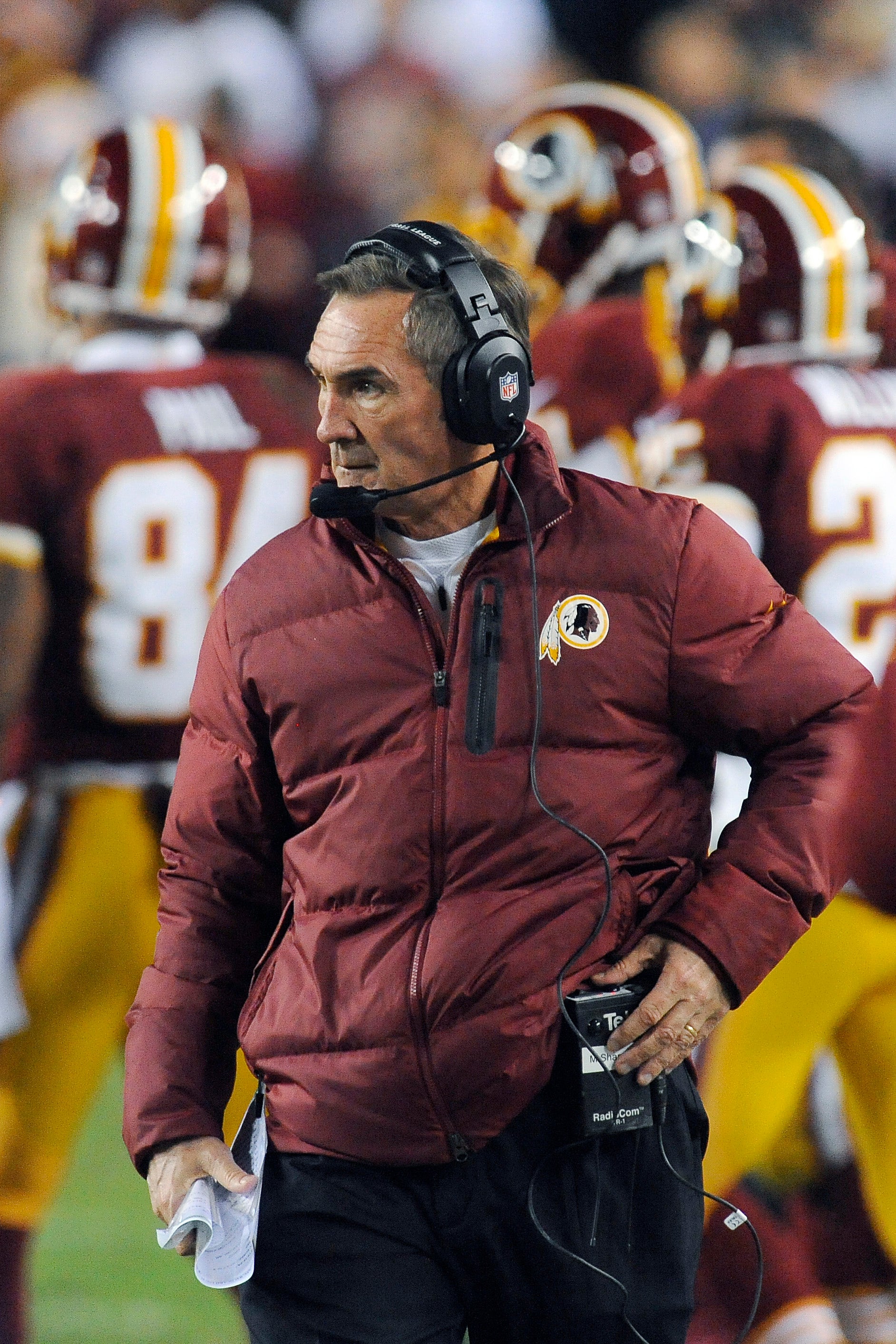 In this Sunday, Jan. 6, 2013, photo, Washington Redskins coach Mike Shanahan watches during the first half of an NFL wild card playoff football game against the Seattle Seahawks in Landover, Md. Shanahan has come under fire in the wake of Robert Griffin III reinjuring his right knee in Sunday's 24-14 wild-card loss to Seattle. The criticism has ranged from whether Shanahan cared enough for his sensational rookie to whether the natural protocol for dealing with injuries was followed. (AP Photo/Richard Lipski) (The Associated Press)
WASHINGTON – The NFL players' union does not plan a formal investigation into how the Washington Redskins medical staff handled Robert Griffin III's knee injury.
The NFL Players Association said Friday that they were satisfied with a report received from the Redskins detailing the procedures used by team physician James Andrews and other staff on the sidelines.
Griffin had reconstructive ACL surgery Wednesday after reinjuring his right knee in Sunday's playoff loss to Seattle. He also strained a ligament in the knee last month against Baltimore.
The NFLPA's informal inquiry focused on the quality of medical care Griffin received. The union does not have authority to investigate coaching decisions — including whether Redskins coach Mike Shanahan should have left Griffin in either game after it was clear the quarterback was hurt.
1 replies, 853 views
Replies to this discussion thread
| | | | |
| --- | --- | --- | --- |
| 1 replies | Author | Time | Post |
| NFL players' union: No formal investigation planned into Redskins' handling of RG3's injury (Original post) | Omaha Steve | Jan 2013 | OP |
| | BlueStreak | Jan 2013 | #1 |
---
Response to Omaha Steve (Original post)
Fri Jan 11, 2013, 09:28 PM
BlueStreak (8,377 posts)
1. This Franchise (owner) has a proud history of stupidity
And it doesn't seem the player was all too smart either.
We have seen this movie before. Randall Cunningham. Michael Vick. Possibly Cam Newton.
A world class athlete who chose to play the QB position. He looks great for about the first 20 good hits, and then the super-exceptional athlete starts to look like a very average athlete who never really learned the finer points of playing the position.
RGIII was going to be different. This was a guy who seemed to have the skills to play the QB position without taking crazy risks. But rather than develop those skills, the Redskins decided to put him at risk game after game.
I hope he makes a decent recovery, but he will never be what he was 6 months ago. I hope somebody in that organization figures out that the only way this guy is going to have a decent career is if they start protecting him and teach him how to play NFL QB rather than just try to run away from everybody.
I guess I should be happy. Right about now I think I might be able to beat RGIII in a 40-yard dash.