Tue May 4, 2021, 08:11 AM
Omaha Steve (80,108 posts)
Wage theft: His paycheck bounced. It got worse from there.
https://apnews.com/article/theft-government-and-politics-business-d3ee8caa63efbd74d351eaeed6836b2a
By ALEXIA FERNÁNDEZ CAMPBELL
On a Tuesday afternoon last June, Humberto was yanking old wires from the walls of a middle school in suburban Birmingham, Alabama, when his cellphone rang.
Humberto's wife, who had just returned from her weekly trip to the grocery store, was on the line. "Our account is negative," she said.
The 45-year-old electrician, who spoke on the condition that he be identified by his middle name because he is undocumented, had been working 10 hours a day, six days a week as part of a $200 million renovation project. This was how he learned that his $1,250 paycheck had bounced.
And so began Humberto's thus far unsuccessful quest to get an honest day's pay for an honest day's work — a struggle familiar to many other victims of wage theft who battle for months or years for the money they're due.
FULL story at link above.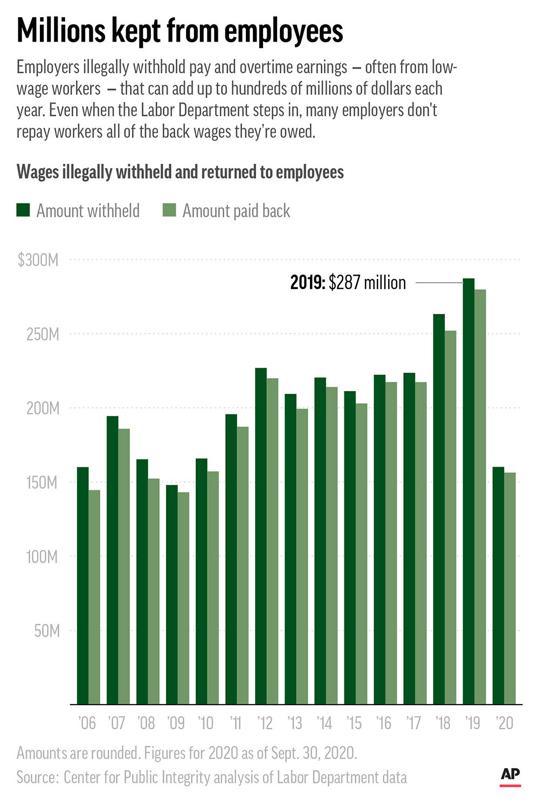 1 replies, 733 views
Replies to this discussion thread
| | | | |
| --- | --- | --- | --- |
| 1 replies | Author | Time | Post |
| Wage theft: His paycheck bounced. It got worse from there. (Original post) | Omaha Steve | May 4 | OP |
| | Backseat Driver | May 4 | #1 |
---
Response to Omaha Steve (Original post)
Tue May 4, 2021, 09:37 AM
Backseat Driver (2,040 posts)
1. I'm surprised the "oops, human error" wasn't cited to protect the corporate personhood's deceit.
DH, an American public servant at that time, before EFTs, was once paid with an IOU; within the week, funds that backed the worthless chit were made available to pay workers by enveloped check.

DH, an American public servant at that time, was denied permission to attend or even send a legal representative to a closed county meeting "to discuss Personnel" meeting that would discuss, you guessed it, his job dismissal.

DH's payroll EFT once bounced; the funds were re-transmitted the next day, but overdrafts/late fees it caused were never returned. Ahhh...life in the digital age - more, next.

DH researched and returned someone else's payroll EFT that was deposited one day to our account (nice deposit, BTW); an HR person for the payer said that person's payroll deposit would never otherwise have been successfully replaced in the worker's account (or located in our account with consequences) due to the way in which the human error occurred. (yeah, right...).