Fri Jul 3, 2020, 09:13 AM
marmar (70,934 posts)
Never Before Have I Seen So Much Fake Unemployment & Jobs Data by the Bureau of Labor Statistics
Never Before Have I Seen So Much Fake Unemployment & Jobs Data by the Bureau of Labor Statistics. Labor Department Nails It
by Wolf Richter • Jul 2, 2020 •
Labor Department today: People on state & federal unemployment insurance jumped to 31.5 million, worst ever.
Bureau of Labor Statistics today: 4.8 million jobs created, unemployment dropped by 3.2 million.
BLS under-reported unemployment by 13.7 million, based on data from the Labor Department. What's happening is infuriating. Read and cringe.
By Wolf Richter for
WOLF STREET
.
Normally, the jobs report by the Bureau of Labor Statistics is released on the first Friday of the month. And the unemployment claims report is released Thursday every week. But this month, the monthly jobs report was also released today because of the 4th of July weekend. And now we have this delicious situation of both reports on the same day, with the Labor Department's unemployment insurance data – people who are actually receiving unemployment benefits under state and federal programs – calling the Bureau of Labor Statistics' survey-based report a liar. And we'll go through them.
What the Labor Department reported today
:
The total number of people who continued to receive unemployment compensation in the week ended June 27 under all state and federal unemployment insurance programs, including gig workers, surged by 937,810 people in the week, to 31.49 million (not seasonally adjusted), the highest and worst and most gut-wrenching ever: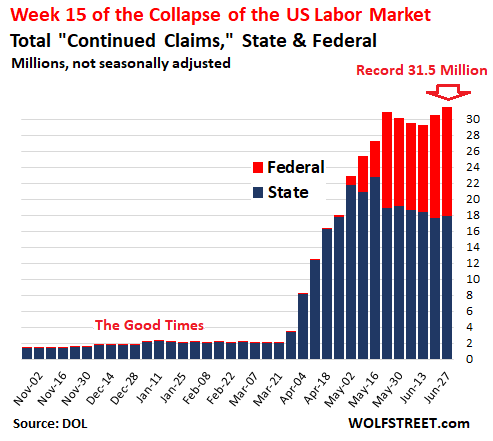 The number of people receiving state unemployment insurance (blue columns in the chart above) has essentially been flat for three weeks (it ticked up this week), as many people got their jobs back while many other people were newly laid off. But the number of people on federal unemployment programs, including gig workers (red columns), has been soaring.
What the Bureau of Labor Statistics reported today
:
Incredibly, given the record number of unemployment insurance recipients, the Bureau of Labor Statistics dared to claim that the number of unemployed fell by 3.2 million in June, to 17.8 million, after having already, incredibly, fallen by 2.1 million in May, making it a 5.3 million decline over two months. The BLS claims to have obtained these numbers through its surveys of households. ..............(more)
https://wolfstreet.com/2020/07/02/never-before-have-i-seen-so-much-fake-unemployment-jobs-data-by-the-bureau-of-labor-statistics-while-labor-department-nails-it/
3 replies, 953 views
Replies to this discussion thread
| | | | |
| --- | --- | --- | --- |
| 3 replies | Author | Time | Post |
| Never Before Have I Seen So Much Fake Unemployment & Jobs Data by the Bureau of Labor Statistics (Original post) | marmar | Jul 3 | OP |
| | sop | Jul 3 | #1 |
| | duforsure | Jul 3 | #2 |
| | Newest Reality | Jul 3 | #3 |
---
Response to marmar (Original post)
Fri Jul 3, 2020, 09:25 AM
sop (3,583 posts)
1. Come on! Does anyone really believe Trump's people aren't cooking the books?
During the 2016 campaign Trump steadfastly maintained Obama's unemployment numbers were "fake," claiming the "real" figure was between 30 to 40 percent. I also recall Sean Spicer's cynical response when confronted with the sudden drop in their own UE numbers right after Trump's inauguration. Trump is a congenital liar.
---
Response to marmar (Original post)
Fri Jul 3, 2020, 09:50 AM
duforsure (9,841 posts)
2. trump never uses real numbers showing him in a bad light
Remember he's tried to corrupt pols, and numbers like these before with the virus. The truth is the last thing trump wants exposed, like he's doing propping up the stock market with our money from the treasury then claiming its from the economy improving from him. Its all just smoke and mirrors from trump. Like his rally's where he pays people to attend them.
---
Response to marmar (Original post)
Fri Jul 3, 2020, 09:55 AM
Newest Reality (11,167 posts)
3. Booking the cooks!