Wed Jun 17, 2020, 10:29 AM
marmar (70,934 posts)
Retail Sales by Segment in 12 Hair-Raising Charts: It's a pandemic, so there are problems with data
Retail Sales by Segment in 12 Hair-Raising Charts
by Wolf Richter • Jun 16, 2020 •
It's a pandemic, so there are problems with the data.
By Wolf Richter for
WOLF STREET
.
Total retail sales in May bounced off 17.7% from the April low, according to the Census Bureau today. April had been the lowest April since 2013. May retail sales, at $485 billion seasonally adjusted, were down 6.1% from May 2019, down 3.3% from May 2018, and up 2.6% from May 2017. It seems, people are spending their stimulus checks and their extra $600 a week in federal unemployment compensation.
Ecommerce sales skyrocketed 30% year-over-year to another record. Sales at building materials, garden supply, and equipment stores jumped to a new record. Other segments bounced off strongly, but remained at low levels. Two segments that had spiked in March – grocery and general merchandise stores – fell halfway back to earth in April, and stayed there in May. Department stores and clothing & accessory stores, though they too bounced, remained at horribly depressed levels that, other than April, were multi-decade lows. There is no good news for malls. We'll get into each of those segments: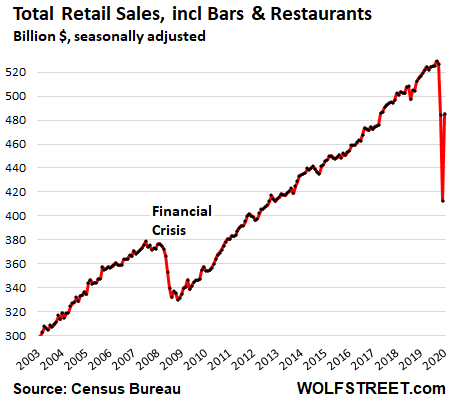 The pandemic impacts data collection, leading to large sampling errors and huge revisions.
The Census Bureau acknowledged, as it had done in April, that due to the pandemic, it changed its data collection procedures. This data is based on surveys sent to 5,500 randomly selected retail and food services locations, of the over three million such locations in the US. Normally, data are collected "on paper, online, fax, and through telephone interviews." But due to the pandemic, it was collected "primarily via email requests and online reporting, supplemented by calling operations." In addition, the Census Bureau said it altered the method of seasonal adjustments.
The same issues dogged the surveys in April. And so, as part of its data release today, the Census Bureau revised its April data. Revisions are normal. But some of the revisions for April were huge, up and down. The list below shows the percentage differences between the April dollar sales levels of the "advance estimate" released a month ago, and the revised data:
• Food services and drinking places: revised down -7.5%;
• Sporting goods stores revised up +7.7%;
• Clothing and accessory stores revised up +18.9%;
• General merchandise stores revised up +10.5%,
• Furniture stores revised up + 23%.
• Overall retail sales revised up +2.1%.
A month from now, we might also see these types of mindbogglingly large revisions of today's retail sales for May. .............(more)
https://wolfstreet.com/2020/06/16/ecommerce-hit-it-out-the-ballpark-hardware-stores-boom-department-stores-clothing-accessory-stores-restaurants-bars-still-abysmal/
1 replies, 501 views
Replies to this discussion thread
| | | | |
| --- | --- | --- | --- |
| 1 replies | Author | Time | Post |
| Retail Sales by Segment in 12 Hair-Raising Charts: It's a pandemic, so there are problems with data (Original post) | marmar | Jun 17 | OP |
| | GusBob | Jun 17 | #1 |
---
Response to marmar (Original post)
Wed Jun 17, 2020, 10:47 AM
GusBob (5,939 posts)
1. Interesting thanks for posting
should cross post in GD

two things:
I had read that the " golden age of restaurants" ( whatever that is) is over and they will turn into the delivery market

Department stores-woah, their time has come to pass, hey