Mon Jul 27, 2015, 12:48 PM
marmar (72,733 posts)
China Has Biggest One-Day Stock Crash Since 2007
(Bloomberg) China's stocks tumbled, with the benchmark index falling the most since February 2007, amid concern a three-week rally sparked by unprecedented government intervention is unsustainable.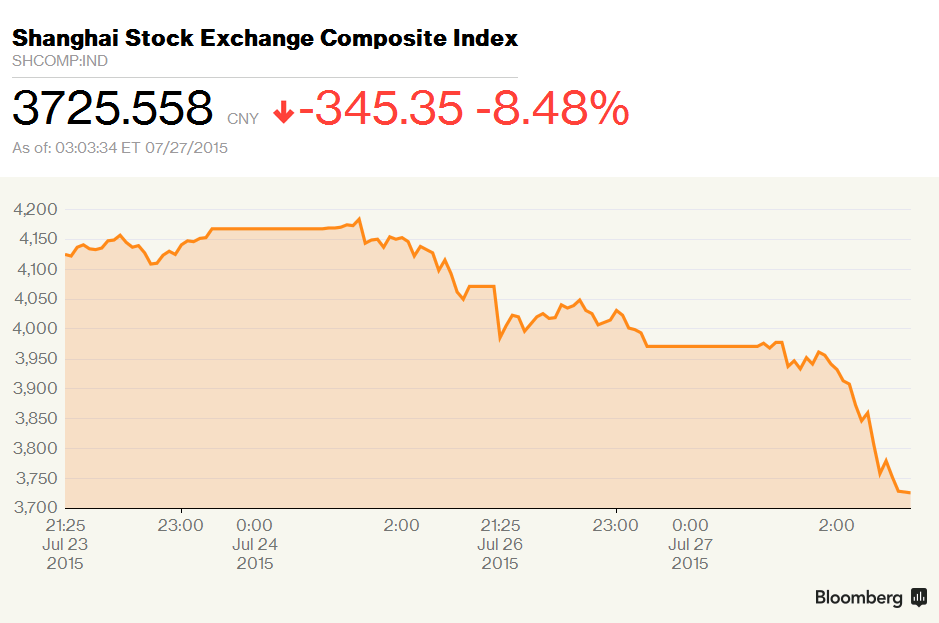 The Shanghai Composite Index plunged 8.5 percent to 3,725.56 at the close, with 75 stocks dropping for each one that rose. PetroChina Co., long considered a target of state-linked market support funds, tumbled by a record 9.6 percent. China Securities Finance Corp., a state-backed agency that provides margin financing and liquidity, hasn't exited the stock market, China Securities Regulatory Commission spokesman Zhang Xiaojun said in a statement after the close of trading.
Monday's retreat shattered the sense of calm that had fallen over mainland markets last week and raised questions over the viability of government efforts to prop up share prices as the economy slows. China's industrial profits fell 0.3 percent in June from a year earlier, the statistics bureau reported on Monday. The International Monetary Fund has urged China to eventually unwind its support measures, according to a person familiar with the matter.
"Investors are afraid the Chinese government will withdraw supporting measures from the market," said Sam Chi Yung, a strategist at Delta Asia Securities Ltd. in Hong Kong. "Once those disappear, the market cannot support itself." ...................(more)
http://www.bloomberg.com/news/articles/2015-07-27/chinese-stock-index-futures-drop-before-industrial-profits
5 replies, 1065 views
Replies to this discussion thread
| | | | |
| --- | --- | --- | --- |
| 5 replies | Author | Time | Post |
| China Has Biggest One-Day Stock Crash Since 2007 (Original post) | marmar | Jul 2015 | OP |
| | WDIM | Jul 2015 | #1 |
| | Wellstone ruled | Jul 2015 | #2 |
| | louis-t | Jul 2015 | #3 |
| | Warpy | Jul 2015 | #4 |
| | Wellstone ruled | Jul 2015 | #5 |
---
Response to marmar (Original post)
Mon Jul 27, 2015, 01:00 PM
WDIM (1,662 posts)
1. Let the false economies crash!
Stock markets with their fictional wealth creation of money out of thin air is a product of an exploitive elitist class that uses stock markets to take from the middle class. Let them all crash!
---
Response to marmar (Original post)
Mon Jul 27, 2015, 01:05 PM
Wellstone ruled (34,661 posts)
2. When something increases by 150% in less than one year,
you damn well know it is a FAKE. Notice all the associated stories about how the China Government (Red Army)is printing money so Hedgies and Brokers will buy up most of the dumped stocks to prevent a total collapse of their Phony Stock Market System. The question to ask is,did these so called Chinese Stocks have any value from the get go? Reminiscent of the DOT Bomb rip off of early nineties,no there there. And to think many of our Mutual Funds are loaded with this crap. Good luck America,you are reaping what you have sown.
---
Response to marmar (Original post)
Mon Jul 27, 2015, 01:24 PM
louis-t (20,824 posts)
3. Hmmm, so much for the story my crazy right-wing uncle told me yesterday.
That China will now control all of the oil in the world and will be traded in yuan, blah, blah, Obama's fault, blah, blah....

---
Response to louis-t (Reply #3)
Mon Jul 27, 2015, 02:00 PM
Warpy (99,836 posts)
4. Crazy right wingers are our country's favorite mushrooms
grown in the dark on a steady diet of bull shit. They like it that way, too. Light scares them.

The Chinese I saw interviewed a couple of weeks ago were remarkably sanguine, it was just a big bubble bursting, it was bound to happen. Most said they were back where they started when they first invested.

Now they're losing money and I doubt they're as reasonable.

At some point, they might decide that Communism was more reasonable than boom and bust capitalism.
---
Response to louis-t (Reply #3)
Mon Jul 27, 2015, 02:02 PM
Wellstone ruled (34,661 posts)
5. What has not been mentioned is
BRICKS have setup their version of the IMF,and,this is something to watch. Remember the guy who ran Libya,well he wanted to sell Oil in various currencies and look what happened to that dude. The day of Petro Dollars might be coming to a halt,and the Yaun as well as the Ruble and other Currencies will prevail. Is this one of Wall Streets fears? Why do you think the Republicans are so damn afraid of Iran,and it sure as hell is not Nukes. Baby it is all about Oil,53 million barrels to hit the market at what ever currency it takes. Israel is just a side show,the real show is Oil and Oil in any Denomination.