Thu Mar 5, 2015, 11:23 AM
Crewleader (17,005 posts)
Dr. Housing Bubble 3/5/15
Nearing $1,000 per square foot in Culver City: Would you pay $900,000 for 920 square feet? Or you can buy a fixer upper for $325,000 in the same zip code.
Some people are looking at cashing in their housing lottery ticket. While many are hunkering down preparing for the rental apocalypse, some are gearing up to capitalize on the crap shack hungry lemmings ready to bite. I remember during the days of the last housing mania getting e-mails about Culver City being the next Beverly Hills. Culver City is not Manhattan Beach or Beverly Hills. I think people need to actually look at the property before making that kind of assessment. I saw a property hit the market recently with a list price of nearly $1,000 per square feet. The house is nothing special and of course with some nice Photoshop filters and some HGTV inspired ideas, someone is trying to cash in big. 920 square feet for $900,000 – or you can drive down about one mile in the same zip code and pickup a fixer upper for $325,000. Rehab work takes time but are people seriously that lazy to leave this much money on the table?
The fixer and the upper
Culver City home values are back to mania level prices. If you missed the last bubble, fret not because here is your chance to get in again. Or did you miss the boat forever and are priced out for life? The first home we'll look at takes us to the 90230 zip code. The place is listed at 920 square feet.
Take a look: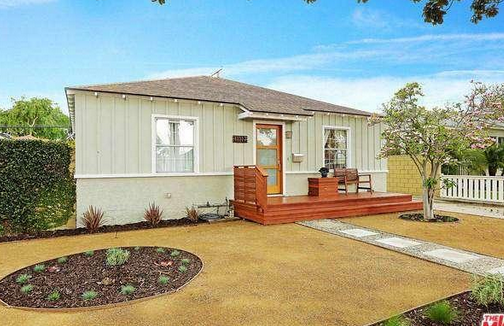 http://www.doctorhousingbubble.com/culver-city-1000-per-square-foot-culver-cit-real-estate/
3 replies, 1003 views
Replies to this discussion thread
| | | | |
| --- | --- | --- | --- |
| 3 replies | Author | Time | Post |
| Dr. Housing Bubble 3/5/15 (Original post) | Crewleader | Mar 2015 | OP |
| | abelenkpe | Mar 2015 | #1 |
| | Crewleader | Mar 2015 | #2 |
| | abelenkpe | Mar 2015 | #3 |
---
Response to Crewleader (Original post)
Thu Mar 5, 2015, 12:02 PM
abelenkpe (9,933 posts)
1. Missed the boat forever, priced out for life
Stuck in the same rent controlled apartment since 2000. If we try to move into a larger place anywhere west of La Brea or really Crenshaw we'll pay double for less. Either have to give up laundry or garage to gain an extra bathroom and pay more for a worse location. Funny that so many older fourplexs are being torn down to build high occupancy apartment buildings and yet rents keep rising. Neighborhood used to be older Spanish homes and fourplexs. Now homes are bought, demolished and giant modern buildings that take up every inch of the lot replace them. Home prices since 2000 tripled yet the homes are not valued, just the location and lot. Rents have doubled. Many of the elderly apartment dwellers on fixed incomes have been forced out. Weird times. Don't think the place going for 1000 per sq ft will end up occupied, more liky bought, torn down with something new put in it's place.
---
Response to abelenkpe (Reply #1)
Thu Mar 5, 2015, 03:20 PM
Crewleader (17,005 posts)
2. Sad times for families not to be owning a home
We bought our home with VA Loan with interest rates were high but that was in the mid 80's.
But the price was reasonable and we have had the good fortune to have lived here all these years.
I'm sorry about your situation abelenkpe, and all the others hurt by real estate prices, it's not fair.
---
Response to Crewleader (Reply #2)
Thu Mar 5, 2015, 06:04 PM
abelenkpe (9,933 posts)
3. Awwww, thanks!
Sometimes we wish we were born earlier, but it's OK. Hopefully things will work out better for the next generation.