Wed Apr 17, 2013, 07:49 PM
Tansy_Gold (15,714 posts)
STOCK MARKET WATCH -- Thursday, 18 April 2013
[font size=3]
STOCK MARKET WATCH, Thursday, 18 April 2013[font color=black]
[/font]
SMW for 17 April 2013
AT THE CLOSING BELL ON 17 April 2013
[center][font color=red]

Dow Jones 14,618.59 -138.19 (-0.94%)
S&P 500 1,552.01 -22.56 (-1.43%)
Nasdaq 3,204.67 -59.96 (-1.84%)


[font color=green]10 Year 1.70% -0.01 (-0.58%)
30 Year 2.89% -0.01 (-0.34%) [font color=black]


[center]
[/font]
[HR width=85%]
[font size=2]
Market Conditions During Trading Hours[/font]
[center]
[/center]
[font size=2]Euro, Yen, Loonie, Silver and Gold
[center]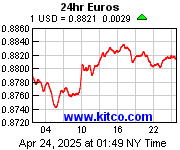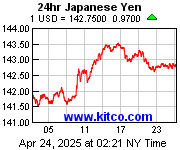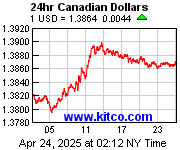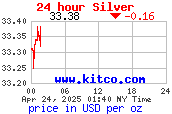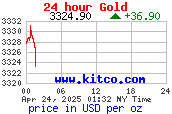 [/center]
[center]
[/center]
[HR width=95%]







[div]
[font color=red]
Partial List of Financial Sector Officials Convicted since 1/20/09 [/font][font color=red]
2/2/12 David Higgs and Salmaan Siddiqui, Credit Suisse, plead guilty to conspiracy involving valuation of MBS
3/6/12 Allen Stanford, former Caribbean billionaire and general schmuck, convicted on 13 of 14 counts in $2.2B Ponzi scheme, faces 20+ years in prison
6/4/12 Matthew Kluger, lawyer, sentenced to 12 years in prison, along with co-conspirator stock trader Garrett Bauer (9 years) and co-conspirator Kenneth Robinson (not yet sentenced) for 17 year insider trading scheme.
6/14/12 Allen Stanford sentenced to 110 years without parole.
6/15/12 Rajat Gupta, former Goldman Sachs director, found guilty of insider trading. Could face a decade in prison when sentenced later this year.
6/22/12 Timothy S. Durham, 49, former CEO of Fair Financial Company, convicted of one count conspiracy to commit wire and securities fraud, 10 counts of wire fraud, and one count of securities fraud.
6/22/12 James F. Cochran, 56, former chairman of the board of Fair, convicted of one count of conspiracy to commit wire and securities fraud, one count of securities fraud, and six counts of wire fraud.
6/22/12 Rick D. Snow, 48, former CFO of Fair, convicted of one count of conspiracy to commit wire and securities fraud, one count of securities fraud, and three counts of wire fraud.
7/13/12 Russell Wassendorf Sr., CEO of collapsed brokerage firm Peregrine Financial Group Inc. arrested and charged with lying to regulators after admitting to authorities he embezzled "millions of dollars" and forged bank statements for "nearly twenty years."
8/22/12 Doug Whitman, Whitman Capital LLC hedge fund founder, convicted of insider trading following a trial in which he spent more than two days on the stand telling jurors he was innocent
10/26/12 UPDATE: Former Goldman Sachs director Rajat Gupta sentenced to two years in federal prison. He will, of course, appeal. . .
11/20/12 Hedge fund manager Matthew Martoma charged with insider trading at SAC Capital Advisors, and prosecutors are looking at Martoma's boss, Steven Cohen, for possible involvement.
02/14/13 Gilbert Lopez, former chief accounting officer of Stanford Financial Group, and former controller Mark Kuhrt sentenced to 20 yrs in prison for their roles in Allen Sanford's $7.2 billion Ponzi scheme.
03/29/13 Michael Sternberg, portfolio mgr at SAC Capital, arrested in NYC, charged with conspiracy and securities fraud. Pled not guilty and freed on $3m bail.
04/04/13 Matthew Marshall Taylor,fmr Goldman Sachs trader arrested, charged by CFTC w/defrauding his employer on $8BN futures bet "by intentionally concealing the true huge size, as well as the risk and potential profits or losses associated."
04/04/13 Matthew Taylor admits guilt, makes plea bargain. Sentencing set for 26 June; faces up to 20 years in prison but will likely only see 3-4 years. Says, "I am truly sorry."
04/11/13 Ex-KPMG LLP partner Scott London charged by federal prosecutors w/passing inside tips to a friend in exchange for cash, jewelry, and concert tickets; expected to plead guilty in May.




[HR width=95%]


[center]

[HR width=95%]
[font size=3][font color=red]This thread contains opinions and observations. Individuals may post their experiences, inferences and opinions on this thread. However, it should not be construed as advice. It is unethical (and probably illegal) for financial recommendations to be given here.[/font][/font][/font color=red][font color=black]



12 replies, 1921 views
Replies to this discussion thread
| | | | |
| --- | --- | --- | --- |
| 12 replies | Author | Time | Post |
| STOCK MARKET WATCH -- Thursday, 18 April 2013 (Original post) | Tansy_Gold | Apr 2013 | OP |
| | corkhead | Apr 2013 | #1 |
| | Tansy_Gold | Apr 2013 | #2 |
| | Demeter | Apr 2013 | #3 |
| | Fuddnik | Apr 2013 | #4 |
| | AnneD | Apr 2013 | #6 |
| | mahatmakanejeeves | Apr 2013 | #5 |
| | Demeter | Apr 2013 | #7 |
| | Demeter | Apr 2013 | #11 |
| | AnneD | Apr 2013 | #8 |
| | Demeter | Apr 2013 | #9 |
| | Demeter | Apr 2013 | #10 |
| | DoBotherMe | Apr 2013 | #12 |
---
Response to Tansy_Gold (Original post)
Wed Apr 17, 2013, 10:27 PM
corkhead (6,119 posts)
1. Where's my toon, man
I come here for the cartoon after the Market conditions, currency valuations, oil candles, blog list, and the bankster perp walk. It is an important part of my daily sustenance.
Never mind, now it's there. I must be early.
Tnx TG!
---
Response to corkhead (Reply #1)
Wed Apr 17, 2013, 10:32 PM
Tansy_Gold (15,714 posts)
2. Back-up system
I had to post the thread from my laptop, which I haven't used for SMW since last fall. It wouldn't have surprised me if there were more glitches even than the ones I caught.
You're always welcome to chew me out when I screw up!
---
Response to Tansy_Gold (Original post)
Wed Apr 17, 2013, 11:38 PM
Demeter (85,373 posts)
3. Social Note: the Only Americans Mentioned at the Thatcher Funeral
were George Schultz and James Baker, Cheney and Kissinger. Republican Reps. Marsha Blackburn, Michele Bachmann and George Holding, Former U.S. presidential candidate Newt Gingrich

The BFEE bagmen were there to make sure, I guess. The Tea Bagger Hags go wherever they get a chance, no doubt.

the Clintons were not...nor was W, for a mercy.
---
Response to Demeter (Reply #3)
Thu Apr 18, 2013, 01:50 AM
Fuddnik (8,846 posts)
4. I paid my respects today,
While I was sitting on my Oval Office.
---
Response to Fuddnik (Reply #4)
Thu Apr 18, 2013, 08:37 AM
AnneD (15,774 posts)
6. Don't forget to wipe....
Considering the occasion, The Declaration and Constitution would be the popular TP with that crowd. IMHO
---
Response to Tansy_Gold (Original post)
Thu Apr 18, 2013, 08:36 AM
mahatmakanejeeves (14,018 posts)
5. ETA News Release: Unemployment Insurance Weekly Claims Report (04/18/2013)
Source: Department of Labor, Employment and Training Administration
Read More:
http://www.dol.gov/opa/media/press/eta/ui/eta20130686.htm
UNEMPLOYMENT INSURANCE WEEKLY CLAIMS REPORT
SEASONALLY ADJUSTED DATA
In the week ending April 13, the advance figure for seasonally adjusted initial claims was 352,000, an increase of 4,000 from the previous week's revised figure of 348,000. The 4-week moving average was 361,250, an increase of 2,750 from the previous week's revised average of 358,500.
The advance seasonally adjusted insured unemployment rate was 2.4 percent for the week ending April 6, unchanged from the prior week's unrevised rate. The advance number for seasonally adjusted insured unemployment during the week ending April 6 was 3,068,000, a decrease of 35,000 from the preceding week's revised level of 3,103,000. The 4-week moving average was 3,083,000, a decrease of 2,250 from the preceding week's revised average of 3,085,250.
UNADJUSTED DATA
The advance number of actual initial claims under state programs, unadjusted, totaled 354,973 in the week ending April 13, a decrease of 1,269 from the previous week. There were 370,482 initial claims in the comparable week in 2012.
....
The largest increases in initial claims for the week ending April 6 were in New York (+20,120), North Carolina (+4,403), Ohio (+3,029), Michigan (+2,894), and Texas (+2,445), while the largest decreases were in California (-12,893), Kentucky (-1,318), Pennsylvania (-1,299), Indiana (-1,066), and Nevada (-761).
== == == == ==
Good morning, Freepers and DUers alike. I ask you to put aside your differences long enough to read this post. Following that, you can engage in your usual donnybrook.
I have been posting the number every week for at least a year. I seriously do not care if the week's data make Obama look good. They are just numbers, and I post them without regard to the consequences. I welcome people from Free Republic to examine the numbers as well. They paid for the work just as much as members of DU did, so I invite them to come on over and have a look. "The more the merrier" is the way I look at it.
I do not work at the ETA, and I do not know anyone working in that agency. I'm sure I can safely assume that the numbers are gathered and analyzed by career civil servant economists who do their work on a nonpartisan basis. Numbers are numbers, and let the chips fall where they may. If you feel that these economists are falling down on the job, drop them a line or give them a call. They work for you, not for any politician or political party.
The word "initial" is important. The report does not count all claims, just the new ones filed this week.
Note: The seasonal adjustment factors used for the UI Weekly Claims data from 2007 forward, along with the resulting seasonally adjusted values for initial claims and continuing claims, have been revised. These revised historical values, as well as the seasonal adjustment factors that will be used through calendar year 2012, can be accessed at the bottom of the following link:
http://www.oui.doleta.gov/press/2012/032912.asp
---
Response to Tansy_Gold (Original post)
Thu Apr 18, 2013, 08:43 AM
Demeter (85,373 posts)
7. The C.I.A.'s Angry Birds By MAUREEN DOWD MUST READ
When she gets her big Mo going, Dowd is something special!
http://www.nytimes.com/2013/04/17/opinion/the-cias-angry-birds.html?pagewanted=print&_r=0
Over the winter, I heard military commanders and White House officials murmur in hushed tones about how
they would have to figure out a legal and moral framework for the flying killer robots executing targets around the globe. They were starting to realize that, while the American public approves of remotely killing terrorists, it is a drain on the democratic soul to zap people with no due process and little regard for the loss of innocents.
But they never got around to it, leaving Rand Paul to take the moral high ground.
After two bloody, money-sucking, never-ending wars in Afghanistan and Iraq,
the idea of a weapon for war that precluded having anyone actually go to war was too captivating
. Our sophisticated, sleek, smart, detached president was ensorcelled by our sophisticated, sleek, smart, detached war machine. In an interview with Jon Stewart last year,
President Obama
allowed that he was in the grip of a powerful infatuation.
"One of the things that we've got to do is put a legal architecture in place," he said, "and we need Congressional help to do that to make sure that not only am I reined in, but any president is reined in."
WELL, IT WAS A COMEDY SHOW HE WS ON
America's secret drone program, continually lowering the bar for lethal action, turns the president, the C.I.A. director and counterterrorism advisers into a star chamber running a war beyond war zones that employs a scalpel rather than a hammer, as the new Langley chief, John Brennan, puts it. But as The Times's Mark Mazzetti notes in his new book, "The Way of the Knife," "the analogy suggests that this new kind of war is without costs or blunders — a surgery without complications. This isn't the case." Mazzetti raises the issue of whether the C.I.A. — which once sold golf shirts with Predator logos in its gift shop — became "so enamored of its killer drones that it wasn't pushing its analysts to ask a basic question:
To what extent might the drone strikes be creating more terrorists than they are actually killing?"
Mazzetti writes that Sir Richard Dearlove, the head of MI6, the British Secret Intelligence Service, watched one of the first drone strikes via satellite at Langley a few weeks after 9/11. As he saw a Mitsubishi truck in Afghanistan being blown up, Dearlove smiled wryly.
"It almost isn't sporting, is it?" the Brit asked.
In the run-up to the Iraq war, Donald Rumsfeld and his hawkish inner circle were disgusted that the C.I.A. dismissed their spurious claims of a connection between Saddam and Al Qaeda, so they set up their own C.I.A. at the Pentagon. Soldiers became spies. Meanwhile, the C.I.A. was setting up its own Pentagon at Langley, running the ever-expanding paramilitary drone operation. Spies became soldiers. Mazzetti writes that after 9/11, the C.I.A. director morphed into "a military commander running a clandestine, global war with a skeleton staff and very little oversight." Why did the C.I.A., as Gen. James Cartwright asked when he was the vice chairman of the Joint Chiefs of Staff, need to build "a second Air Force"? Leon Panetta made the C.I.A. far more militarized and then went to the Pentagon. When an actual military commander, David Petraeus, became head spook in 2011, he embraced the drone program, pushed to expand the fleet and conducted the first robo-targeted killing of an American citizen. "A spy agency that on September 11, 2001, had been decried as bumbling and risk-averse had, under the watchful eye of four successive C.I.A. directors, gone on a killing spree," Mazzetti writes. The C.I.A. now has a drone base in Saudi Arabia, and both the Pentagon and the spy agency are running parallel drone wars in Yemen, each fighting for resources. And the Pentagon continues its foray into human spying. As W. George Jameson, a lawyer who spent 33 years at the C.I.A., lamented:
"Everything is backwards. You've got an intelligence agency fighting a war and a military organization trying to gather on-the-ground intelligence."
---
Response to Demeter (Reply #7)
Thu Apr 18, 2013, 09:27 AM
Demeter (85,373 posts)
11. Hearts, Minds and Dollars: Condolence Payments in the Drone Strike Age By Cora Currier
http://www.nationofchange.org/hearts-minds-and-dollars-condolence-payments-drone-strike-age-1365433019
The U.S. drone war remains cloaked in secrecy, and as a result, questions swirl around it. Who exactly can be targeted? When can a U.S. citizen be killed? Another, perhaps less frequently asked question: What happens when innocent civilians are killed in drone strikes? In February, during his confirmation process, CIA director John Brennan offered an unusually straightforward explanation: "Where possible, we also work with local governments to gather facts, and, if appropriate, provide condolence payments to families of those killed."...Such condolence payments featured prominently in the wars in Iraq and Afghanistan. They are now embraced by many military commanders and by human rights advocates, some of whom are pushing for a system to govern what had been an ad hoc practice for most of the 20th Century: recognizing the dignity of life, even during war, and even with what might seem like a mere token acknowledgement....In fact, the Army regulation on such payments (which are also called solatia) describes them as "an expression of sympathy toward a victim or his or her family," in keeping with local custom. According to Center for Civilians in Conflict, an advocacy organization, the U.S. tradition of such payments dates back to the Korean War.
Foreign civilians have long had some recourse for compensation through the Foreign Claims Act, which permitted payments for damages caused by U.S. troops. But the law doesn't cover anything that happens during active combat – a significant exception in situations where U.S. troops are on the ground, intermingled with civilian populations. The line between combat and non-combat isn't always clear. And even when soldiers feel their actions were justified, it is often to their advantage to recognize the harm done. "Under the law of war, you can kill civilians, as long as their deaths are proportional to immediate military gain," said Gary Solis, a professor at Georgetown Law. "But as a nation, we recognize it's important to gain the trust of the people. As the complexion of war has changed, the significance of these payments has too." Condolence payments came to be seen as a key part of the battle for "hearts and minds" in Iraq and Afghanistan. But their implementation began slowly, and was marred by inconsistency. The U.S., after pressure from military lawyers and other advocates, allowed payments fairly early on in the Iraq War. But in Afghanistan, they were not approved until 2005...Gordon-Bray described scraping together cash for informal payments before they were officially approved, and before Congress funded a cache of spending money for condolences, humanitarian assistance, and other "goodwill" projects. (In Afghanistan, the military continues to distinguish between those congressionally funded "condolence payments" and "solatia," which come out of a unit's operating funds.)
Even once the payments were officially authorized, the policy for implementing them wasn't clear or standardized and not all units paid them. For the local Iraqi population, there was often a lack of awareness about such payments and confusion about how to receive them. Gordon-Bray said his team sometimes sought out surviving family members after a death. Soldiers also left cards behind after operations explaining how families could make claims. Other times, the onus was on the victims to identify the unit that had caused the damage, to collect evidence, and to bring it to the military's attention. A military lawyer who served early on in Iraq told Congress in 2009 he occasionally had to turn down claims for lack of funds. He also said "two Iraqis who suffered substantially the same harm in different areas of the city would be treated very differently depending on what office they went to inside Baghdad to file their claim. The lack of standard rules really caused a lot of heartache."..Today in Afghanistan, according to a Pentagon spokesman, condolence payments can be up to $5,000 for a death or injury, or $5,000 for property damage. Greater amounts can be approved in certain cases. In fiscal year 2012, the U.S. made 219 payments, totaling $891,000, according to a spokesman for U.S. forces in Afghanistan. (Solatia are not included in those figures.)...According to Gaston and other advocates, it wasn't until 2008 that payments became commonplace among U.S. and coalition troops in Afghanistan, as part of a new emphasis on counterinsurgency. Marla Keenan, managing director of the Center for Civilians in Conflict, said that that year saw a "strategic shift to 'hearts and minds,' which started to change the way commanders viewed condolence payments. It was a tool they could use to deal with populations." In 2007, General David Petraeus, then head of U.S. forces in Iraq, described the tactical element of condolence payments: "The quicker you can do it, the more responsive you can seem to be…the more concerned you are, the more valuable it is, and the more helpful it is to your operation." General James Conway, of the Marine Corps, was a bit blunter: "It doesn't make anything right. It does make it a little better from a public relations perspective." Despite this embrace by military commanders, the payment systems can still seem improvised and imperfect. Sen. Patrick Leahy, D-Vt., has tried several times to create a permanent set of rules and dedicated source of funding for condolence payments.
Beyond Afghanistan
Should condolence payments become more codified, it is unclear how many, if any of those rules and requirements would apply to the world of targeted killings off the traditional battlefield. To date, the U.S. has yet to acknowledge any particular instance where a civilian was killed as a consequence of a drone strike outside Afghanistan – let alone if that person's family was compensated. Pentagon spokesman Bill Speaks said that "the Department of Defense has not made solatia payments" in Yemen or Somalia, where the U.S. has acknowledged military action. The CIA's drone strikes in Pakistan and Yemen remain officially secret...There are occasional reports of condolence payments in Yemen and Pakistan, but the U.S. role in those payments — if there was one — remains unclear. In Pakistan, officials paid roughly $3,000 to the families of more than 30 people killed in a March 2011 strike. Last September, after a drone strike in Yemen killed as many as 14 civilians, families of the victims blocked roads and demanded compensation. According to the Washington Post, the Yemeni government publicly apologized and offered "101 guns to tribal leaders in the area as a symbolic gesture." Al Qaeda in the Arabian Peninsula reportedly sent its own offers of condolence. (The embassies of Yemen and Pakistan did not respond to questions about condolence payments.)
In recent months several former military and diplomatic leaders have expressed concern about reliance on drones to target terror suspects, and potential "blowback" from the program. A focus on targeting militants overlooks broad resentment of U.S. military actions, they said, echoing the issue that strained U.S. missions in Iraq and Afghanistan...The pace of drone strikes has dropped off drastically in recent months, with just two reported in Pakistan in the past month. How civilian deaths will be handled in a more transparent future remains to be seen. "The U.S. could open up the ability to make these payments in any theater," said Keenan, of Civilians in Conflict. "But in order to do it effectively, the U.S. has to engage on the ground. The whole point is acknowledging the harm."
IS THAT A CLUSTERFUCK, OR WHAT?
THERE'S A LOT MORE DETAIL AT LINK...I OMITTED MOST OF IT
---
Response to Tansy_Gold (Original post)
Thu Apr 18, 2013, 08:59 AM
AnneD (15,774 posts)
8. Only one thing to say....
about post #5
---
Response to AnneD (Reply #8)
Thu Apr 18, 2013, 09:13 AM
Demeter (85,373 posts)
9. jeeves has been providing this data on a semi-regular basis lately
the disclaimer is no doubt a habit from posting in less hospitable spots on this site...
---
Response to Tansy_Gold (Original post)
Thu Apr 18, 2013, 09:16 AM
Demeter (85,373 posts)
10. How Walmart, ExxonMobil, and Coke Buy Latino Friends in Congress
http://www.motherjones.com/politics/2013/04/walmart-exxon-congressional-hispanic-caucus-institute
Lobbyists and corporations that employ them can't give gifts to lawmakers—unless they funnel the money through a nonprofit...In late February, some 70 guests arrived for dinner at a hotel near Washington, DC's Union Station. Nine members of Congress were there, including Reps. Rubén Hinojosa (D-Texas), Raul Ruiz (D-Calif.), and Gloria Negrete McLeod (D-Calif.), as was former Labor Secretary Hilda Solis. Also in attendance were lobbyists and executives for Fortune 500 companies and big industry trade groups. Lonnie Johnson, a lobbyist for ExxonMobil, sat next to Hinojosa at dinner; Walmart lobbyist Ivan Zapien gave the closing remarks. Exxon, American Gas Association, Darden Restaurants, and Coca-Cola had underwritten the event. That was how, seven weeks into the 113th Congress—as lawmakers began work on immigration reform and a tax code overhaul—powerful corporate lobbyists scored premium access to politicians.
The dinner was organized by the Congressional Hispanic Caucus Institute, an obscure offshoot of the 27-member, all-Democratic Congressional Hispanic Caucus. (Caucuses are factions of lawmakers formed around an issue or ideology, such as the Progressive Caucus, the Black Caucus, and the Tea Party Caucus.) The CHCI, founded in 1978 by a small group of Hispanic lawmakers, says its mission is to "develop the next generation of Latino leaders" by underwriting scholarships and fellowship programs for young Latinos, funding college readiness courses for them, and placing them in jobs and internships on Capitol Hill. But like other nonprofits nominally affiliated with congressional caucuses, CHCI sells access to influential lawmakers in exchange for big donations.
Before Congress passed several waves of ethics rules impacting caucuses and lobbyists, corporations and unions that hire lobbyists could pay for trips, conferences, and other perks for federal lawmakers. Today, nonprofits like CHCI offer lobbyists a way to sidestep those rules, says Craig Holman, a lobbyist with the watchdog group Public Citizen. "It's a simple dance to evade the ethics rules that apply to members of Congress as well as to caucuses," he says. "Lobbying entities can't give gifts, but they can launder the money through nonprofits and let the nonprofits do the giving."
MORE GRAFT AND GREASE AT LINK
---
Response to Tansy_Gold (Original post)
Thu Apr 18, 2013, 01:10 PM
DoBotherMe (2,038 posts)
12. kick