Mon Jun 4, 2018, 02:25 PM
yallerdawg (16,104 posts)
New report shows 1,728 Confederate symbols remain in U.S., 110 removed since 2015
Source: AL.com, by John Sharp
State and local governments have removed at least 110 publicly-supported monuments and other Confederate tributes since the 2015 massacre of nine black parishioners by a white supremacist in Charleston, S.C.
But 1,728 Confederate symbols - monuments, school and city names, bridges, holidays, etc. - remain. Of those, 121 are in Alabama, according to an
analysis released Monday by the Montgomery-based Southern Poverty Law Center
.
"We've seen a remarkable effort to remove Confederate monuments from the public square, yet the impact has been limited by a strong backlash among many white Southerners who still cling to the myth of the 'Lost Cause' and the revisionist history that these monuments represent," said Heidi Beirich, director of the SPLC's Intelligence Project.
*****
The SPLC doesn't advocate for the destruction of the monuments, but would prefer seeing them moving into a state archives or someplace else where they need to be taught in context.
*****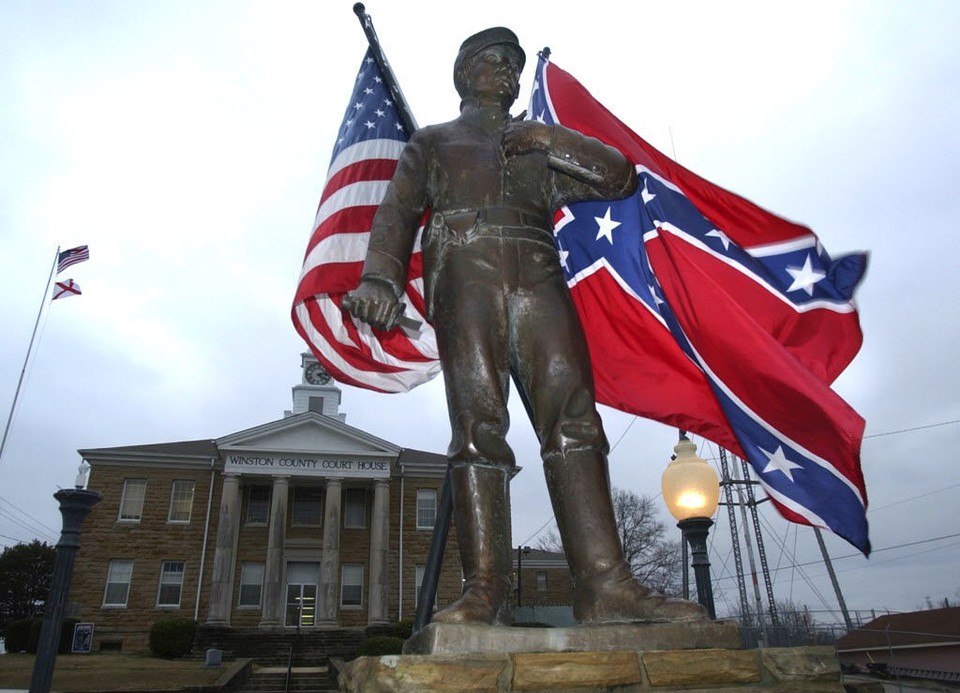 Read it all at:
https://www.al.com/news/index.ssf/2018/06/1728_confederate_symbols_remai.html
4 replies, 794 views
Replies to this discussion thread
| | | | |
| --- | --- | --- | --- |
| 4 replies | Author | Time | Post |
| New report shows 1,728 Confederate symbols remain in U.S., 110 removed since 2015 (Original post) | yallerdawg | Jun 2018 | OP |
| | applegrove | Jun 2018 | #1 |
| | yallerdawg | Jun 2018 | #2 |
| | yallerdawg | Jun 2018 | #4 |
| | Civic Justice | Jun 2018 | #3 |
---
Response to yallerdawg (Original post)
Mon Jun 4, 2018, 04:11 PM
applegrove (84,782 posts)
1. Now that is an insult to the American flag.
---
Response to applegrove (Reply #1)
Mon Jun 4, 2018, 04:54 PM
yallerdawg (16,104 posts)
2. That's a real picture, too.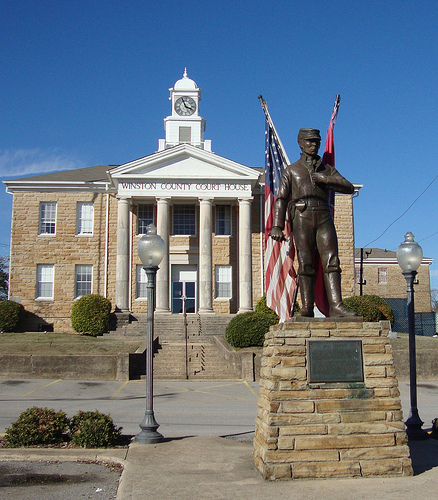 Even more amazing!
Winston County gained notoriety during the Civil War because the residents of the county did not want to join the Confederacy. The county had no large plantations and virtually no enslaved labor. During the war, the county suffered a number of raids by Confederate soldiers, who considered the residents of Winston to be traitors to the Southern cause. Leaders of Winston County met at Looney's Tavern in Double Springs, where they attempted to declare the independent Republic of Winston and made plans to secede from the Confederacy. Though the secession never occurred, Winston County continues to be referred to as the "Free State of Winston."
http://www.encyclopediaofalabama.org/article/h-1296
---
Response to applegrove (Reply #1)
Wed Jun 6, 2018, 08:31 AM
yallerdawg (16,104 posts)
4. Most recent photo:
---
Response to yallerdawg (Original post)
Mon Jun 4, 2018, 05:32 PM
Civic Justice (870 posts)
3. Lincoln should have wiped them "all out" and seize their money and their land.
Among some of the worst things after the Civil War was to leave wealth in the hands of Confederates. Their wealth should have been seized and put in the United States Treasury. The massive landholder, should have had their land seized and turned over the United States Federal Government.

After all this time, the "evil mentality" of slothful gluttons has never ceased to wage War Against the United States of America, they simply do it now from "INSIDE OF GOVERNMENT OFFICES" and with their racist driven groups in the streets.

The exposure of these types have been made public with the Trump and Republican System's Confederate Ideological Aims.

At some point America will have to come up with a means to contain these vile types that attack the civility of multicultural democracy.