Fri Feb 15, 2013, 03:19 PM
naaman fletcher (7,362 posts)
9 replies, 2417 views
Replies to this discussion thread
| | | | |
| --- | --- | --- | --- |
| 9 replies | Author | Time | Post |
| Venezuela Releases First Pictures of Chávez (Original post) | naaman fletcher | Feb 2013 | OP |
| | MADem | Feb 2013 | #1 |
| | naaman fletcher | Feb 2013 | #2 |
| | MADem | Feb 2013 | #3 |
| | joshcryer | Feb 2013 | #6 |
| | sabrina 1 | Feb 2013 | #4 |
| | joshcryer | Feb 2013 | #5 |
| | MADem | Feb 2013 | #7 |
| | joshcryer | Feb 2013 | #8 |
| | MADem | Feb 2013 | #9 |
---
Response to naaman fletcher (Original post)
Fri Feb 15, 2013, 03:59 PM
MADem (135,425 posts)
1. Taken on Thursday. He doesn't look like he can sit up.
He cannot walk, he cannot talk, and he has suffered some paralysis, so say ABC.es and other outlets...it sure looks that way in that picture. He doesn't look like he's "attentive to," or "in charge of" anything, and that smile looks terribly forced. It's hard to see how much weight he has lost, but it is apparent he's lost a good deal. The photo does a good job of minimizing the tracheotomy--clever placement--but he's still, quite obviously, in a bad way.
Jorge Arreaza, the minister of science and technology who is married to María Gabriela, said the photos were taken on Thursday. In three of the photos Mr. Chávez is holding a copy of what Mr. Arreaza said was Thursday's edition of Granma, the Cuban newspaper.

"There he is with his family, always attentive to the people of Venezuela, always attentive and in charge of his functions, working tirelessly," Mr. Arreaza said.
Here is the "proof of date" picture, with the obligatory current issue of the paper:
http://worldnews.nbcnews.com/_news/2013/02/15/16975075-cancer-stricken-chavez-smiles-with-daughters-in-first-photo-for-weeks?lite
This picture, with him wearing the same style of jacket (the logo is a bit different, the overall design is similar), was taken in August of 2012, when he was visiting victims of a refinery explosion--it's quite apparent that he's lost weight in the intervening six months:
Source for this pic:
http://www.nbcnews.com/id/48904780/ns/world_news-americas/t/venezuelas-chavez-infamous-bush-insult-was-not-scripted/#.UR6OqqU4uSo
---
Response to MADem (Reply #1)
Fri Feb 15, 2013, 04:16 PM
naaman fletcher (7,362 posts)
2. His daughters look good though
I'd write propaganda for Venezuela Analysis if I could have in on that.
---
Response to naaman fletcher (Reply #2)
Fri Feb 15, 2013, 04:21 PM
MADem (135,425 posts)
3. At least one of them is married to someone with a ministerial position.
He has a younger daughter, Rosines, who is enamoured of Justin Beiber: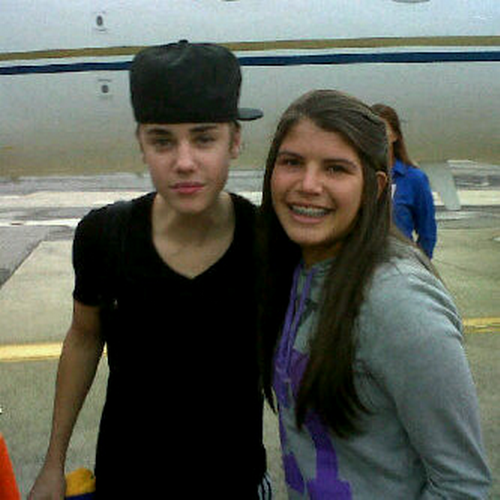 ---
Response to MADem (Reply #1)
Sat Feb 16, 2013, 01:16 AM
joshcryer (58,744 posts)
6. Taken because students chained themselves outside of the Cuban embassy.
They wanted to know Chavez' state having not been 'seen' for two fucking months.
---
Response to naaman fletcher (Original post)
Fri Feb 15, 2013, 07:59 PM
sabrina 1 (62,325 posts)
4. A hero who dragged his country and the rest of Latin America out of the
clutches of the IMF, the World Bank and the rest of the Western Emperial Powers. No wonder they love him. Latin America, leading the way for the rest of the world, the hope of the world to stop the Imperial oppression that destroyed that region of the world for so very long.

He is a courageous, intelligent leader, one of the few in the world today. As the Wikileaks cables revealed, the Western Corporations hated him because he was RIGHT and because his ideas have taken hold in Latin America, ideas that really are not all that innovative, just demanding that people in other nations be left alone by the greedy Global Corps who have destroyed for decades, so much of the planet.

Viva Chavez! And it's hard to have to acknowledge that just a few years ago not a single Democrat would have disagreed with that sentiment. He is a good man as his people realize even in the face of the usual Western hateful propaganda which has failed miserably, thankfully.
---
Response to naaman fletcher (Original post)
Sat Feb 16, 2013, 01:11 AM
joshcryer (58,744 posts)
5. This is the worst photoshop I've ever seen.
Original source:
Illustration:
edit: open in new window to see the full size images, DU resizes them in your browser.
---
Response to joshcryer (Reply #5)
Sat Feb 16, 2013, 02:33 AM
MADem (135,425 posts)
7. He looks awful. That isn't a smile, it's a grimace.
His teeth are bright yellow, too--they should have given them a quick brush with the peroxide and baking soda, at least.

When you enlarge the picture, that bit you pointed out is noticeable. I didn't look for it--I thought perhaps it was a bit lower, but that location makes the most sense.

They should have just zipped up the damn shirt a bit more, and/or given him a smart scarf or a tee-shirt "dickey" to cover the offending area.

It's pretty apparent that he can't sit up, otherwise they would have posed him in a more natural position without one of those stabilizing head pillows. I guess the ABC.es reports about some degree of paralysis could be true. They also said he had a heart attack on the table after the last operation, that he couldn't breathe on his own, that he had a persistent pulmonary infection, couldn't speak, and the sarcoma is in his bones, causing pain and requiring medication.



---
Response to MADem (Reply #7)
Sat Feb 16, 2013, 02:36 AM
joshcryer (58,744 posts)
8. They probably did but the handlers thought it was too suspect.
Open collar is a lot more inviting. The trach tube probably wasn't very noticeable but then when they looked at it up close there was maybe a tiny bit showing. Thus the quick and dirty (obvious, absolutely obvious) photo touchup.

I think what they're doing to Chavez is horrific.
---
Response to joshcryer (Reply #8)
Sat Feb 16, 2013, 02:45 AM
MADem (135,425 posts)
9. I agree--it is horrific, like Weekend at Bernie's.
He has to be very ill for them to leave him at that angle--if he could even be cranked up just a bit higher, to make the tableau appear more natural, they surely would have done that. The fact that they didn't is very telling.

I think you're probably right about that thing showing. Hell, they should have put him in a black tee shirt, like he was in the older picture I put up, upthread. Then they could have zipped the jacket down more!

I recently sat at the bedside of a friend who had a very serious lung operation (chunk of lung removed). The bed was cranked up all the way, and the patient was able to sit up and take care of business, speak on the phone, use the computer, etc.

Hugo, by contrast, looks very helpless in that scene.